It seemed like a peaceful discussion between a traveling family of Christian musicians and a couple of police officers.
Then all hell broke loose.
Cottonwood, Arizona, police released dash cam footage Friday of the massive brawl that rocked a Walmart parking lot last month and left one member of the Gaver family dead.
It's a deeply disturbing video that appears to show the family attacking police.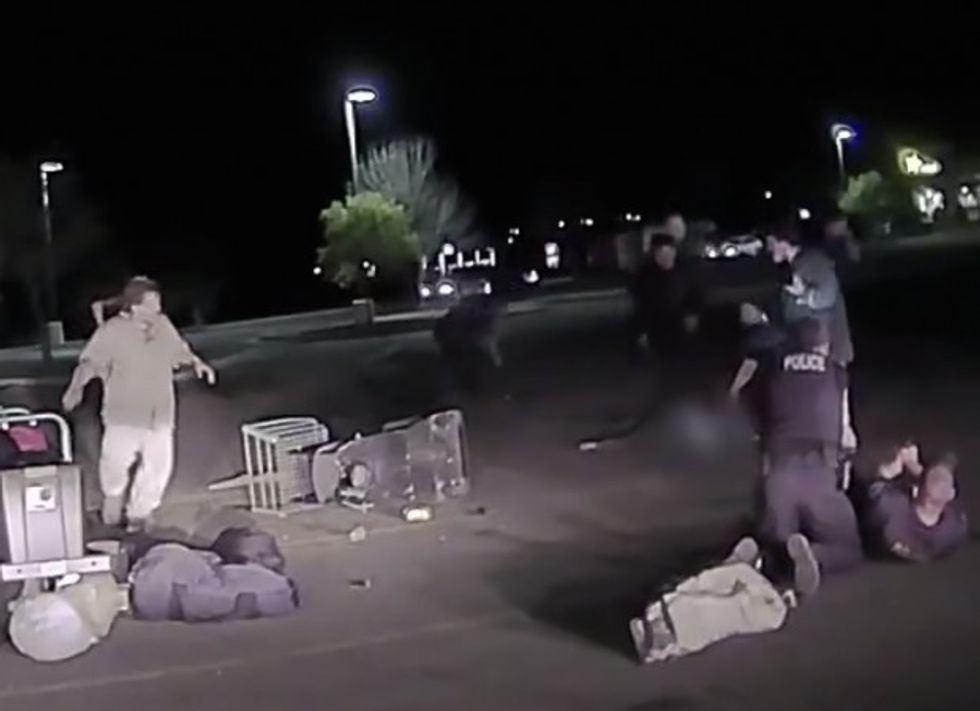 Image via YouTube
"We need to separate these folks and talk to them," an officer says near the video's start as he and other officers pull up to the scene where two cops were already speaking with the family.
"No, you're not going to separate me from my family," one of the family members immediately responds.
Then the fists, boots and Tasers start flying in a vicious, chaotic melee.
"Stop being Nazis!" one man repeatedly shouts. "You're hitting children!"
In the gut-wrenching, 9-minute long video, cops repeatedly call for the family to get down and stop fighting, but various people keep punching and tackling police.
A Walmart employee fights against the family, saying, "No!" repeatedly, but his pleas go unheeded.
"Oh Jesus, my family!" women can be heard weeping.
As police officers are choked and pinned to the ground, the situation grows desperate and police eventually start firing their guns — see the footage below (content warning: disturbing violence and strong language):
The March 21 fight ultimately left 21-year-old Enoch Gaver dead, and David Gaver with a gunshot wound, the Arizona Republic reported.
Sgt. Jeremy Daniels was wounded in the fracas, and Cottonwood Police Chief Jody Fanning said Enoch had taken Daniels' gun,
The gun went off and hit Daniels' leg, prompting Officer Rick Hicks to beat Enoch with a baton and, when that proved fruitless, shoot him.
"I have no reason why they decided to fight us," Fanning said, expressing disbelief at why the family attacked the police.
The altercation started when a female Walmart employee tried to use the restroom at the Walmart and was shoved away by the family, the Republic reported; two of the Gaver brothers told police they were guarding the bathroom while their mother, Ruth, used it.
Five Gavers were arrested by police and booked into the Yavapai County Jail on a variety of charges, including aggravated assault on a police officer, hindering prosecution and resisting arrest, the Republic reported.
The Gavers were reportedly well known in Boise, Idaho, where three of the family members performed in a Christian band called "Matthew 24 Now."
Hicks, the officer who fired the fatal shot, has returned to duty as the police chief determined his actions were justified by the dash cam video.
This story has been updated. An earlier version incorrectly referred to a man who fights on the side of the police in the video as a member of the Gaver family; he is a Walmart employee.
—
Follow Zach Noble (@thezachnoble) on Twitter