Think the people at Chick-fil-A are honest, upstanding folks?
This story will confirm your hunch.
A civil rights lawyer in Decatur, Georgia, made a huge mistake when he dropped hundreds of dollars on the floor at a Chick-fil-A while eating breakfast, but a restaurant employee saved him from losing the cash, WXIA-TV reported.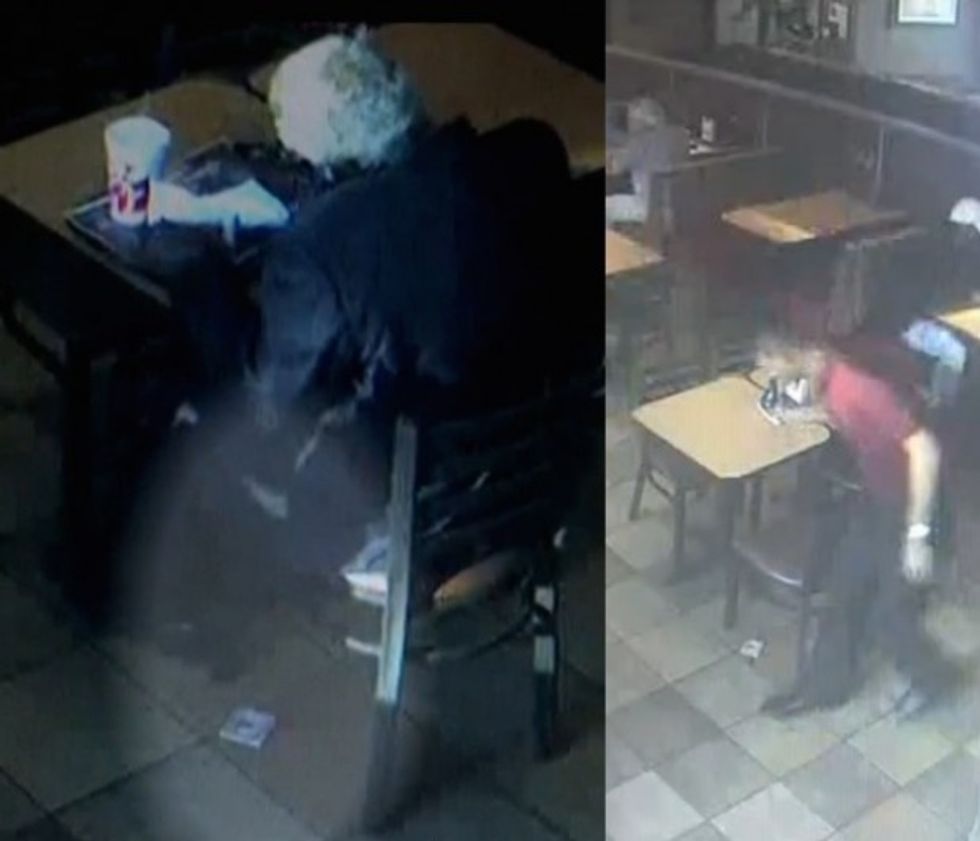 Images via WXIA-TV
Attorney Victor Long had $1,200 in cash on him — money bound for the bank — on April 1 when he ate breakfast at the restaurant, he told WXIA.
As security footage showed, Long dropped a wad of cash as he appeared to be eating and talking on the phone at the same time.
After Long left, the money sat on the floor for nearly 15 minutes before employee Jacob King spotted it.
"I picked it up, and I was a little worried that somebody was missing that much money," King recalled.
For his part, Long realized he'd lost the money when he got to the bank. He told WXIA he never expected to find it again.
"I didn't even think about backtracking, because I figured anybody who found the money, the way people need things now, it probably never was going to come back," he said. "I hoped that whoever got the money would need it. And I was satisfied with that. And I thought that if someone who found it needed it, it would be a blessing to me."
But King and the restaurant's operator, John Crays, worked tirelessly to track down the money's rightful owner.
Long saw the video when it aired on the local news Thursday evening, and by Friday, he was reunited with his missing cash.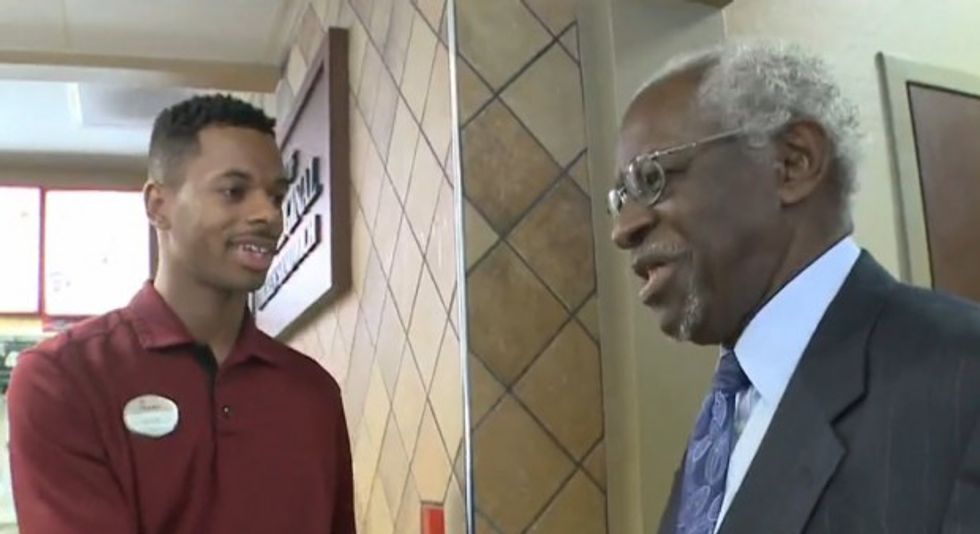 Chick-fil-A employee Jacob King meets Victor Long, the man who dropped a large amount of cash inside the restaurant. (Image WXIA-TV)
"That shows the goodness in him as well as the goodness in this establishment," Long said, "that they have here good people. Good, honest people who are willing to work and to serve. And I can't imagine what Chick-fil-A had to go through to find me, and they made a tremendous effort to find me and to make sure I got the money back."
For his part, King said there wasn't a question about what to do with the money.
"You only really have two ways to go about things," King said, "there's the right way and there's every other way. And that's pretty much all there is to it."
Watch WXIA's report below:
—
Follow Zach Noble (@thezachnoble) on Twitter