He's accused of shooting a man in the back and planting a weapon near his body to make it seem like a justified killing.
New audio allegedly captures him laughing minutes after the shooting.
Audio obtained by the Guardian reportedly captures a conversation between Patrolman Michael Slager and a senior officer mere moments after the South Carolina cop shot and killed Walter Scott.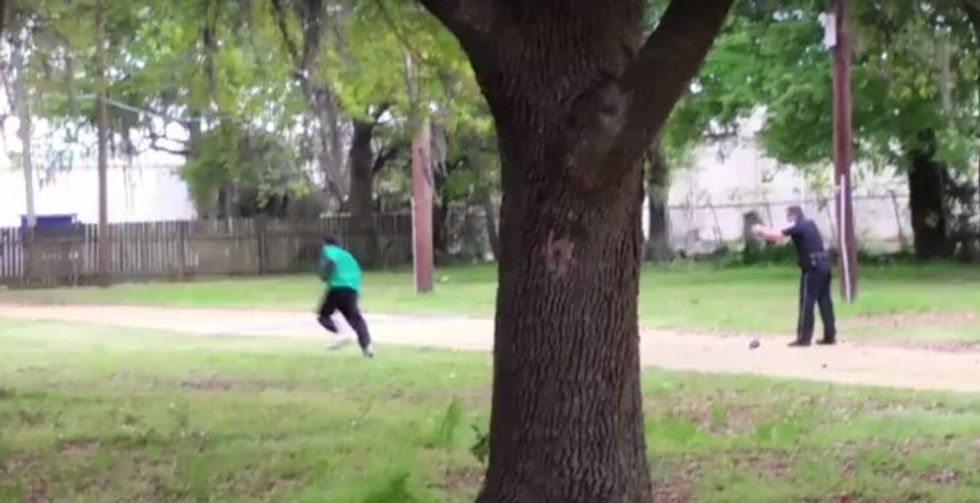 Video captured the shooting of Walter Scott by South Carolina police officer Michael Slager. (Image via screenshot)

The audio captures the senior officer seemingly trying to calm Slager:
Probably once they get you there, we'll take you home. Take your crap off, take your vest off, kind of relax for two or three.

It'll be real quick. They're gonna tell you you're gonna be out for a couple of days and you'll come back and they'll interview you then. They're not going to ask you any kind of questions right now. They'll take your weapon and we'll go from there. That's pretty much it.
Then the senior officer gives some advice.
"The last one we had, they waited a couple of days to interview officially, like, sit down and tell what happened," he said. "By the time you get home, it would probably be a good idea to kind of jot down your thoughts on what happened. You know, once the adrenaline quits pumping."
That's when Slager laughs and says, "It's pumping."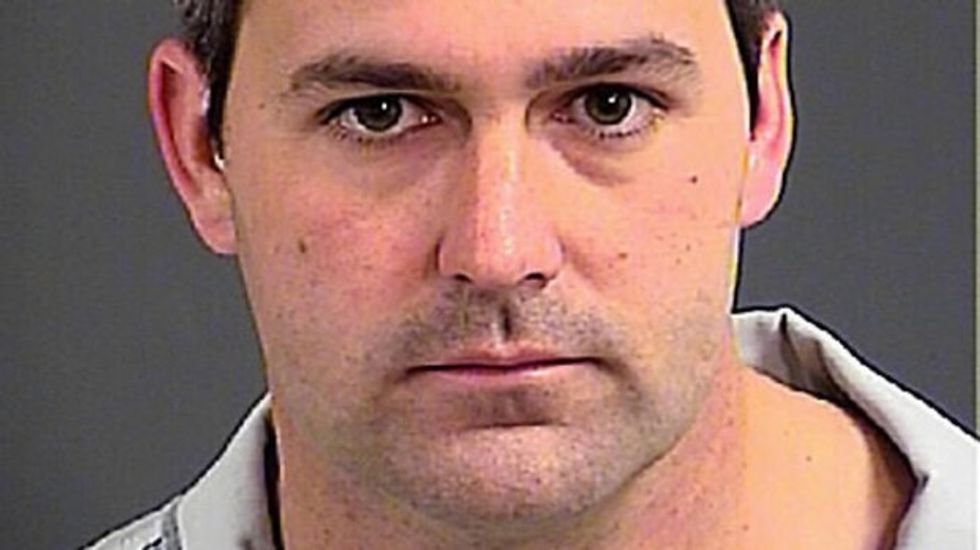 This photo provided by the Charleston County, S.C., Sheriff's Office shows Patrolman Michael Thomas Slager on Tuesday, April 7, 2015. Slager has been charged with murder in the shooting death of a black motorist after a traffic stop. North Charleston Mayor Keith Summey told a news conference that city Slager was arrested and charged Tuesday after law enforcement officials saw a video of the shooting following a Saturday traffic stop. (AP Photo/Charleston County Sheriff's Office)

Listen to the audio below:
Asked to confirm that Slager is one of the officers speaking in the audio, Thom Berry, a spokesman for the South Carolina Law Enforcement Division, which is investigating the shooting, told the Guardian: "It appears that way. I have not been able to independently confirm it."
Outrage-sparking bystander video of the April 4 shooting appears to show Slager plant his taser near the body of 50-year-old Scott after shooting him in the back.
Slager now faces murder charges.
—
Follow Zach Noble (@thezachnoble) on Twitter