GOLDSBORO, N.C. (TheBlaze/AP) - One person was killed Monday in a shooting at a North Carolina community college that went on lockdown. Officials are still looking for the gunman.
"There have been shots fired on the campus of Wayne Community College," said Kim Best, a spokeswoman for the city of Goldsboro, where the school is located. "There has been one fatality, and there is one shooter."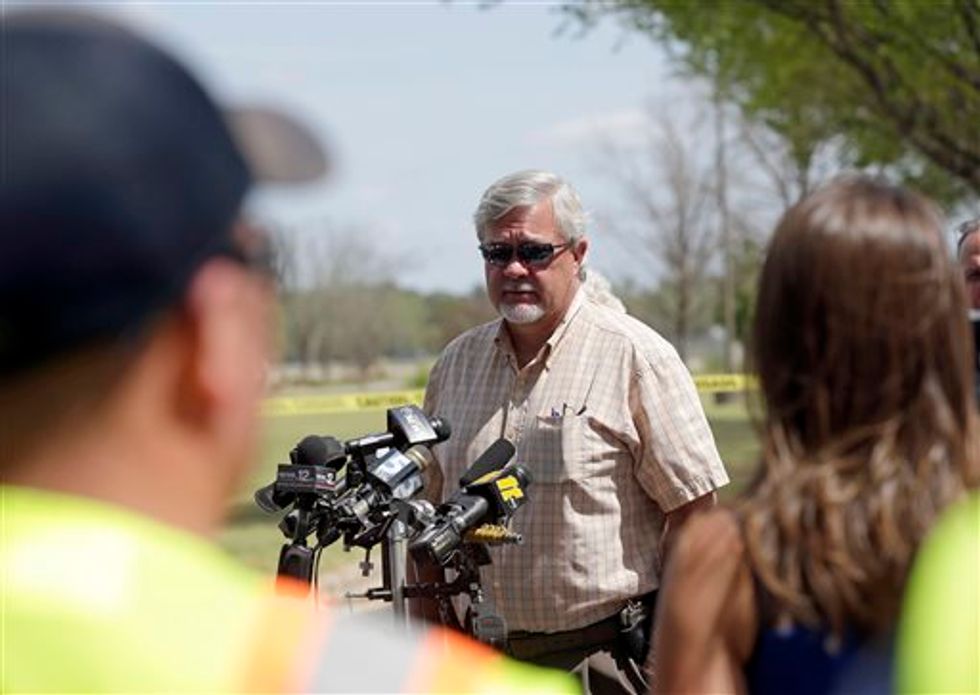 Maj. Tom Effler, of the Wayne County Sheriff's Department, speaks to members of the media at Wayne Community College in Goldsboro, N.C., Monday, April 13, 2015. One person was killed Monday in a shooting at the school that was locked down as authorities searched for a gunman, officials said. (AP Photo/Gerry Broome)
Wayne County assistant operations manager Daniel Wiggins said 911 received a call about 8 a.m. of an active shooter on campus.
Police cited former campus employee Kenneth Stancil as a "person of interest," but did not immediately confirm a motive. Officials later confirmed Ron Lane as the name of the victim. Lane worked in the campus print shop and the two knew each other, WNCN reported.
Law enforcement officers have gone to the house where Stancil is believed to live but did not go immediately go inside because they didn't have a search warrant. Officers did not comment when asked whether Stancil is still in the area.
About 20-30 students escorted out of buildings with their hands up, as both the Wayne County Sheriff's Department and North Carolina State Police responded to the incident. Law enforcement officials did a sweep of the campus once they arrived by going into every room in every building, the Goldsboro News Argus reported.
Goldsboro City Manager Scott Stevens said he does not believe there are any additional victims, WTVR-TV reported. A student government representative told the outlet the shooting occurred on the third floor of the Wayne Learning Center, which houses the library, admissions and financial aid departments and the student lounge and cafeteria.
No hostage situation was ever reported and it is believed the shooter is no longer on campus, but that he is still at large. Students who were vetted by law enforcement officers were allowed to leave and classes were canceled for the rest of the day.
As of Monday afternoon, authorities were still searching for a white male, about 5 feet, 11 inches tall with a goatee and a tattoo over his eye. He was seen wearing a blue jacket and carrying a long rifle, WRAL reported.
Nearby, the private Wayne County Day School - with about 300 students in prekindergarten through 12th grade - also was on lockdown, said Melissa Watkins, a volunteer parent receptionist at the school.
"We saw 10 to 11 cruisers go by all at once," she said. "We knew something was going on; we just didn't know what or where."
_
Follow Jon Street (@JonStreet) on Twitter