In what could mark a dramatic escalation of tensions in the Persian Gulf, Iran is trying to send surface-to-air missiles to aid the Shiite Houthi rebels fighting a Saudi-led coalition in Yemen, a senior U.S. defense official told the Wall Street Journal.
If the Houthis could gain the ability to shoot down Saudi or other coalition warplanes, it could significantly shift the balance of power in their favor.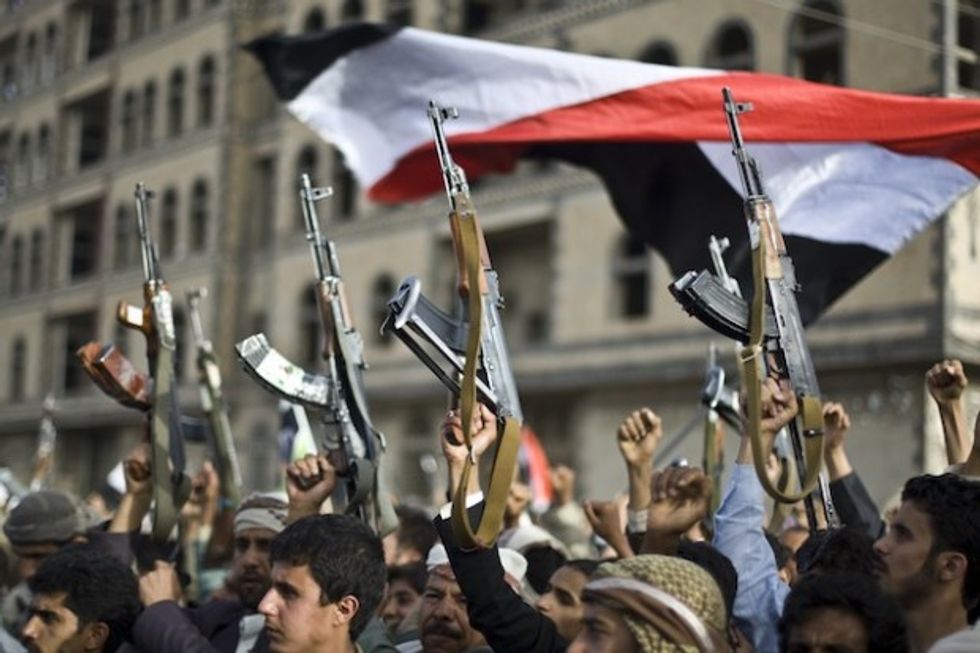 Shiite rebels, known as Houthis, hold up their weapons as they attend a protest against Saudi-led airstrikes in Sanaa, Yemen, Friday, April 10, 2015. (AP Photo/Hani Mohammed)
The Wall Street Journal reported:
One of the biggest concerns for the U.S. and Saudi Arabia is the possibility that Iran might try to send surface-to-air missiles into Yemen so that Houthi fighters could challenge the bombing campaign.

"We are looking," said one senior U.S. defense official. "We know they are trying to do it."
The Journal reported that the U.S. Navy is now examining shipments headed to Yemen in order to prevent "game-changing weapons" from reaching the Houthis.
On April 1, U.S. naval forces boarded a Panamanian-flagged ship in the Red Sea that was suspected of transporting arms to the Houthis, but they didn't find weapons, the Journal reported.
Both U.S. and Saudi officials told the Journal that Tehran has been sending weapons and training to the Houthis for years. Iran denies that charge.
The U.S. military officials told the Journal that they hope Iran's interest in reaching a permanent agreement with the U.S. and five world powers over its nuclear program will temper its efforts to aid the Houthis.
There have also been unconfirmed reports in recent days suggesting the Iran-backed Lebanese Shiite group Hezbollah has sent fighters to aid the Houthis in Yemen, a charge Hezbollah has denied.
Israel's Arutz Sheva Sunday quoted a report in the pan-Arab newspaper Asharq al-Awsat that asserted that one of those killed in Yemen was a former Hezbollah militiaman.
The Lebanese newspaper al-Mustaqbal reported Saturday that several Hezbollah fighters had been killed in battle alongside the Houthis.
Hezbollah on Saturday flatly denied that any of its fighters had been killed in Yemen.
"Asharq al-Awsat daily along with other media outlets reported that a Hezbollah fighter was martyred in Yemen. Hezbollah firmly denies such reports," Hezbollah said in a statement quoted by the Hezbollah-affiliated Al-Manar news outlet.
Saudi Arabia began airstrikes on March 25 against the Houthi rebels who drove out the U.S.-backed Yemeni President Abed Rabbo Mansour Hadi.