One person who might not be ready for Hillary yet is President Barack Obama.
One day after former Secretary of State Hillary Clinton made her long-awaited announcement about running for president in 2016, White House spokesman Josh Earnest said she doesn't automatically have Obama's support.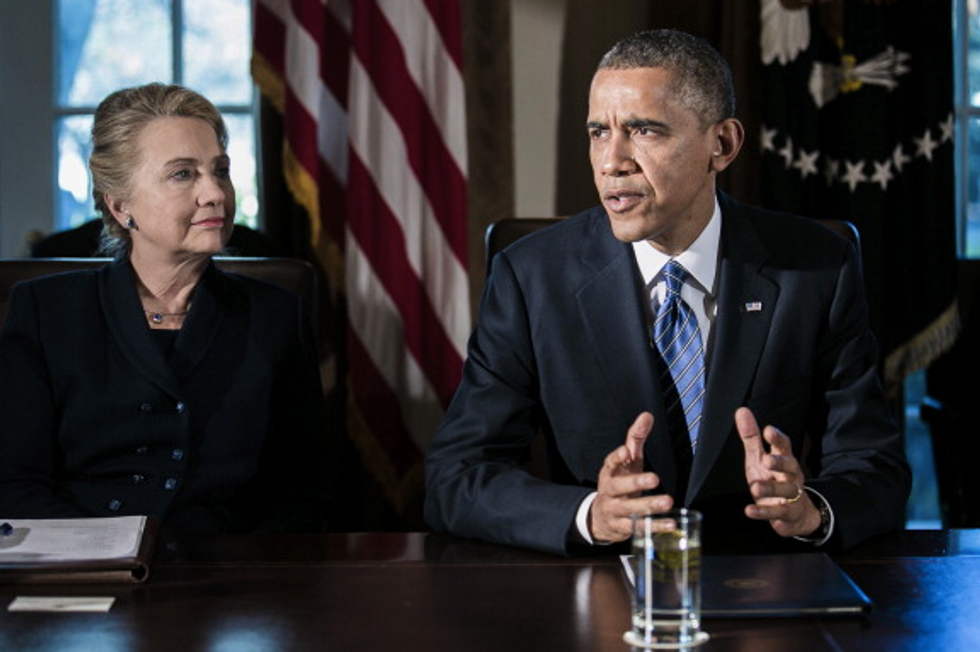 President Barack Obama speaks as Secretary of State Hillary Clinton, left, listens at a cabinet meeting at the White House, Wednesday, November 28, 2012, in Washington, D.C. (T.J. Kirkpatrick/Bloomberg via Abaca Press/MCT via Getty Images)
"Does Hillary Clinton automatically get President Obama's support no matter what Democrat comes into the race?" a reporter asked.
Earnest responded, "The answer to that question is no."
Earnest said the president obviously knows Clinton well, going back to their 2008 campaign rivalry.
"The fact is, the president obviously had the opportunity to see up close how effective of a campaigner she could be. She was obviously a very formidable opponent in the 2008 contest for the Democratic nomination," Earnest said. "During the general election in 2008, Secretary Clinton was a very effective advocate for President Obama's general election campaign. Over the course of the president's first term in office, Secretary Clinton proved to be a very effective secretary. Over that time, President Obama had the opportunity to build a strong personal relationship with her. As the president indicated in his news conference on Saturday, the two of them have become friends."
But she won't be the only candidate, Earnest said.
"There are other people who are friends of the president who may at some point decide to get into the race," Earnest continued. "So, the president has not offered up any sort of endorsement at this point. This will be the responsibility of Democratic voters to decide who should be the Democratic nominee for president. But I would anticipate that once that process concluded voters have decided who the Democratic nominee should be, I think that Democratic nominee can be confident they will enjoy the support of President Obama in that campaign."
Other potential candidates that could challenge Clinton are former Maryland Gov. Martin O'Malley, Vermont Sen. Bernie Sanders, former Rhode Island Gov. Lincoln Chaffee and former Virginia Sen. Jim Webb, while Vice President Joe Biden hasn't ruled out another run for president.