Baggage handlers at airports across the country have been caught red-handed rummaging through passengers' checked luggage, in search of valuables.
Workers at Miami-Dade International Airport were caught on hidden cameras snooping through bags inside the cargo areas of planes and inside the airport itself. The cameras were a part of the airport's investigation into why so many items had been reported missing, CNN reported.
Police have arrested 31 airport Miami airport workers for such crimes since 2012. Six of those arrests occurred this year.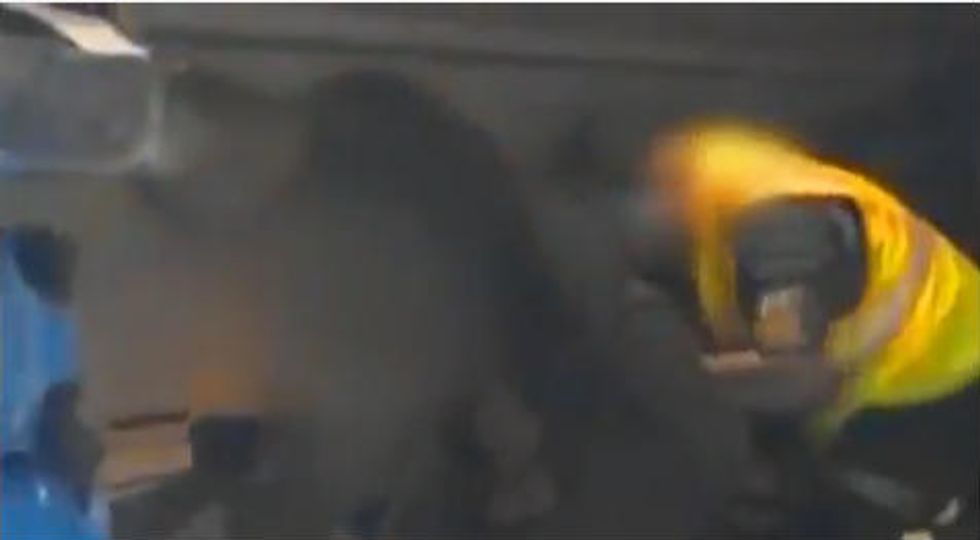 Hidden cameras capture airport luggage handlers in the cargo space of a plane rummaging through passengers' checked bags. (Image source: YouTube)
But the thefts aren't just limited to Miami. They've also occurred in airports across the country, including Los Angeles International Airport and New York City's John F. Kennedy International Airport.
"It's a problem we all face. We will continue to be proactive until we can see that the claims of pilfering through luggage will actually decrease," police Lt. Pete Estis told CNN, which obtained the video exclusively.
Hidden cameras inside JFK revealed baggage handlers in 2013 stealing a $5,000 Seiko watch, iPhones, an iPad, cameras, gold rings and cash from bags belonging to passengers bound for Israel. Six airport workers pleaded guilty to theft following that investigation.
Just one year later, two other JFK luggage handlers were arrested for taking at least two designer handbags. CNN reported they later tried to sell them on eBay.
Seven more workers at the same airport were arrested later the same year for stealing items from luggage going to and from various U.S. cities and some international destinations, including Japan, Johannesburg, London, Bangkok, Dubai and Milan.
In Los Angeles, 16 workers were arrested last year alone for taking items such as computers, watches, jewelry, cameras and designer bags, according to CNN.
The outlet further analyzed data from the Transportation Security Administration and found that between 2010 and 2014, there were 30,621 reports of missing valuables in airports throughout the country. While not all of those claims were from checked luggage, the majority of them were. The TSA estimated the price tag of all those lost or stolen items was about $2.5 million.
Watch the hidden camera video that caught airport baggage handlers red-handed:
(H/T: CNN)
–
Follow Jon Street (@JonStreet) on Twitter