President Barack Obama and Iraqi Prime Minister Haider al-Abadi hailed the success of military efforts against the Islamic State, but asserted that the Iraqi government needs to control the Shiite militias that have been helpful in the struggle against the terror group.
"I've made clear from the outset that ISIL was an enemy and we will make sure that they do not threaten the United States and we will go after them wherever they are," Obama said of U.S. assistance to Iraq. "But when we are working with a strong ally and partner like Iraq, it is very important for us to coordinate our activities so that the impression is not that the United States is somehow moving back into Iraq, but rather the United States is doing what's ultimately best for the Iraqi people, even as we join in fighting a common enemy."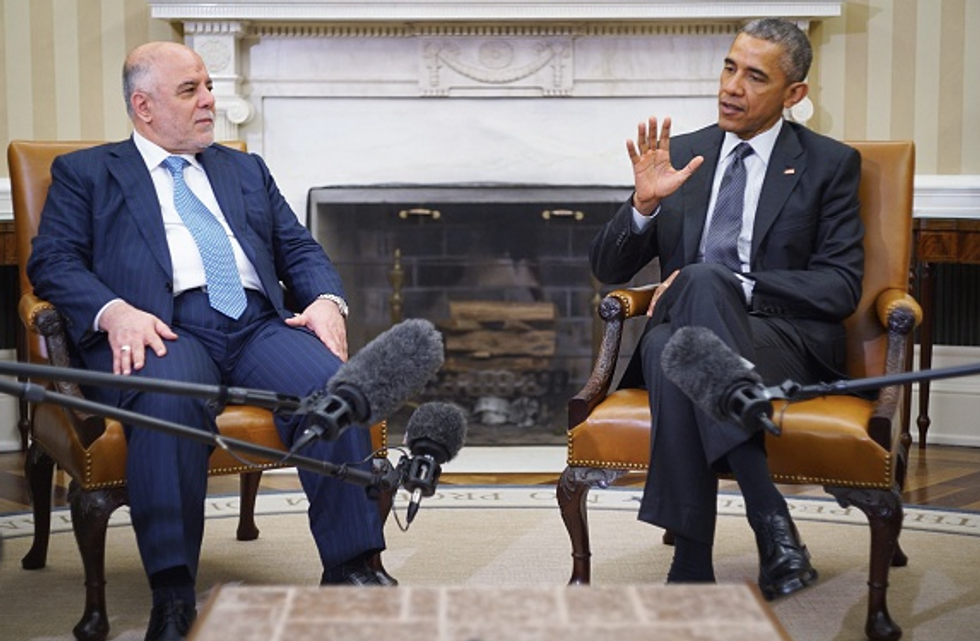 President Barack Obama speaks during a bilateral meeting with Iraqi Prime Minister Haider al-Abadi at the White House, April 14, 2015. (Mandel Ngan/AFP/Getty Images)
The prime minister said that when Iraqi "criminal elements" are identified they are arrested even if they have been combatting the Islamic State.
"I have to admit that there are some violations -- human rights violations being committed by some criminal parties and outliers, but we have zero tolerance for any violations of human rights," al-Abadi said. "We are also keen to bring all fighters under the control of the state and under the command of the commander of the armed forces."
"We have tens of thousands of volunteers who have volunteered to defend their country and fight ISIL," he added. "Unfortunately, some of them commit acts that harm the reputation of Iraq, but the general mobilization is not responsible for these crimes."
Iraq is reportedly seeking billionsr from the United States to continue the fight against the Islamic State, but that seems likely to come with the price of reigning in Shiite militias. A letter from Human Rights Watch urged Obama to consider the sectarian groups actions against civilians. White House press secretary Josh Earnest said "there was no specific request," made, but added that the United States recognizes the important role of Iraqi security forces, which can rely on U.S. assistance.
This marks al-Abadi's first trip to Washington since his election seven months ago.
With help from United States and an international coalition, the Iraqi military and Shiite militias recaptured the city of Tikrit, marking a major victory. The United States and allies carried about 2,000 airstrikes on the Islamic State in Iraq and about 1,400 in Syria.
The prime minister said he wanted to focus on other areas, primarily Mosul.
"Part of the reason for my visit here is to coordinate the liberation of the rest of the area, especially Mosul, which ISIL believes is the capital of their caliphate," al-Abadi said through an interpreter.
Obama praised the prime minister for leading an inclusive government.
In a speech last week, Vice President Joe Biden said the tide is turning against the militants.
"ISIL's aura of invincibility has been pierced…ISIL has lost large areas it used to dominate," Biden said. "ISIL's momentum in Iraq has halted and in many places has been flat out reversed."
Last year, Obama authorized airstrikes and sent about 1,500 troops to work in a non-combat training and advisory role. The Obama administration has asked Congress for $1.6 trillion to fight the Sunni militant group.