Daryl Peterson was driving along on a fine sunny day earlier this year when — wham! — a truck slammed into the back of his car. But it got even worse from there.
This crash in the Tampa, Florida, area caused Peterson's hands to fly off the wheel, which then sent his car into the other lane where a semitruck was driving.

Image source: YouTube
The whole double impact was caught on a dashcam pointed toward the inside and outside of Peterson's car, capturing both perspectives of the harrowing accident.
After the semi hit, Peterson's body flew back as the airbag deployed.

Image source: YouTube
Amazingly, after his car came to a stop, Peterson seemed barely any worse for wear. Before the footage cut off, he appeared to be getting ready to open the door and exit the vehicle.
In a comment, Peterson explained that a "Silverado behind me jerked to the right at the last second, He hit my Rear passenger side and catapulted me to the left, in front of the International truck loaded with Strawberries."
Watch the video:
The incident happened in late January, was posted YouTube in February and is just starting to go viral now. As of the time of this posting, it has more than 1 million views.
Peterson told TheBlaze in an email the "accident wasn't nearly as bad as it looks on film." He was driving a 2009 Ford Excape at the time and said he was "impressed at how well it handled the accident."
All drivers involved were fine.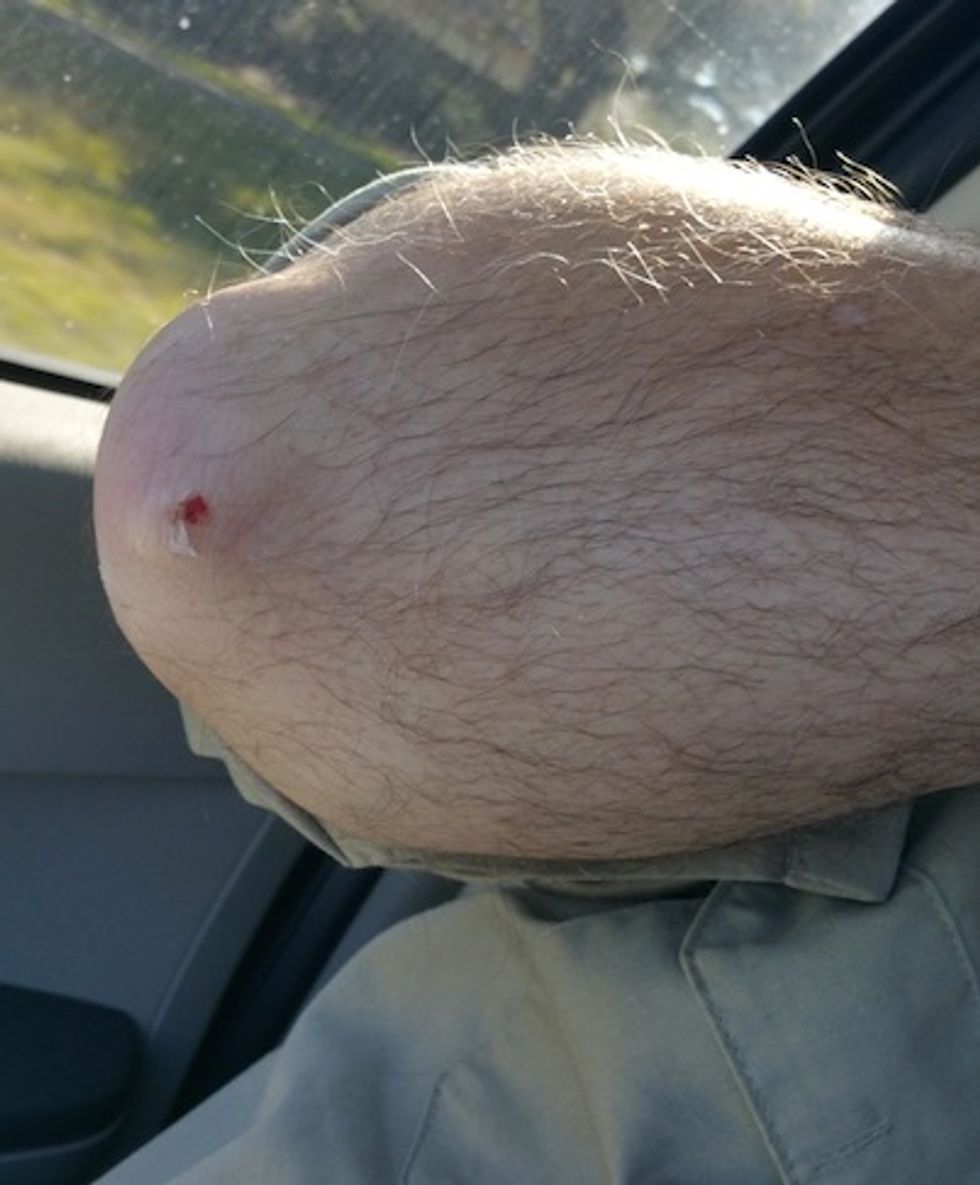 This was about the extent of Peterson's injuries. (Photo credit: Daryl Peterson)
Peterson said he only suffered a small scratch and a brief episode of neck pain afterward.
(H/T: Sploid)
—
This story has been updated to include more information.