When it comes to marijuana, there are really three kinds of people: those who say they've always thought it should be legal, those who've always been opposed to legalization, and those who used to oppose it but now support legalizing the drug.
People going the other way, from the pro- to anti-legalization side?
They're really quite rare.
In a Tuesday report, the Pew Research Center laid out survey results showing how Americans feel about legalizing marijuana, and the chart below might be the most important takeaway.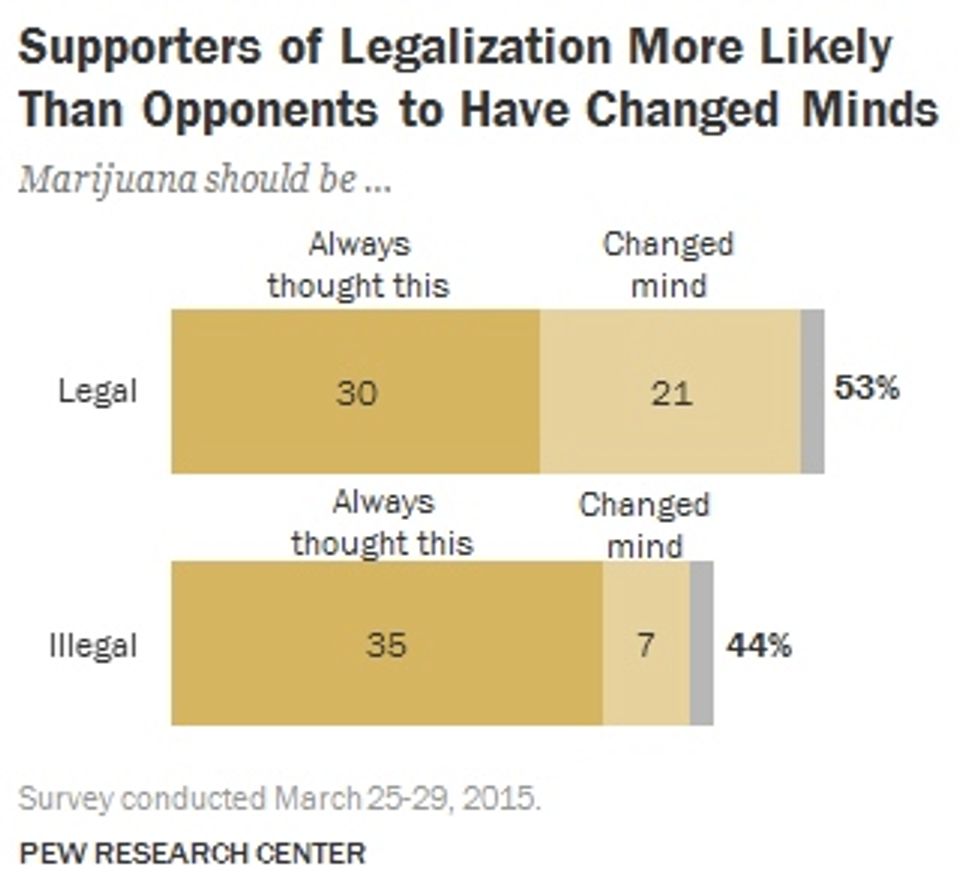 Chart via Pew Research Center
Plenty of people — 21 percent of Americans polled — used to be against marijuana but have since switched to the pro-legalization side.
But while a strong contingent of Americans remains opposed to legal weed, they aren't winning converts like the pro-weed side.
A mere 7 percent of Americans have switched from pro- to anti-legalization, Pew reported.
The changes help explain the massive shift in public opinion over the past few decades, and there's another factor playing into marijuana's ascendancy: younger generations are far more likely to support legalization.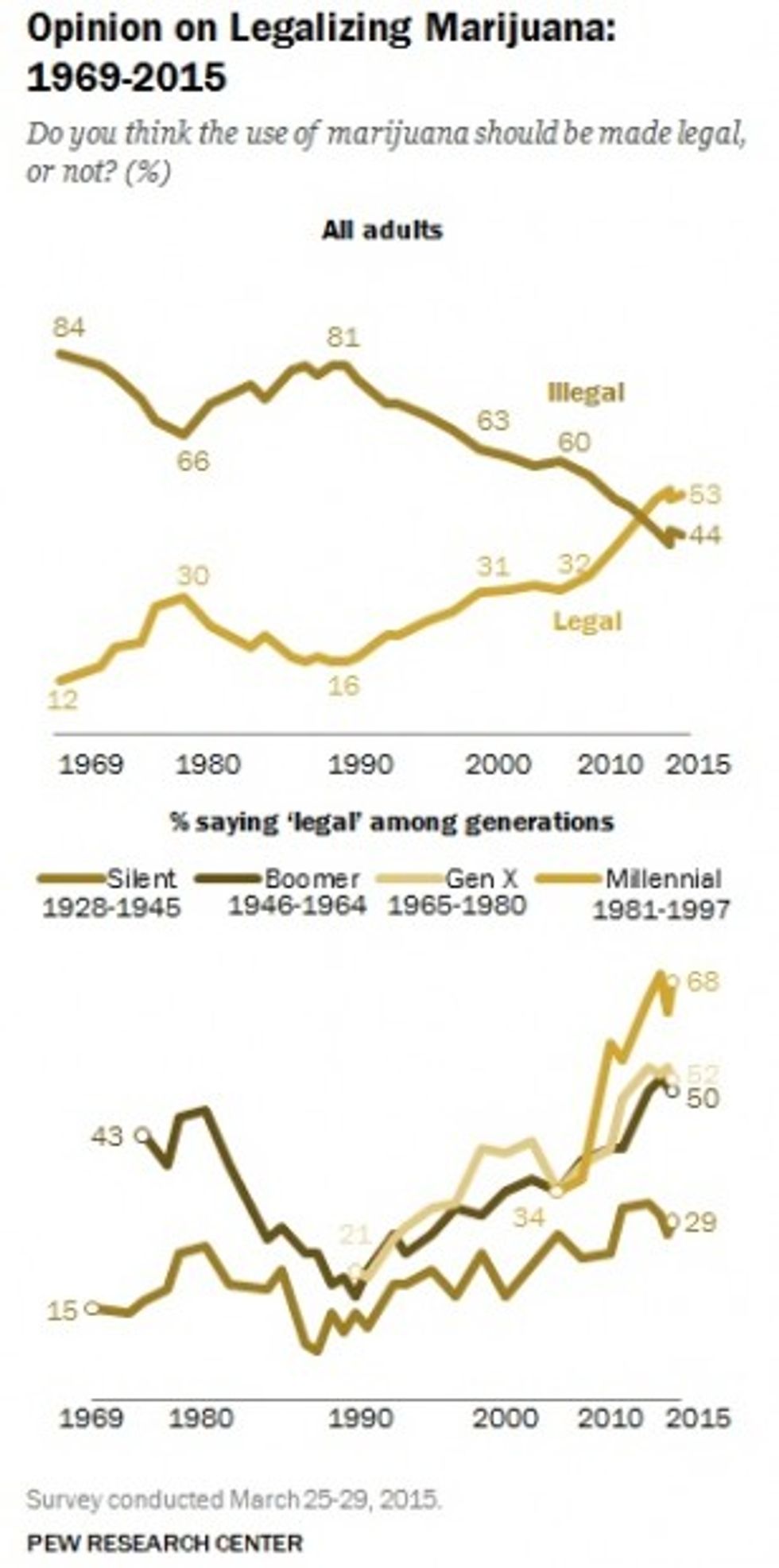 Chart via Pew Research Center
Supporters argue that marijuana could benefit individuals and society, and note that the current drug war is expensive and punitive.
Opponents worry that legal weed would harm society and individuals.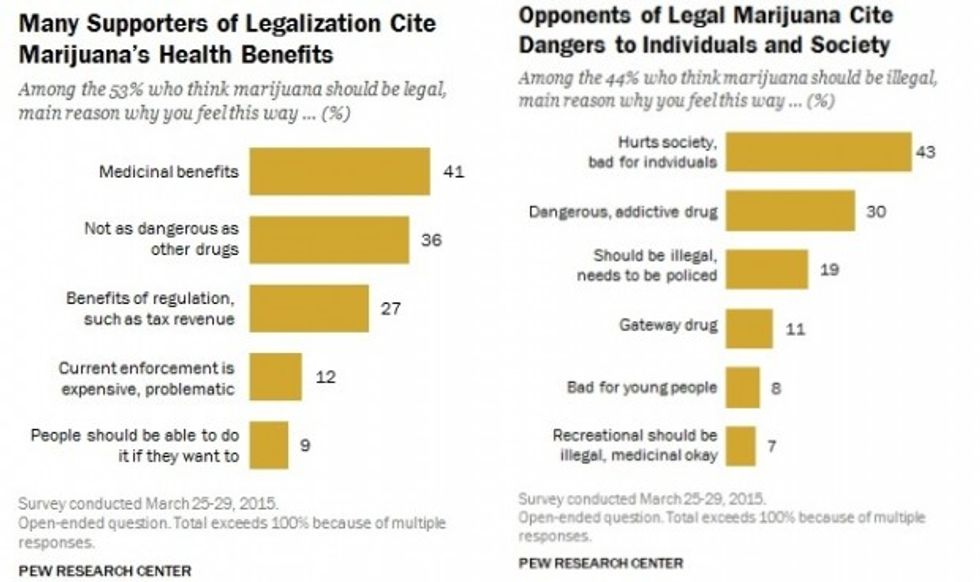 Charts via Pew Research Center
Take a deeper look at the changing attitudes on marijuana below:
Folks like Bill O'Reilly may still be vehemently opposed to marijuana legalization, but the trends seem to show that the debate is almost over.
Younger generations support legalization in huge numbers and as the debate continues, far more people are being convinced to support legalization than are being persuaded of its dangers.
As the former governor of New Mexico and libertarian presidential candidate Gary Johnson said at the Conservative Political Action Conference in February, "Having a debate right now over whether or not to legalize marijuana is kind of like having a debate over whether the sun is going to come up tomorrow."
—
Follow Zach Noble (@thezachnoble) on Twitter