© 2023 Blaze Media LLC. All rights reserved.
Elvis Presley Paid $4 for His First-Ever Recording. White Stripes Frontman Dropped $300,000 for It — and Released a Special Version for Record Store Day.
"It's exactly what came off the grooves."
Story by the Associated Press; curated by Dave Urbanski
NASHVILLE, Tenn. (AP) — After anonymously buying Elvis' first-ever recording at a January auction, Jack White is offering a limited-run vinyl re-release of "My Happiness" and "That's When Your Heartaches Begin" at his Third Man Records in Nashville.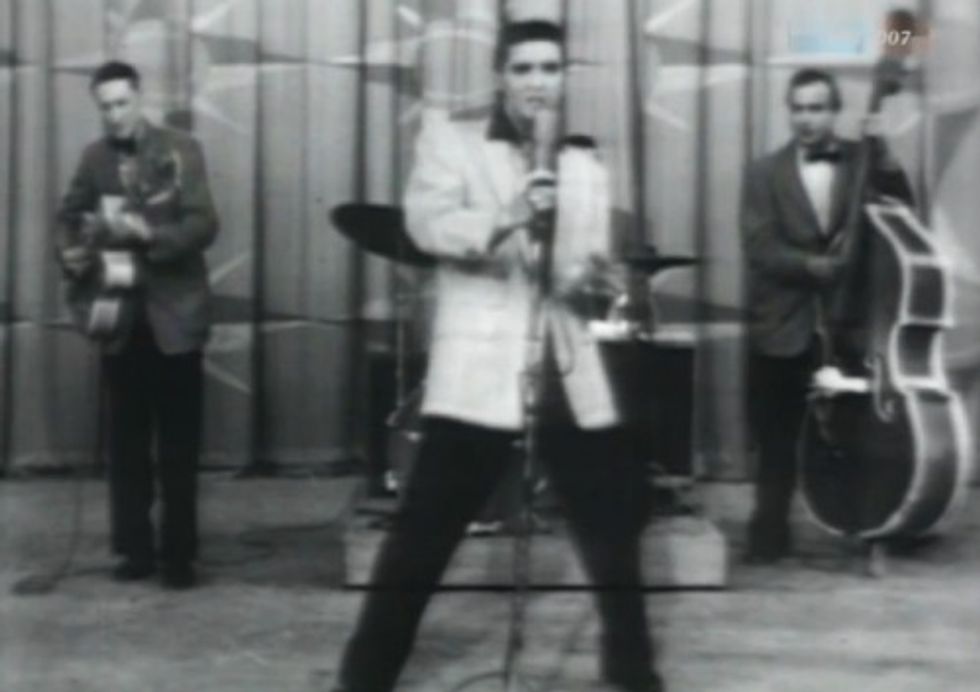 Elvis on stage in the 1950s. (Image source: YouTube)
The 10-inch, 78-rpm facsimile of the 1953 recording was digitally transferred from the original acetate onto new vinyl discs with no cleanup — pops, crackles and all.
A 10-inch, 78-rpm copy of Elvis Presley's original recording of "My Happiness" and "That's When Your Heartaches Begin" is shown at Jack White's Third Man Records on Record Store Day Saturday, April 18, 2015, in Nashville, Tenn. The facsimile of the recording, with all the pops and crackles of the original acetate, is available in the store Saturday only. (Image source: AP/Mark Humphrey)
"It's exactly what came off the grooves," Third Man's Ben Blackwell said.
The record is being sold in a plain paper sleeve because that's "what Elvis would have walked out of Sun with a record in," Blackwell said.
"Sun" is, of course, Sun Records, the legendary Memphis label operated by Sam Phillips. Presley paid $4 for the recording. Six decades later, White paid $300,000.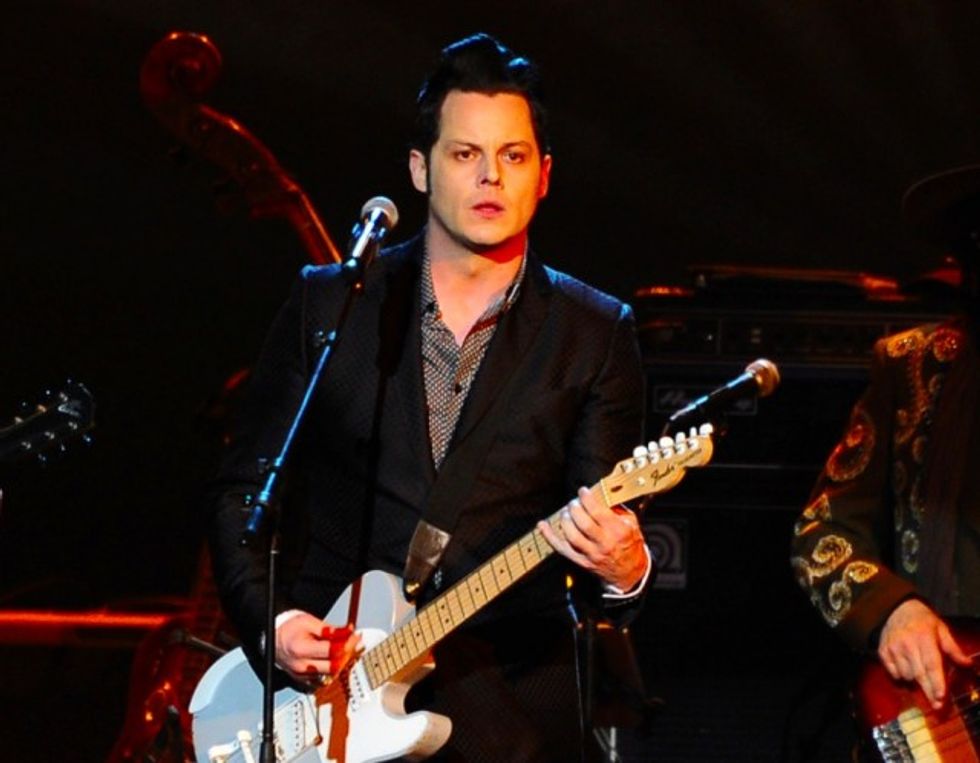 Jack White on stage in February. (Image source: Vince Bucci/Invision/AP)
Super-fans camped out in front of Third Man beginning Friday morning to make sure they could get their hands on the Elvis record and other goodies available only for Record Store Day. That included the first commercially available vinyl edition of "Get Behind Me Satan" from White's former band The White Stripes. The original Elvis recording was on display at Third Man as well.
The first four people in line were mother-and-son teams from Cleveland and Indianapolis.
Christina Condor, said her love affair with White and his store began about three years ago when she saw him perform on "Saturday Night Live."
"I fell in love with his music and started buying more and more albums," she said. She also introduced her 24-year-old son Maxx Trevino to the scene.
Although she and Trevino make the 8-hour drive from Ohio every few months for special store events, she has glimpsed White only rarely on her trips to Nashville.
"I drove into the curb the first time I saw him," she said.
"She dented the bumper," Trevino said. "And there was a Beatles school-girl scream."
People wait to enter Jack White's Third Man Records on Record Store Day Saturday, April 18, 2015, in Nashville, Tenn. (Image source: AP/Mark Humphrey)
Nicholas Lynch, who was in line with his mother, Mary Page, said he moderates a Facebook page for collectors of Third Man's records. He estimated that at least 100 members of the group were in the line of about 700 people waiting for the store's 10 a.m. opening.
Lynch also was one of about 50 customers who had been able to sign up online to relive the 18-year-old Elvis' recording experience by cutting his own single on a one-microphone, direct-to-acetate setup in Third Man's Blue Room.
He planned to play "Baby Please Don't Go" and then morph into the White Stripe's "Little Bird."
Once inside the store, Page said that she, Lynch and Lynch's girlfriend spent more than $500 on merchandise. That included a Record-Store-Day-only version of the White Stripes album with one red disc and one white disc. It also has a lenticular cover — one of those images that changes as you move it around.
Nonexclusive versions of the White Stripes album and the Elvis record will be released to a wider audience later this year, Blackwell said. Among the differences, the Elvis recording will be cleaned up and "Get Behind Me Satan" will be stamped on standard black vinyl.
But for collectors like Condor, Trevino, Lynch and Page, waiting in line for 26 hours for the exclusive versions was worth it.
"Why do we do it? Our love of Jack White," Condor said. "And Elvis too."
—
Follow Dave Urbanski (@DaveVUrbanski) on Twitter
Want to leave a tip?
We answer to you. Help keep our content free of advertisers and big tech censorship by leaving a tip today.
Staff Writer
Dave Urbanski is a senior editor for Blaze News.
DaveVUrbanski
more stories
Sign up for the Blaze newsletter
By signing up, you agree to our
Privacy Policy
and
Terms of Use
, and agree to receive content that may sometimes include advertisements. You may opt out at any time.