© 2023 Blaze Media LLC. All rights reserved.
Shoot Me!': Marine Veteran Cop Gets Charged by a Murder Suspect. His Body Cam Captures His Incredible Response.
"I wanted to be absolutely sure before I used deadly force."
Jesse Kidder had only been on the New Richmond, Ohio, police force a single year when he found himself facing down a seemingly suicidal murder suspect.
But Kidder, a Purple Heart recipient and Marine veteran, refused to open fire.
Images via YouTube
Body cam video captured the intense moments from Thursday when Michael Wilcox, who is accused of killing his best friend and his fiancee, started charging Kidder.
"Get down on the ground!" Kidder yells repeatedly as he backpedals from Wilcox.
"Shoot me!" Wilcox yells back, keeping his hands in his pockets and coming closer and closer to Kidder.
At one point, Kidder loses his balance and tumbles backwards — and Wilcox seems to be mere inches away from the cop.
But Kidder gets control of the situation and Wilcox winds up cuffed on the ground.
Watch the dangerous encounter below:
"Law enforcement officers all across the nation have to deal with split-second decisions that mean life or death," Kidder said after the fact. "I wanted to be absolutely sure before I used deadly force."
"For him to make the judgment call that he did shows great restraint and maturity," New Richmond Police Chief Randy Harvey said.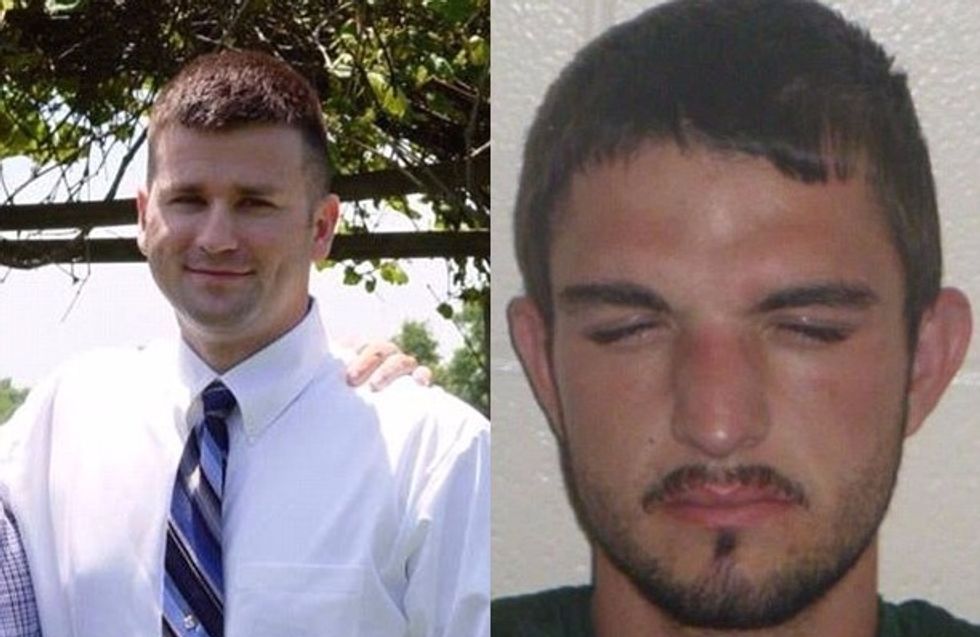 Police officer Jesse Kidder, left, and murder suspect Michael Wilcox, right. (Images via Facebook and Brown County Sheriff's Office)
Watch Kidder talk about the harrowing experience in WLWT-TV's report below:
In his community and online, Kidder has drawn praise for his restraint.
#JesseKidder saw the video of the incident you were part of, and gotta say that was guts, patience and #Professionalism.

— Dan MacNeil (@DanMac2014) April 19, 2015
Outstanding job officer Jesse Kidder!

— eSTATIC (@iamestatic) April 19, 2015
Some people offered different perspectives, however, with one woman urging police not to endanger themselves just to spare criminals.
#jessekidder Great job w/ murder suspect but cops please dont start risking your safety 4 criminals. Protect yourselves. #bluelivesmatter

— Jane Porter (@JanePorter2008) April 19, 2015
Others noted that Wilcox was white and questioned whether Kidder — or any other police officer — would have shown the same restraint if he'd been charged by a black man.
I think it's great that Ofc. #JesseKidder showed restraint. I hope Black suspects can get the same restraint one day. #CrimingWhileWhite

— Torraine Walker (@TorraineWalker) April 19, 2015
An unarmed black man gets shot running AWAY from a cop yet a white MURDER SUSPECT charging at a cop yelling shoot me doesn't get a reaction

— Derenik (@Caddees) April 19, 2015
No matter what others say, Harvey stood behind his officer and noted that Kidder went beyond the call of duty by holding his fire.
"This video footage, it eliminated all doubt that this officer would have been justified if in fact it came to a shooting," the police chief said.
(H/T: Daily Mail)
—
Follow Zach Noble (@thezachnoble) on Twitter
Want to leave a tip?
We answer to you. Help keep our content free of advertisers and big tech censorship by leaving a tip today.
more stories
Sign up for the Blaze newsletter
By signing up, you agree to our
Privacy Policy
and
Terms of Use
, and agree to receive content that may sometimes include advertisements. You may opt out at any time.