Glenn Beck on Wednesday said Americans on both sides of the aisle are "sick of the games and the lies" in politics today.
"We're fed up," Beck said on his television program. "We're tired of being fooled, and being played for fools. And that brings me to Hillary Clinton. Here she is, the least relatable human being since perhaps Al Gore, trying to go around the country looking like the average person. Saturday Night Live is having a field day with the blatant contradiction. "
Beck said no one is falling for the Clinton "shtick" anymore. Though the Clintons may market themselves as the "champion of the little guy," Beck said that "everybody knows they're out for power [and] out for money."
"Are we witnessing a pivot point in America?" Beck asked. "Is it finally the time that we reject the political family empires, the Kennedys, the Clintons and the Bushes?"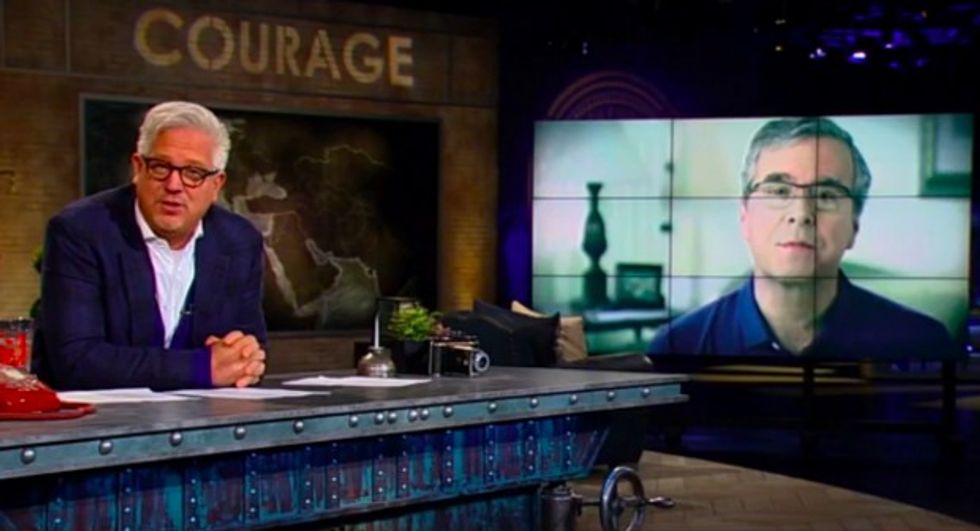 Glenn Beck speaks on his television program April 22, 2015. (Photo: TheBlaze TV)
Beck said he hopes so, and the backlash against Jeb Bush will be just as strong as the one against Hillary Clinton if he enters the presidential race.
"If somebody has something legitimate to say and it's authentic, it will connect with the American people. And they will win," Beck promised.
Beck said the reason President Barack Obama won was that he tapped into an idea and formed a movement with people on both sides of the aisle who were excited to elect the first black president, heal some of the divisions in the country and stop the "nonsense" in Washington.
"People are looking for it again, and that's why people like Ted Cruz, like Rand Paul. They are saying something different," Beck said. "We're done [with the games and the lies]. Clinton and Bush represent everything that is wrong with Washington."
[mlbvideo content_id=84302883]
The full episode of The Glenn Beck Program, along with many other live-streaming shows and thousands of hours of on-demand content, is available on just about any digital device. Click here to watch every Glenn Beck episode from the past 30 days for just $1!