An Easter egg treat tucked into the vast desert terrain of Pakistan drew quite an audience Friday.
Google Maps users noticed something that wasn't just been by mistake or coincidence. The very blunt message appearing just south of the Pakistani city of Rawalpindi seemed to be a shot at Apple, which is also one of Google's competitors.
Business Insider published a screenshot of the bizarre image, seen below.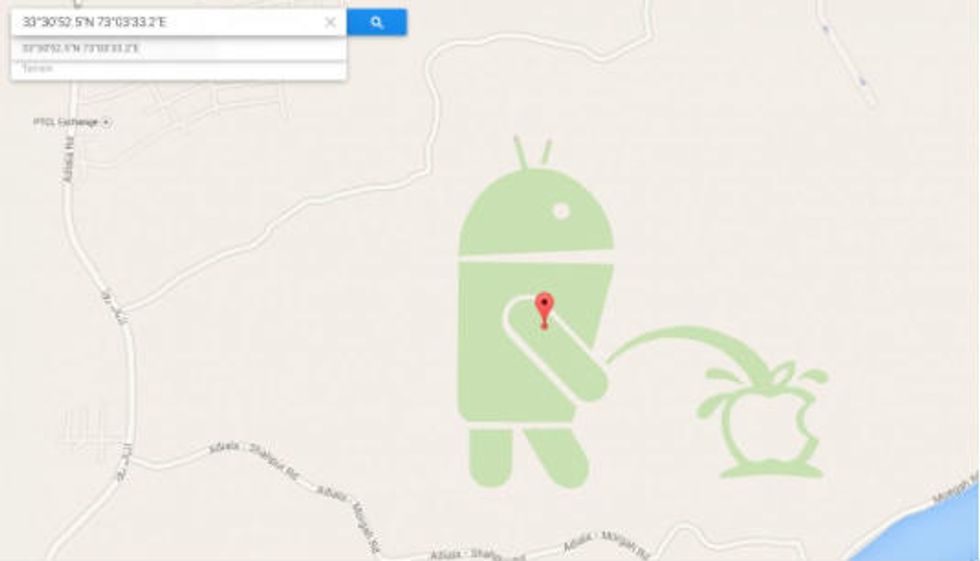 Image source: Google Maps via Business Insider
The depiction was of an Android "droid" mascot urinating on the Apple logo. It was formed by the same shade of green that's often used to indicate the locations of forests or parks.
It isn't clear who exactly is responsible for the prank although some have hinted that the culprit might even work for Google. The Guardian noted that whoever did it apparently used Google Map Maker, a tool that lets users add details to maps, such as street names.
But as the outlet also pointed out, Google has to approve any additions users submit to Google Maps. In this case, it appears someone either wasn't paying attention or just so happened to like the joke enough to let it slip by. In any case, Google has since removed the once-hidden egg from its maps feature.
"We've terminated the Android figure involved in this incident, and he'll be disappearing from Google Maps shortly," a representative for for the company told the Guardian.
(H/T: Business Insider)
–
Follow Jon Street (@JonStreet) on Twitter