Maryland Gov. Larry Hogan (R) seemingly took a minor jab at Baltimore Mayor Stephanie Rawlings-Blake's handling of the riots during a press conference Monday evening.
Hogan was asked why it took so long for the National Guard to be activated, considering the violent scenes coming out of Baltimore in the afternoon.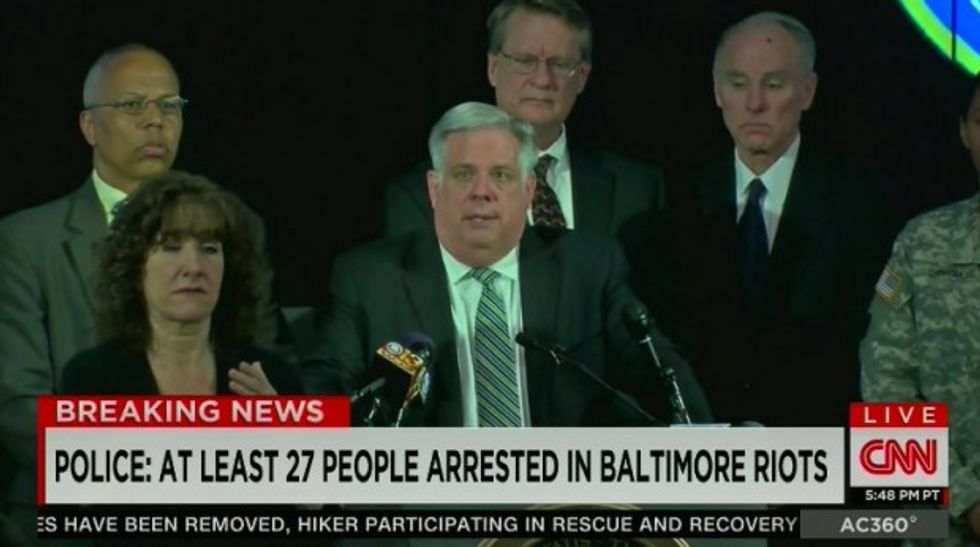 Gov. Larry Hogan at a press conference Monday evening. (Image via CNN broadcast)
The governor said that it took him no more than 30 seconds to declare a national emergency and activate the National Guard once the Baltimore mayor requested assistance.
"When the mayor called me, instantly we signed the executive order. We already had our entire team prepared," he said.
Hogan then added, "We were trying to get in touch with the mayor for some time. We are glad she finally called us."
The city of Baltimore descended into chaos on Monday as rioters reportedly hurled rocks, bricks and other items at police officers. The riots were ignited by the death of Freddie Gray, who died of a spine injury while in police custody. By the evening, multiple buildings had been set a blaze.
—
Follow Oliver Darcy (@oliverdarcy) on Twitter