The ongoing saga surrounding Aaron and Melissa Klein, the Christian owners of the confectionery shop Sweet Cakes by Melissa who gained national attention after they refused to make a wedding cake for a lesbian couple in 2013, continues, as an Oregon judge has recommended that they pay the women $135,000 for emotional damages — a lump sum that the Kleins say could put them "out on the street."
"A government that can tell you what you have to do and what you have to say is pretty darn scary, and when they come at you and try to take everything you have because of it, well, I mean, that's almost horrific," Aaron Klein told The Church Boys podcast. "We are the average American family trying to live out the American dream and honor God in our life, and so, that's why we're in the situation we're in."
He explained that the $135,000 wouldn't come from the family's business proceeds or from insurance and that they would be personally forced to pay it out of pocket — a dynamic that would profoundly impact the Kleins as well as their five children.
"It's coming straight from our personal assets," Klein said. "That would be our vehicle, our house, the money that should be used to feed our kids, you know, that sort of thing. So, this is not something that will be real easy to pay up."
He described the proposed payment as being "just the thing to bankrupt somebody."
Listen to the Kleins give an update about their story to The Church Boys below:
At this point, the $135,000 is only a recommended sum that could be either increased or decreased by Oregon State Labor Commissioner Brad Avakian when he issues his final judgment.
According to the Oregonian, the judge wants $75,000 given to Rachel Cryer-Bowman and $60,000 to Laurel Bowman-Cryer for "emotional suffering," as they are the two married women for whom the cake was refused. 
Upon first hearing of the recommended payment last Friday, Melissa Klein said that she was "quite shocked."
"I figured a government was put in place to protect us and protect all people, and ... not to punish people — especially for living by your faith, and that's all we did," she said. "That's the only reason … that we couldn't participate was because of our faith. We just couldn't do it."
Melissa Klein said that she believes some people don't understand where she and her husband are coming from, noting that they have received hateful messages since the case went public in 2013.
"I love everybody, and I would do anything for anybody… I would give the shirt off my back for anybody," she said. "I wish I could be able to sit down and have everybody get to know me and have a cup of coffee and chat. We're not hateful people at all."
The Kleins also faced another setback in recent days when a GoFundMe account that was set up on their behalf and reportedly raised over $100,000 in just nine hours to help the family pay its legal fees was abruptly taken offline by the crowdfunding company.
"After careful review by our team, we have found the 'Support Sweet Cakes By Melissa' campaign to be in violation of our Terms and Conditions and have removed this campaign," GoFundMe said in a statement issued over the weekend. "The money raised thus far will still be made available for withdrawal."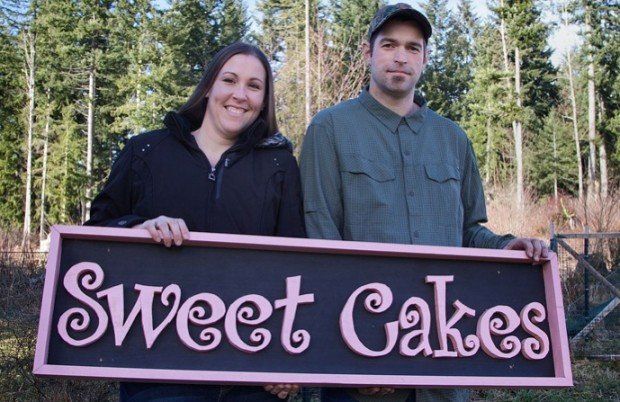 Melissa and Aaron Klein (Sweet Cakes By Melissa/Samaritan's Purse)
Aaron and Melissa Klein said that they hold no ill will toward GoFundMe, and that the fundraiser itself showed them that people are willing to rally behind their cause. It is unclear why the crowdfunding site made its decision, though the Kleins said that they understand.
"I will say that GoFundMe has every right to do business with whom they want to do business with, and if they didn't want to get behind our cause, I'd say, 'Hey, that's your right. You get to do that,'" Aaron Klein said.
Famed evangelist Franklin Graham has since stepped up through his nonprofit Samaritan's Purse to help raise money for the family, an action for which the Kleins said that they are profoundly grateful.
For now, the couple plans to keep on fighting.
Read more about the Kleins' story here.
TheBlaze's Marissa Abbott contributed to this report.