Wisconsin Gov. Scott Walker has leaped to a 10-point lead in the all-important first contest state of Iowa, in part by passing the conservative and electability test among Republican voters.
At 23 percent, he is soundly ahead of his nearest Republican opponent, Florida Sen. Marco Rubio at 13 percent, and former Florida Gov. Jeb Bush at 12 percent, according to a Public Policy Polling survey released Tuesday.
Republican contenders, Kentucky Sen. Rand Paul and former Arkansas Gov. Mike Huckabee, each have 10 while other candidates are in single digits.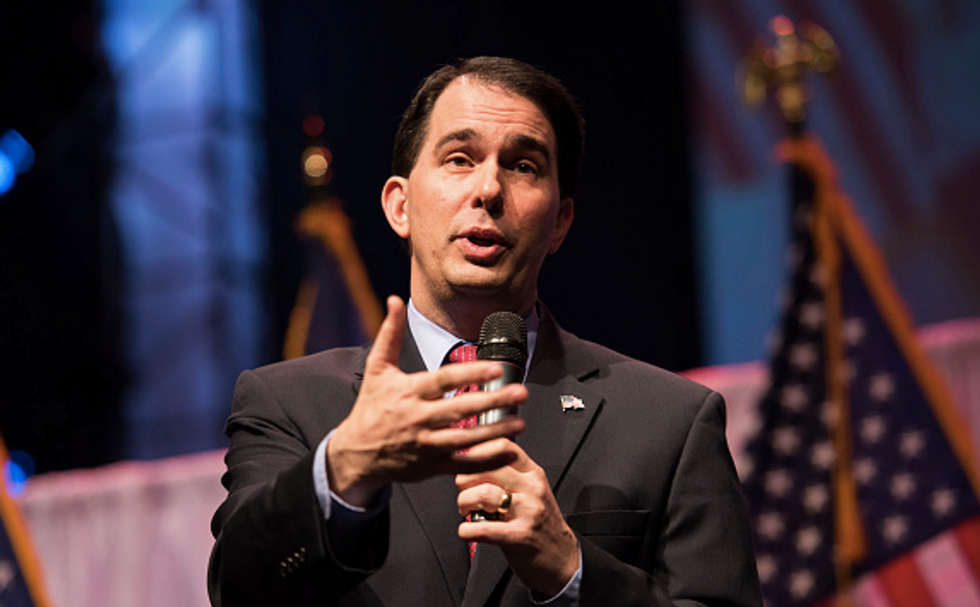 Scott Walker, governor of Wisconsin, speaks during the Iowa Faith & Freedom Coalition presidential forum at Point of Grace Church in Waukee, Iowa, U.S., on Saturday, April 25, 2015. Declared and undeclared Republican presidential candidates descended on Iowa for the event. Photographer: Daniel Acker/Bloomberg via Getty Images
Though Iowa is a neighboring state to Wisconsin, Walker has not opened up such a substantial a lead over his GOP rivals before.
Walker is known as the battle tested conservative, twice elected governor and recall survivor in a blue state. He has been gaining popularity in Iowa. He also has a 59 percent favorability rating among Republicans.
Walker might also satisfy the "Buckley rule," named for the late William F. Buckley's call to pick the "rightward most electable candidate"
Walker edges out Rubio among GOP voters seeking an electable general election candidate, with 21 percent to 20 percent. Among Republicans wanting a conservative candidate, he leads 29 percent to 14 over Texas Sen. Ted Cruz.
"The key to Walker's success is that he's winning both among voters who are most concerned about electability in the general election and among voters who are most concerned with having the most conservative candidate," said the press release by PPP, a Democratic leaning polling firm.
Bush's 12 percent standing in Iowa is the same as a year earlier when the poll was taken.
The only officially declared candidates in the race thus far are Paul, Cruz and Rubio on the Republican side.
Not surprisingly, former Secretary of State Hillary Clinton holds a commanding lead over other Democratic rivals, at 62 percent. Her nearest rival, Vermont Sen. Bernie Sanders, stands at 14 percent. Other Democrats are in single digits.