People giving the middle finger to law enforcement during the unrest in Baltimore isn't necessarily an unusual sight — but from people inside a church?
That's exactly Maryland sheriff Mike Lewis told TheBlaze he saw Tuesday night.
Lewis traveled with deputies from Wicomico County after Gov. Larry Hogan requested law enforcement assistance in Baltimore.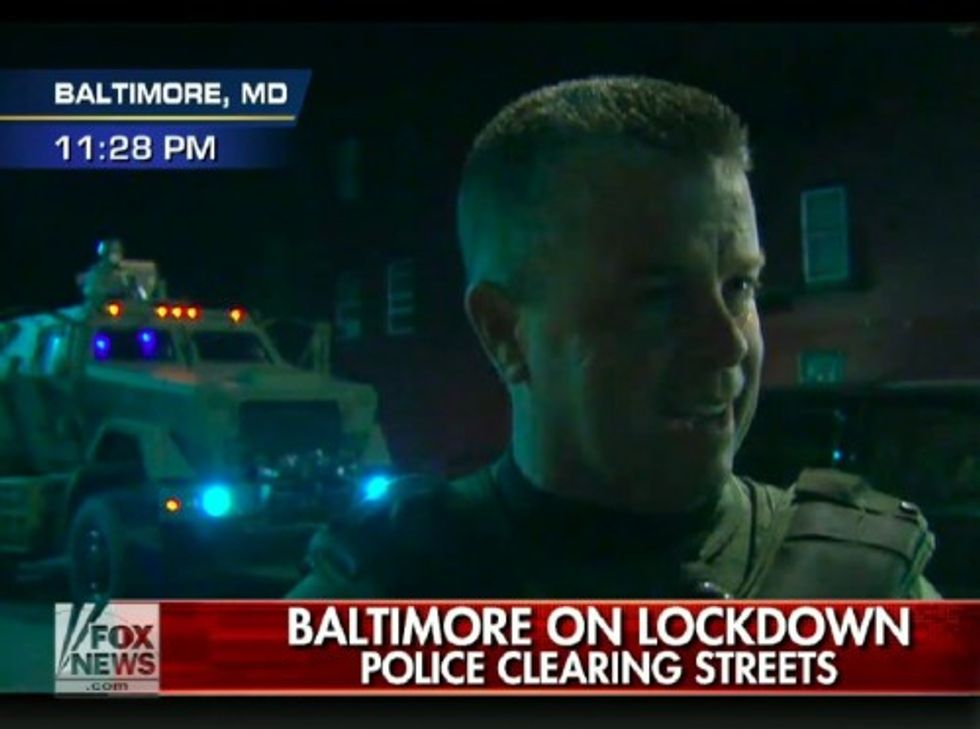 Sheriff Mike Lewis (Image source: Fox News)
He said he saw a group of black and white individuals standing behind the glass doors of Simmons Memorial Baptist Church, and "five or six" of them gave him the middle finger just before 11 p.m., well after the city-wide curfew had been imposed.
The sheriff said that one of the white individuals grabbed her crotch and mouthed the words "eat my 'P' effing pig" and that another one — who wore the medic band around each arm — raised both of her hands and gave him a double middle finger.
Lewis told TheBlaze that after he pulled out his cellphone to photograph what he was witnessing, most of the people in the doorway turned and "fled," but three remained, one holding up a black T-shirt over her face. Behind them read a sign, "Welcome to Simmons where you can 'Experience the Difference.'"
Lewis said he took the following photo seconds after the individuals were "flipping me the bird":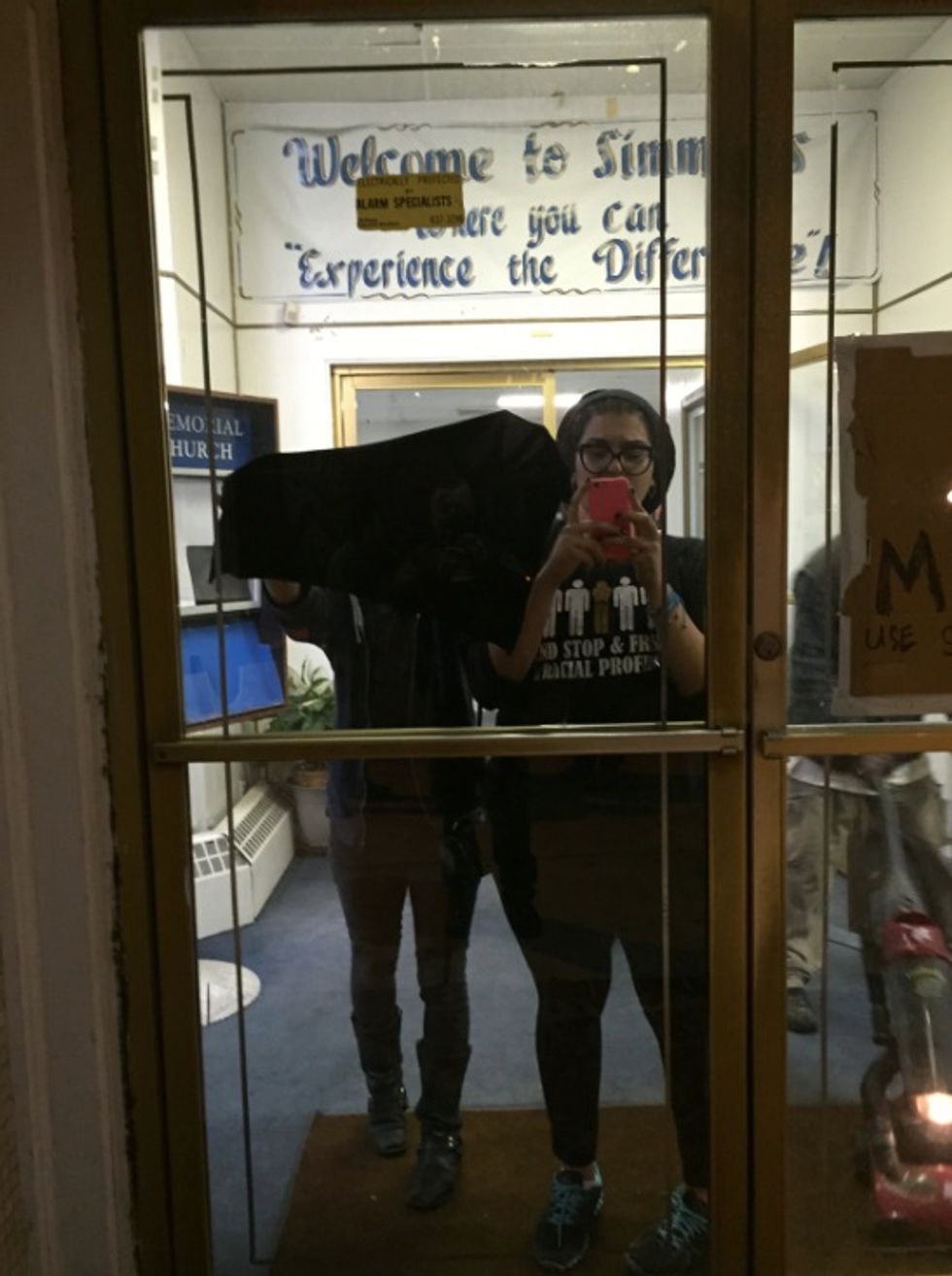 Photo courtesy Sheriff Mike Lewis
Lewis told TheBlaze the incident occurred just before he gave an interview to Fox News, standing in a street that he characterized as "ground zero." Lewis told reporter Leland Vittert he wasn't pleased with the reception he and other officers received as he looked up at "a Memorial Baptist Church."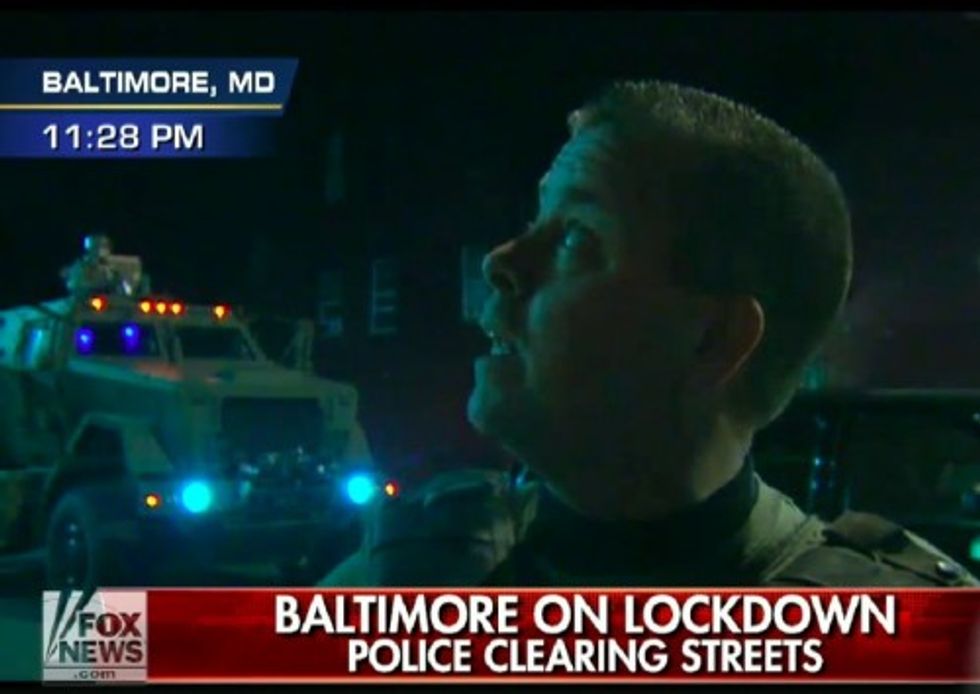 Sheriff Mike Lewis (Image source: Fox News)
"Those inside the church who are prohibited from coming outside the church have been giving us the finger the entire time we're here," Lewis told Fox News. "And it's shocking to see medic bands on their arms giving law enforcement the middle finger. We're here solely to help the citizens of this city, to help restore some normalcy to this city, and that's the reception we get."
But Lewis also pointed out that the majority of people in Baltimore have been "overwhelmingly supportive" over the two days he and his deputies have been there.
While Simmons Memorial Baptist Church wasn't visible on the Fox News video, a prominent store sign on the street was: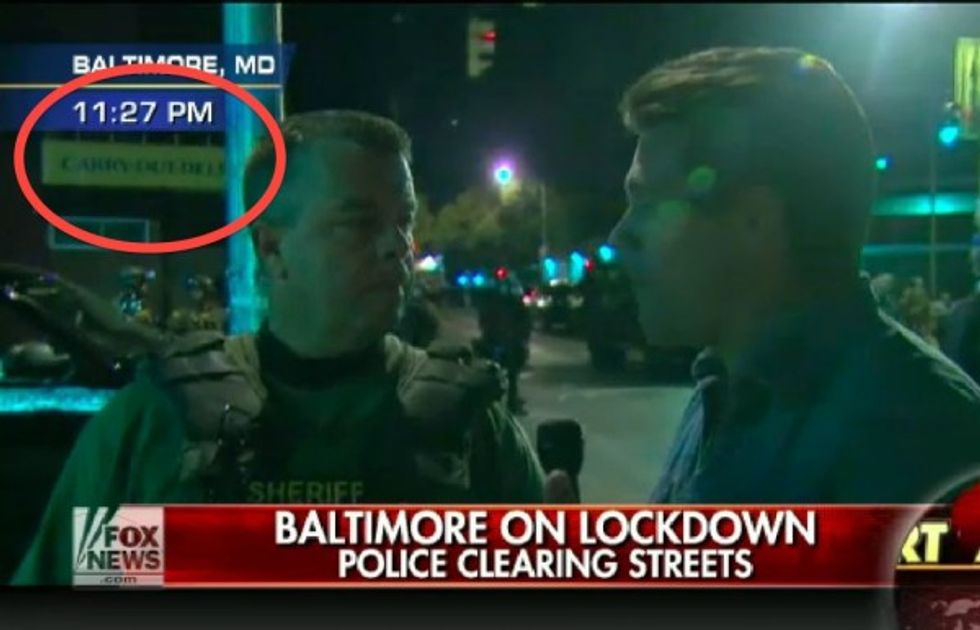 Image source: Fox News
And a Google Maps satellite view shows a similar-looking sign across the street from Simmons Memorial Baptist Church on 604 Cumberland Street: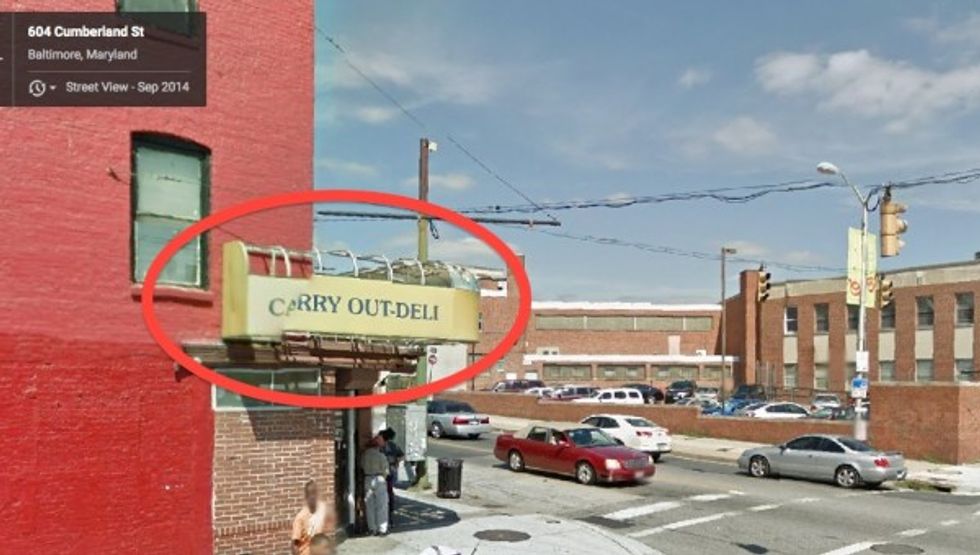 Image source: Google Maps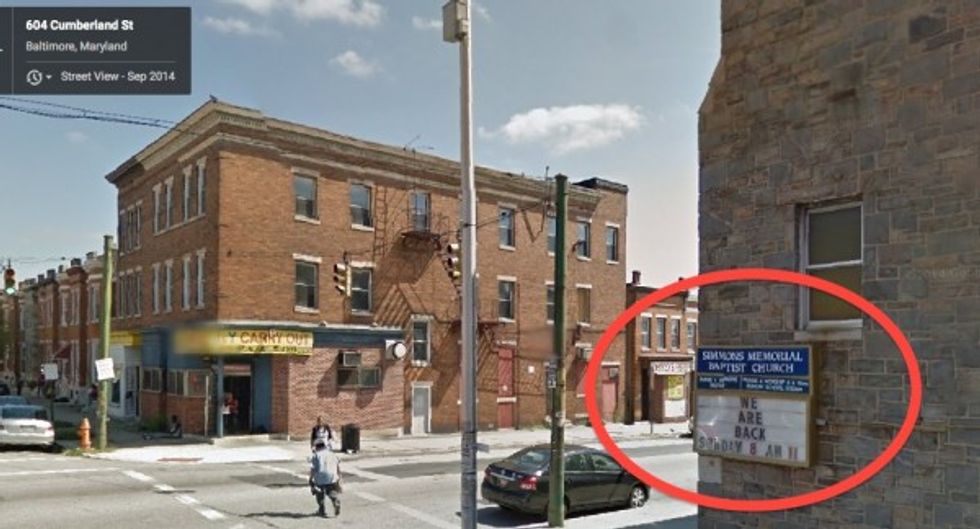 Image source: Google Maps
Rev. Duane Simmons, pastor of Simmons Memorial Baptist Church, told TheBlaze on Wednesday he was home Tuesday night, but about 15 medics stayed the night at the church. Two caretakers affiliated with the church stayed as well and "would have never" given a sheriff the finger, he said.
And the pastor questioned why medics, who are there to help the community, would give law enforcement the finger, saying they wouldn't have the "ghetto gravitas" to do such a thing.
"It's hard to believe," Simmons said.
Of the violence in the city, Simmons told the Washington Post it's "heart-wrenching, but it is something that we have been anticipating."
"People are frustrated. It is like a rat who has been backed into a corner. These folks have had enough," the pastor said.
(H/T: The Gateway Pundit)
—
Follow Dave Urbanski (@DaveVUrbanski) on Twitter