Baltimore City State's Attorney Marilyn Mosby on Friday announced criminal charges against six Baltimore City police officers in the death of Freddie Gray, the 25-year-old man who suffered a fatal spine injury while in police custody and whose death sparked rioting and unrest in the city.
"The findings of our comprehensive, thorough and independent investigation, coupled with the medical examiner's determination that Mr. Gray's death was a homicide, which we received today, has led us to believe that we have probable cause to file criminal charges," she said.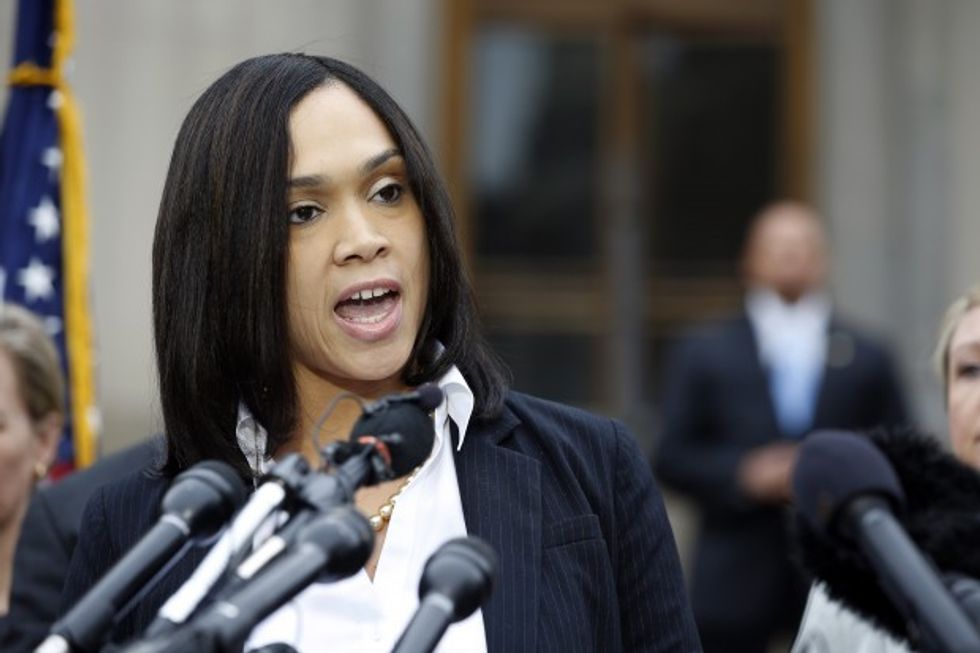 Marilyn Mosby, Baltimore state's attorney, speaks during a media availability Friday in Baltimore. Mosby announced criminal charges against all six officers suspended after Freddie Gray suffered a fatal spinal injury in police custody. (AP Photo/Alex Brandon)
"A warrant has been issued for their arrest," she added of the six officers involved.
Mosby outlined charges against six officers: Officer Caesar Goodson Jr., Officer William Porter, Lt. Brian Rice, Officer Edward Nero, Officer Garrett Miller and Sgt. Alicia White.
All six have been charged with second-degree assault and misconduct in office, although Goodson, Porter, Rice and White are also being charged with manslaughter. Each officer could face at least 20 years in prison if charged, although the charges against Goodson could lead to 63 years in jail if they stick.
Goodson is also charged with "second-degree depraved heart murder," along with involuntary manslaughter, manslaughter by gross and criminal negligence, and second degree assault.
Mosby said that as a result of her office's independent investigation, Gray was arrested by police after making eye contact with them and trying to flee. She said a knife was found in Gray's possession, but said he was carrying it legally.
She added that Gray was apprehended without any probable cause, and said officers "illegally arrested Mr. Gray."
Soon after Gray was apprehended, he started asking for an inhaler, and said he was having trouble breathing. After traveling some distance with him in a police wagon, they took him out, bound his wrists and ankles, then placed him back in the wagon on his stomach.
.@meganspecia photos show full list of charges filed against 6 Baltimore officers pic.twitter.com/4JTvGy295M

— Sam Schlinkert (@sts10) May 1, 2015
"Following transport from Baker Street, Mr. Gray suffered a severe and critical neck injury as a result of being handcuffed, shackled by his feet, and unrestrained inside of the B.P.D. wagon," she said.
Gray asked for help again, and said he couldn't breathe, after which the officers asked if he wanted a medic. A medic arrived and determined that Gray was "critically injured," after which he was rushed to a trauma unit.
"The manner of death, deemed a homicide by the Maryland State Medical Examiner, is believed to be the result of a fatal injury that occurred while Mr. Gray was unrestrained by a seatbelt in the custody of the Baltimore Police Department wagon," Mosby said.
Shortly after Mosby's announcement, the Baltimore police union said the six officers acted diligently and are not responsible for Gray's death.
Appealing to the city's young people, Mosby called for calm while she works to "seek justice on your behalf."
"I have heard your calls for no justice, no peace, however your peace is seriously needed as I work to deliver justice," she said.