After receiving a tip that Mile High Heating and Cooling in the Denver area discriminates against a "colored" neighborhood, KDVR-TV launched an undercover investigation to get to the bottom of the allegations. The footage the news station captured has stunned the community.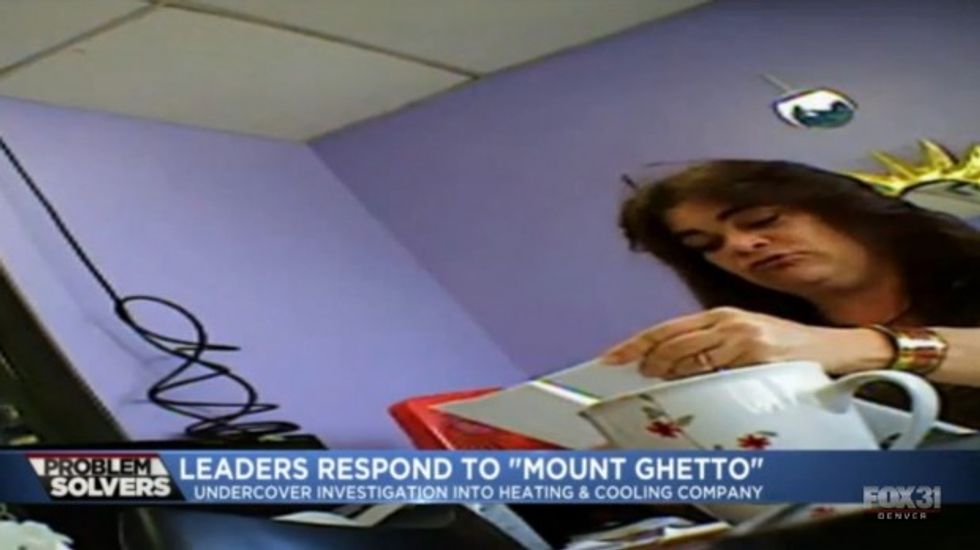 (Screengrab via KDVR-TV)
An undercover producer visited Mile High Heating and Cooling to "apply" for a telemarketing job and was apparently told by "Andrea," a manager, that they have designated the Montbello neighborhood as "never call."
"We call it 'Mount Ghetto,'" the manager is heard saying in the video. "Um, colored neighborhood."
The woman reportedly went on to claim that the residents in Montbello don't pay their bills.
KDVR-TV tested the manager's statements and had a Montbello resident attempt to make an appointment with the heating and cooling company. She never received a callback. When KDVR-TV posed as a customer from a different neighborhood, they were reportedly offered service immediately.
The manager seen in the video has since been fired, but the community is obviously offended.
"It blows my mind. Who would do something like that?" Montbello resident Pam Jiner said.
Leaders in the community have called on "all citizens" of every race to refuse to do business with the company.
The owner of the company, Kevin Dykman, released a statement to KDVR-TV condemning the employee.
"We pride ourselves on ensuring a positive and professional work environment for all employees, and our main focus is providing excellent service to our customers. Insensitive comments, or anything that goes against our culture of respect and inclusion, is simply not tolerated," Dykman said.
(H/T: Mediaite)
---