Attorney General Loretta Lynch traveled to Baltimore Tuesday to tell civic leaders that her department will be available to help the city in any way possible to deal with the fallout from the death of Freddie Gray at the hands of police.
In brief remarks to reporters, she said Baltimore has already done a good job helping kids to resist the idea of joining a gang, and said the Justice Department would help support that mission.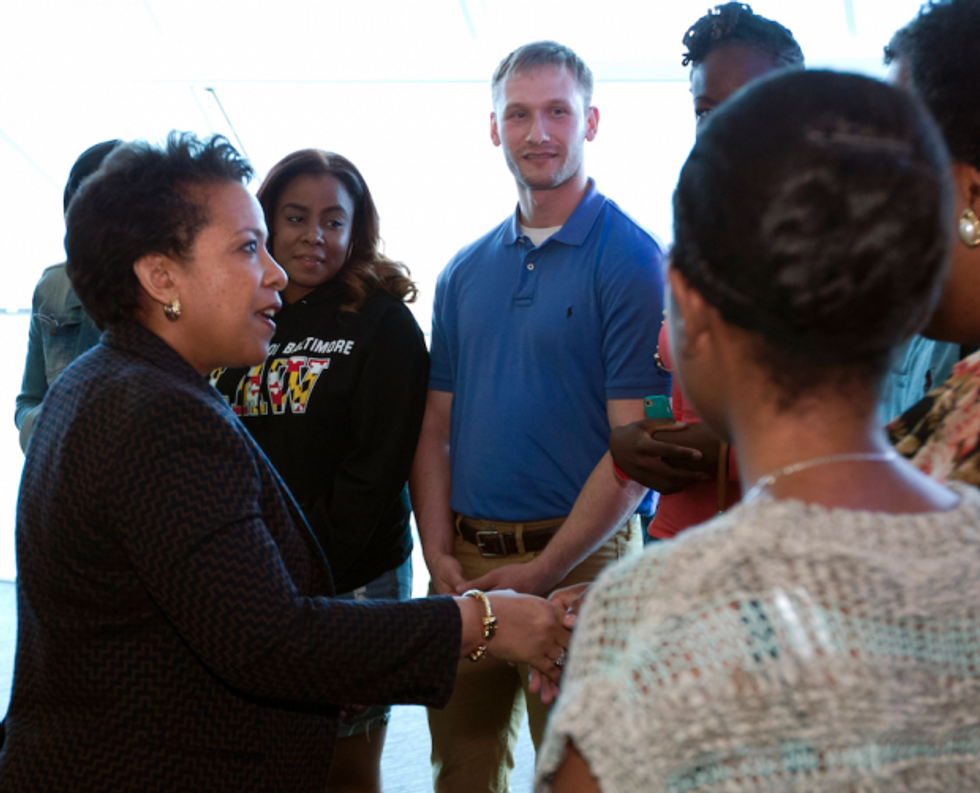 Attorney General Loretta Lynch comforted civic leaders in Baltimore on Tuesday, a week after riots occurred in reaction to the death of Freddie Gray. Image: AP
"So please, hold onto that, and know that we are here to hold onto that with you," she said. "We're here to hold your hands to provide you support, to provide you help, to provide you information, guidance, as best we can."
Lynch didn't offer much in the way of specifics, but did note that the Justice Department would run a federal civil rights investigation into the death of Gray.
"As many of you know, we have a separate civil rights investigation into Mr. Gray's death," she said. "That's an ongoing matter that will take some time to conclude."
Last week, Baltimore City State's Attorney Marilyn Mosby announced that criminal charges were being filed against six Baltimore City police officers.
Gray's death, which was the result of a significant spinal injury that somehow occurred while he was in custody, prompted rioting in Baltimore last week. Lynch assured civic leaders that the city would soon return to normal.
"There will come a time when Baltimore will calm down, and the cameras will go away and the headlines will go away," she said.
"But the work will remain," she added. "And so I really here with my team to commit to you personally and on behalf of the Department of Justice that we will stay and we will still be here during those days of rebuilding."