The Senate voted Tuesday evening to pass the Republican budget plan for 2016, finishing up a process that Republicans hope is the first step toward a balanced budget after ten years.
The Senate passed the budget plan in a 51-48 vote, about a week after the House passed it 226-197.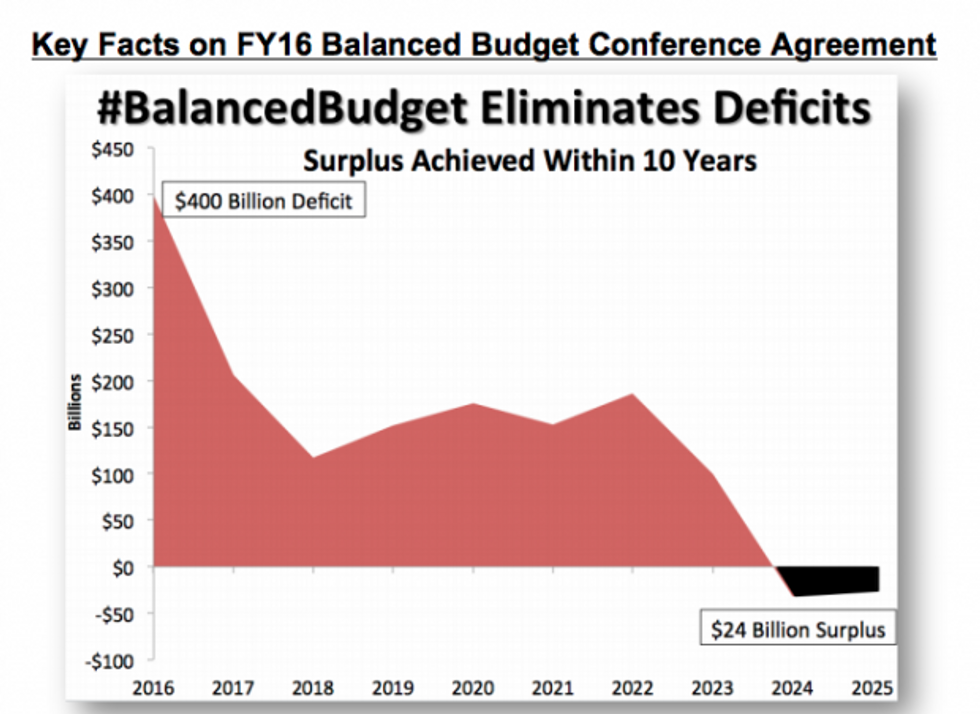 Image: Senate Budget Committee
The Senate vote was largely along party lines, although two Republicans, 2016 presidential candidates Ted Cruz (R-Texas) and Rand Paul (R-Ky.) voted against it. Conservative Republicans have said the budget doesn't do nearly enough to trim spending — earlier in the day, for example, a Paul spokesperson said the plan relies on a "gimmick" to appear to achieve balance after 10 years.
Back in March, Cruz praised the Senate's passage of a budget plan, but also said "gimmicks" were keeping him from supporting it in the end.
Democrats have spent several weeks railing about the plan, which they say would make deep cuts to social programs. It also repeals Obamacare, and includes instructions to several key congressional committees to write legislation to repeal and replace Obamacare.
The Obamacare language is set up in a way that lets these committees write privileged legislation that would likely be able to pass in the Senate without being filibustered by Democrats. That process, known as "reconciliation," would still let President Barack Obama veto any repeal bill, but Republicans are interested in moving it through both houses of Congress and forcing Obama to wield his veto pen.
Republicans have argued that Democrats have little basis for saying the budget plan "cuts" federal spending.
According to the final estimates, federal spending would be $3.87 trillion in 2016, and would fall a bit in 2017, to $3.81 trillion. But after that, spending would steadily increase each to 2025, when spending would rise to just over $5 trillion.
GOP lawmakers have said those numbers aren't "cuts" at all, while Democrats have said that because the spending is lower than currently anticipated spending patterns, it constitutes a "cut."