Attorney General Loretta Lynch said Friday that her department will launch a civl rights investigation into the Baltimore Police Department, after a black man — 25-year-old Freddie Gray — died in police custody under questionable circumstances.
Lynch hinted on Thursday that a formal probe would be coming, after she met with Baltimore civic leaders and promised to do all she could to help a city that is the latest to experience rioting and racial unrest after at death at the hands of police.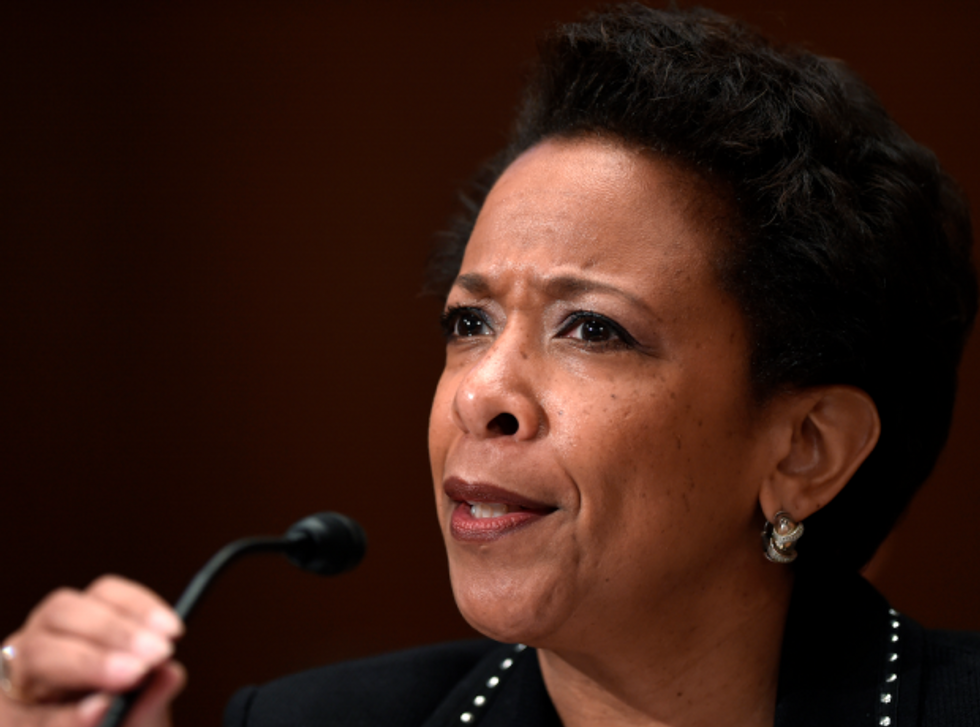 Attorney General Loretta Lynch said Friday that her department would launch a civil rights probe of the Baltimore City Police Department, an action that Baltimore has requested in the wake of the death of Freddie Gray at the hands of police. Image: AP
"Today, the Department of Justice is opening an investigation into whether the Baltimore Police Department has engaged in a pattern or practice of violations of the Constitution, or federal law," she said. "This investigation will begin immediately, and will focus on allegations that Baltimore Police Department officers used excessive force, including deadly force, conduct unlawful searches, seizures and arrests, and engage in discriminatory policing."
Lynch noted that Baltimore police have already been working with city leaders and the Justice Department's Community Oriented Policing Services office on "collaborative reform" efforts, and said some progress has been made in applying policing standards in the city. However, she said it has become clear that Justice needs to make a more aggressive effort to examine problems in Baltimore.
"Despite the progress being made, it was clear that recent events, including the tragic in-custody death of Mr. Freddie Gray, had given rise to a serious erosion of public trust," she said.
She said the investigation provides the opportunity to impose a "court-enforcement model" in Baltimore. Specifically, she noted that the investigation will let officials examine whether any of the Baltimore Police Department's practices went beyond a violation of good practices, and will provide insight into whether police "violated the Constitution and the community's civil rights."
If violations are found, Justice would move to secure a "court-enforceable agreement" that would require changes at the Baltimore Police Department.
"It was clear to a number of people looking at this situation that the community's rather frayed trust, to use an understatement, was even worse, and has in effect been severed in terms of the relationship with the police department," she said.
She said that raised questions about whether collaborative reform was enough, and said it also became clear that the problems were "more intense" than first anticipated. "So we felt that the best thing to do was to conduct an investigation to see whether or not these issues rose to the level of federal civil rights violations," she said.
Police shootings in Ferguson, Missouri and Cleveland, Ohio, have prompted the Justice Department to launch similar probes into police actions. Back in March, the department did find evidence of racial bias among police in Ferguson, where police shot and killed Michael Brown.
Investigations into an entire police force have been far more likely to result in adverse findings and federal oversight than investigations into the specific officers involved in these cases. For example, the Justice Department said in March that it would not charge Officer Darren Wilson with any civil rights violations.
That report said it had no evidence to show that Wilson purposefully tried to violate Brown's civil rights, and in fact found that it could not disprove Wilson's claim that he feared for his own safety when he shot Brown.
But Lynch stressed that the department's goal is not to run investigations into every police force around the country. Instead, she said she hoped communities would use these few cases as a way to bring best practices into their own police forces.
"The reality is, we cannot litigate our way out of this problem, and it is not the department's intention to engage in an investigation or a review of every policy department across the country," she said. "It is rather our goal, and our profound hope, that the work that we have done will be a base for communities to look at and to build upon as they determine what issues exist in their communities."
— This story was last updated at 10:48 am.