Story by the Associated Press; curated by Zach Noble
—
GREENVILLE, S.C. (AP) — Wisconsin Gov. Scott Walker says: "The American dream is out of reach." In his comments Saturday, he was trumpeting a theme he's touched on during his earlier visits to South Carolina.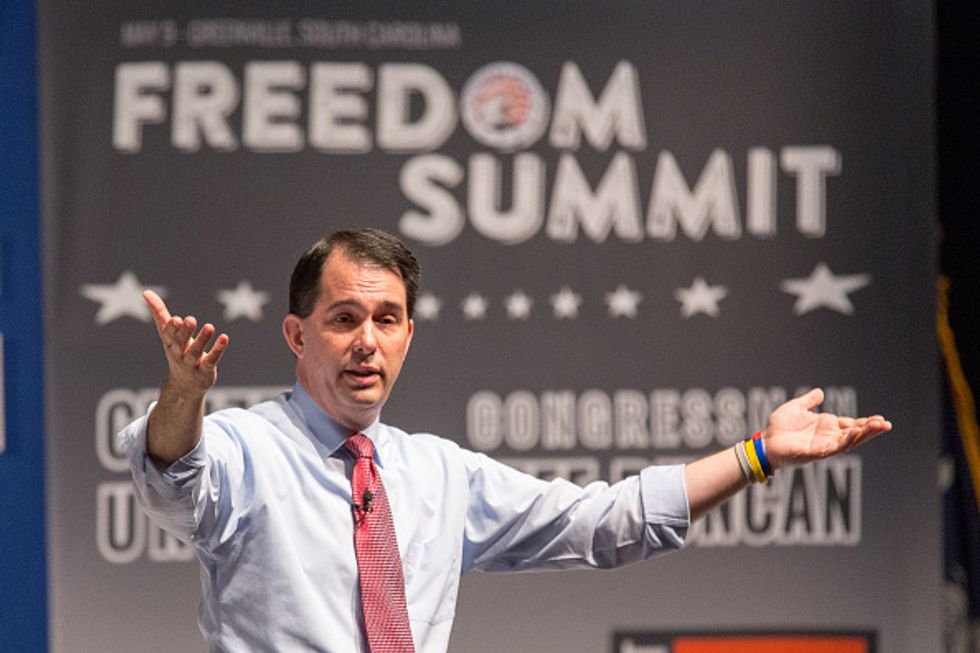 Wisconsin Governor and GOP presidential hopeful Scott Walker speaks at the Freedom Summit on May 9, 2015 in Greenville, South Carolina. Walker joined eleven other potential candidates in addressing the event hosted by conservative group Citizens United. (Photo by Richard Ellis/Getty Images)
Walker said: "It's not out of reach because of Wall Street. It's out of reach because of K Street"
The "K Street" reference was shorthand for lobbyists in Washington.
He said government needs to get of the way and power needs to be put back in the hands of the American people.
Walker hasn't yet declared his candidacy for president in 2016, but with an active political organization and repeated visits to the early voting states, he's all but sure to get into the race later this year.
He's already a popular figure among many in South Carolina for his efforts as governor to weaken Wisconsin's public employee unions.
This state's GOP governor, Nikki Haley, has been a fierce critic of organized labor during her efforts to recruit major manufacturing plants from the automobile and aeronautics industry to South Carolina.
Walker planned to leave from South Carolina for what he described as "an educational trip" to Israel. He will be there until Thursday.