There was an explosion at TNT Academy's graduation in Lilburn, Georgia, Friday. But it wasn't a physical blast, it was verbal.
It all started with the private school's founder and principal Nancy Gordeuk accidentally ending the graduation ceremony before the valedictorian had a chance to give his speech. Quickly backtracking on her mistake, Gordeuk called people who had started to file out of the room back, the African American news website the Grio reported.
That's when things apparently got ugly.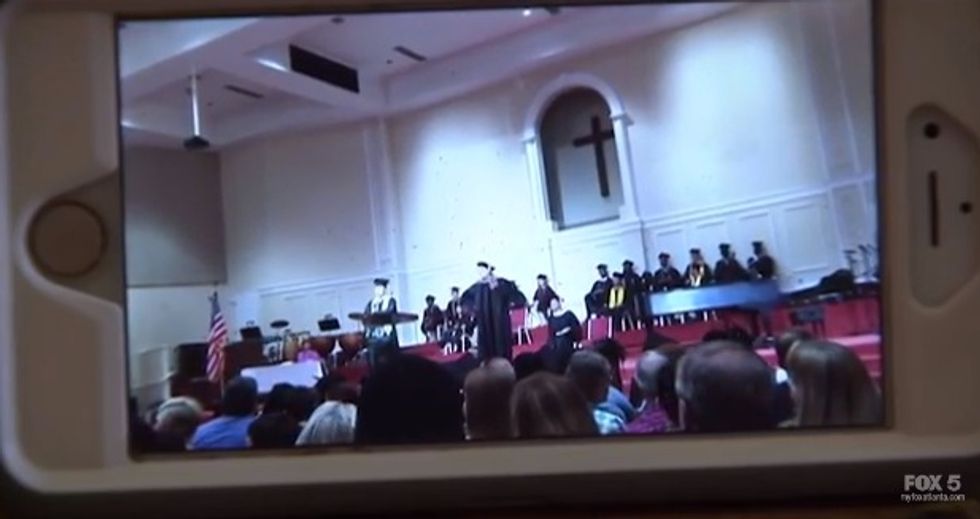 Image source: YouTube
"That was so rude," Gordeuk said in a video someone took of the ceremony, at first referencing someone who walked up to film someone in the middle of their speech with a tablet. "Where are you, you little coward. Come on back up here and let's talk."
"You people are being so rude to not listen to this speech. It was my fault and we missed it in the program," she continued. "Look who's leaving all the black people."
With this last comment, the crowd erupted into anger and chaos.
"I apologize I said that," Gordeuk said a few moments later. "But everybody sit down."
Watch the footage of the incident sent to WAGA-TV from a member of the audience:
"Everyone was just in shock. Everybody was like, 'Wow, I can't believe she just said that,'" Keary Barns, a parent in the audience, told WAGA.
After the incident, the news station received a lengthy comment from Gordeuk.
"I sincerely apologize to all the persons in attendance at the ceremony for the actions of the few causing the disturbance and for my emotional, un-called generalization of the black persons in attendance," Gordeuk said, in part. " I deeply apologize for my actions made in the emotional state of trying to let this last student finish his speech."
The news station reported that the valedictorian was able to make his speech in the end.
"This is a night we will never forget," he said.
Here's another report from WSB-TV about the incident:
UPDATE 4:28 p.m. EST: Here's another video that includes the moments leading up Gordeuk's remarks:
(H/T: Daily Mail)