An annual Mother's Day motorcycle blessing turned deadly Sunday when someone in Newark, N.J., opened fire, killing one and injuring several others between the ages of 15 and 29 years old.
Witness Keona Campbell told WCBS-TV she heard eight to 12 shots and saw a teenager go down in front of her.
"I have children of my own, and if that was my baby, I would want someone to help him along," Campbell said, telling the news station she tried to perform CPR on the victim. "Two years ago, my brother was murdered on the streets of Newark. And I would hope that somebody would've helped my brother."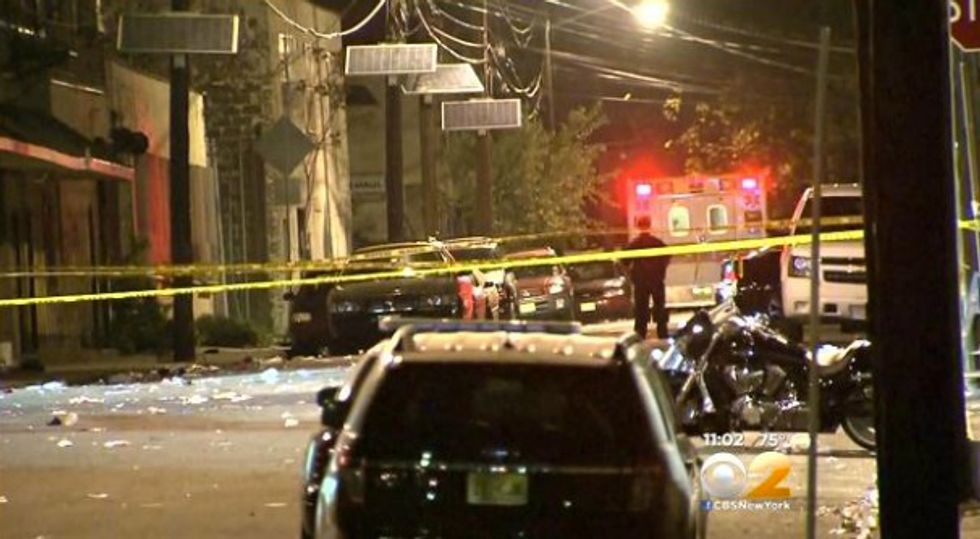 Police blocked off the crime scene in Newark, N.J., Sunday night as they sought suspects involved in a fatal shooting that took place near a bike blessing. (Image source: WCBS-TV)
WABC reported that police had not confirmed the fatality was of a teenager yet. The names and ages of victims were not released as families were still being notified after the evening incident.
Three other people were wounded and taken to the hospital with non-life-threatening injuries, WCBS reported from Chief Assistant Prosecutor Thomas Fennelly.
According to the news station, police believe more than one gunman could have been involved in the shooting and they are still searching for suspects who they believed to have been on motorcycles or ATVs. A motive was not known at the time either.
On Twitter, Newark Mayor Ras Baraka wrote simply "this has to stop!"
WCBS reported that the mayor said, despite the "Blessing of the Bikes" event being approved by the city, the crowd of more than 2,000 exceeded what could be handled by the police presence.
"A shooting out in the street like this is unacceptable. It won't be tolerated in the City of Newark and we will bring somebody to justice for this as soon as we possibly can," Baraka said, according to the news station. "We're going to put all of our resources involved in this and make sure somebody is brought to justice around on this immediately."
NJ Advance Media reported that the spring bike blessing event is intended to ring in motorcycle season.
(H/T: Daily Mail)