The divide between the White House and Sen. Elizabeth Warren (D-Mass.) seemed to grow wider over a trade deal with Asia.
In a weekend interview, President Barack Obama said that Warren is "absolutely wrong" in her opposition to the Trans Pacific Partnership. Warren has called the TPP a "threat to the safety of our financial markets."
Warren has criticized the lack of transparency.
"If Sen. Warren is wondering what she'd be voting on, then she can walk over to the room that has been established on Capitol Hill by the U.S. Trade Representative and read the latest version of the negotiated document," White House press secretary Josh Earnest said Monday. "There is no need for this false criticism that the members of Congress aren't aware of what's being negotiated. If they aren't aware of what's being negotiated, it's because they have failed to take the responsibility to read the document."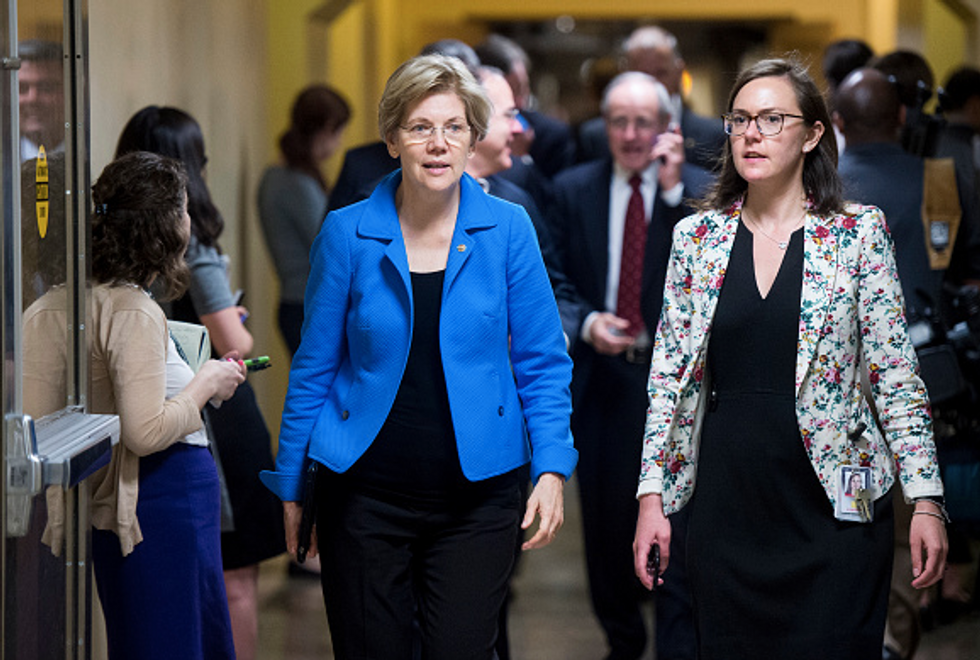 Sen. Elizabeth Warren, D-Mass., heads to the Senate subway following a vote on the Senate floor on Thursday, May 7, 2015. (Bill Clark/CQ Roll Call)
Asked later if he knew Warren had read the negotiated deal, Earnest said, "Good. I'm glad to hear that. I don't think that's true of all of her colleagues."
The TPP is a deal with the United States and 11 other countries: Australia, Brunei Darussalam, Canada, Chile, Japan, Malaysia, Mexico, New Zealand, Peru, Singapore and Vietnam. Obama insists the TPP has human rights and labor protections and is the "most progressive trade deal in history." But progressive Democrats led by Warren, as well as organized labor, strongly oppose the deal.
Earnest said that when the countries agree on final language, it will be made available to the public for 60 days before Congress votes.
Obama attacked TPP critics last week, saying they were "making stuff up."
Earnest acknowledged that Obama has been tough on Democratic opponents of the trade deal and criticized the "reflexive opposition" to trade.
"He's been blunt on his views on this topic on why believes that Democrats should be supportive of a trade agreement that if reached would clearly be in the best interest of our economy and clearly in the best interest of middle class families across the country," Earnest said. "Those who do understand what's being negotiated have a reason to be supportive of it."