The Amtrak passenger train that derailed in Philadelphia was traveling at twice the speed limit heading into a sharp curve as the engineer tried to apply the brakes, the National Transportation Safety Board confirmed Wednesday.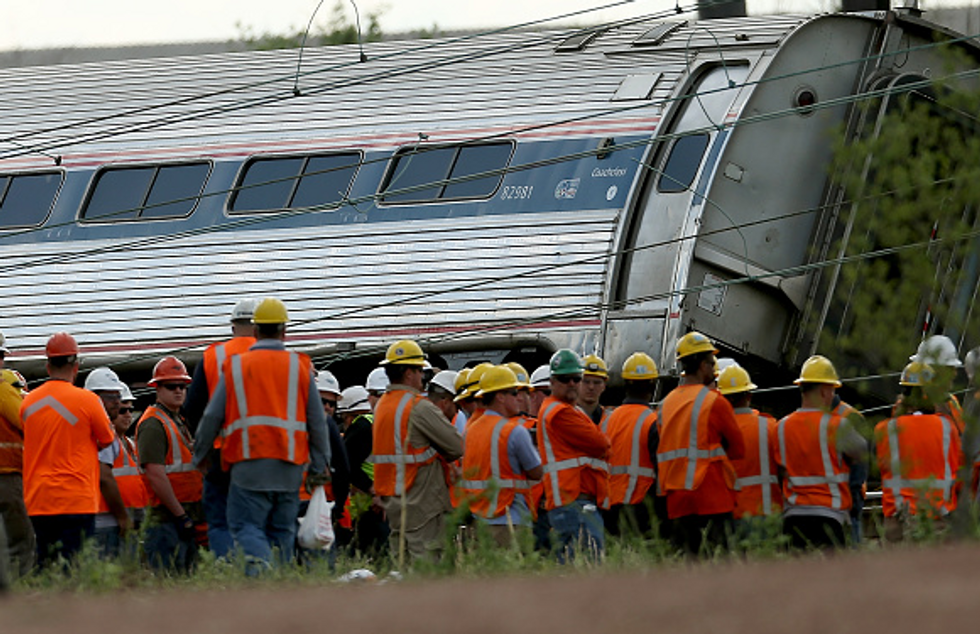 Investigators and first responders work near the wreckage of an Amtrak passenger train that was carrying more than 200 passengers from Washington, D.C., to New York City when it derailed Tuesday night, May 13, 2015 in Philadelphia. (Win McNamee/Getty Images)
The wreck happened as the train was going around a curve in northern Philadelphia. NTSB board member Robert Sumwalt said the train was going 106 mph when it derailed; the speed limit along the curve is 50 mph. The speed limit just ahead of the crash site is 80 mph.
The Philadelphia Inquirer reported the train's engineer survived the crash, but declined to give a statement to police, leaving the station with his attorney.
Sumwalt said the engineer hit the brakes moments before the fatal derailment.
The speed readings were determined by an analysis of the train's equivalent to an airplane's black box, NBC News reported. NTSB officials analyzed the information at an Amtrak facility in nearby Delaware.
An NTSB official said earlier Wednesday that excessive speed was among the many causes investigators were looking into as possible causes for the train's derailment. The Wall Street Journal reported that an Amtrak official told employees that excessive speed is believed to have contributed to the incident.
The train derailed at about 9:30 p.m. Tuesday en route from Washington, D.C., to New York City. It was carrying 238 passengers and five crew members.
Seven people were killed and hundreds treated for injuries.
(H/T: Wall Street Journal)
–
Follow Jon Street (@JonStreet) on Twitter