Alex Epstein is a philosopher from Laguna Beach, California who is making the moral case for fossil fuels across the country.
"If you look at the assumptions behind all the arguments against fossil fuels, they turn out to just be incredibly irrational," Epstein said on Glenn Beck's radio program Thursday. "So for me, it was really a logical thing. I saw this thing that everybody is arguing about, and it turns out if you think through it logically, the majority is completely wrong."
Epstein said you are "taught this narrative" that "fossil fuels are an addiction" and, while they are convenient in the short-term, in the long-term they are "destroying us."
"You're given three basic reasons: One, they're causing depletion. Two, they're causing pollution. And, three, they're causing global warming or climate change," Epstein explained. "This is used to say, 'They're an addiction. We need to get off them. We need to use renewable, moral, green energy instead.'"
But Epstein said every other positive technological development that has side effects is not considered a short-term, destructive fix, and it is certainly not considered "immoral."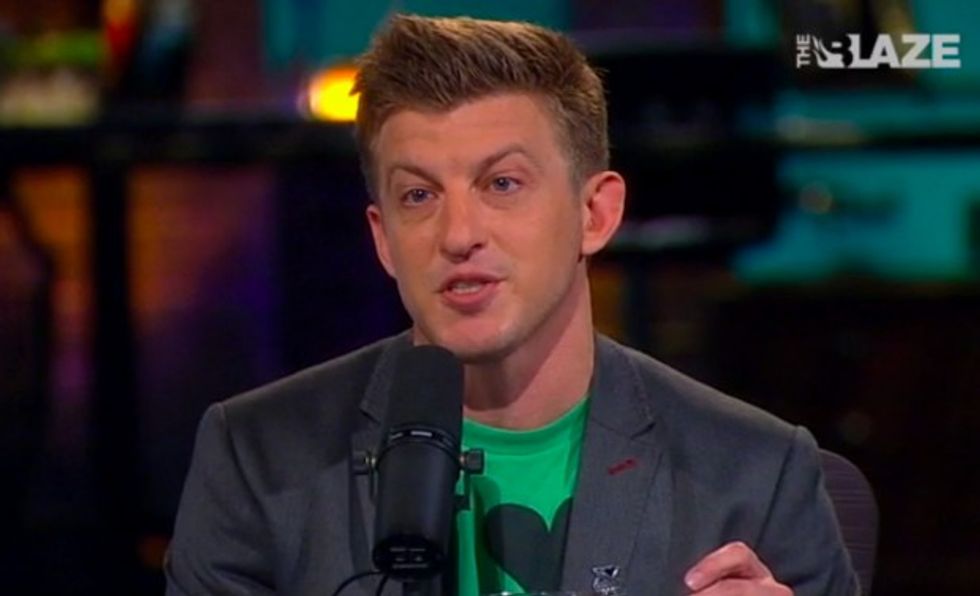 Alex Epstein, author of 'The Moral Case for Fossil Fuels,' appears on Glenn Beck's radio program May 14, 2015. (Photo: TheBlaze TV)
"What if we applied the same logic to vaccines?" Epstein asked. "What if we said, 'Vaccines have side effects; therefore, if you support vaccines, you're a vaccine side effect denier. How dare you? You're so irrational.'"
Epstein said fossil fuels, like vaccines, save countless lives and are "vital" for humankind at this time in history.
"Nobody talks about the benefits of fossil fuels," Beck agreed. "But if it wasn't for fossil fuels, sewing machines wouldn't work. Really, nothing works without fossil fuels. All you ever hear about is, 'We have fossil fuels so you can have a bigger car.' Well, no, that's not the main purpose of fossil fuels. Right?"
Epstein concurred, and said another argument often made about fossil fuels is that they served a purpose in the past, but they have no place in the present or future. Yet, whenever a potentially superior technology emerges to replace fossil fuels, it is squelched by the green movement.
"This is a battle, not about green energy versus fossil fuels, but about anti-humanism and anti-impact," Epstein asserted. "If your ultimate goal is to maximize human well-being, then you care about your environment as a means to maximize human well-being."
But Epstein said the green movement advocates minimizing human impact as its ultimate goal.
"So let's take the decision to build New York City," Epstein said, offering an example. "If New York City was up for a vote today, does anyone believe that the environmentalists would yes? What about Chicago? What about the first hospital? What about any given baby? No. So the idea is that if humans have an impact, it's bad."
Epstein said there is a "fundamental bias against humans" in the green movement, and "everyone has bought into anti-impact as an ideal," when the philosophy really should be determining what has an "anti-negative impact for humans."
In this Dec. 6, 2007, file photo, Oxfam activists wearing polar bear costumes stage a demonstration outside the venue of the U.N. climate change conference in Nusa Dua, Bali island, Indonesia. "The polar bear is us," says Patricia Romero Lankao of the federally funded National Center for Atmospheric Research in Boulder, Colo. (AP/Dita Alangkara, File)
The philosopher said that when discussing fossil fuels, it is actually better to start by asking, "What's our goal? Can we agree that the goal should be to maximize human well-being?"
"And most people will say yes," Epstein said. "Even though they don't think that way, they're actually thinking in this green way, but if you make it explicit they'll say 'yeah.' And I say, 'OK, can we also agree that just like we need to look at the big picture with vaccines, so we need to look at all the positives and the negatives in context with fossil fuels? So we're not discounting any climate impact, but we need to look at the whole picture.' They'll say 'sure.'"
Epstein said once you set the framework, it is clear that "we think about climate in a way that completely defies common sense."
"Climate is just the range in frequency of certain types of weather," he began. "And if someone said, 'I want to make sure people are safe from climate, let's find the most efficient solution. You'd probably wouldn't say, 'Let me not drive an SUV. That's going to protect people.' You'd probably say, 'Let's develop countries. Let's allow them to make themselves progressively climate-proof. Let's take a place where you have 100,000 deaths and reduce the death count to 100 because you have infrastructure.'"
Epstein said that because of fossil fuels, over the last 80 years we've progressively "climate-proofed civilization" in the developed world, and climate-related deaths -- deaths due to extreme heat, cold or wildfires, for instance -- are a scant fraction of what they used to be.
"Drought-related deaths are down 98 percent," Epstein said. "So you'd think when people are complaining about drought ... they would be interested in ways to purify water, to move water from non-drought areas to drought areas."
Epstein said "everything in our lives is improved by machines," whether it's a tractor that facilitates the harvesting of crops or the construction equipment that helps build safe homes.
"If the machines don't have fuel, they die," he said. "If those calories become scarce or expensive or unreliable, everything starts to shut down. Certainly Mercury Studios, but a lot of stuff besides it. The agriculture shuts down. And every cent you add, say to the price of oil, that means the diesel fuel in the tractor that helps grow our food becomes more expensive. That means our fertilizer becomes more expensive. So energy is fundamental. It's not any other industry. It's the industry that powers every other industry."
[mlbvideo content_id=115169483]
The full episode of The Glenn Beck Program, along with many other live-streaming shows and thousands of hours of on-demand content, is available on just about any digital device. Click here to watch every Glenn Beck episode from the past 30 days for just $1!