ABC's George Stephanopoulos actually gave $75,000 to the Clinton Foundation over the past three years, contributions he did not publicly disclose, despite reporting on the foundation.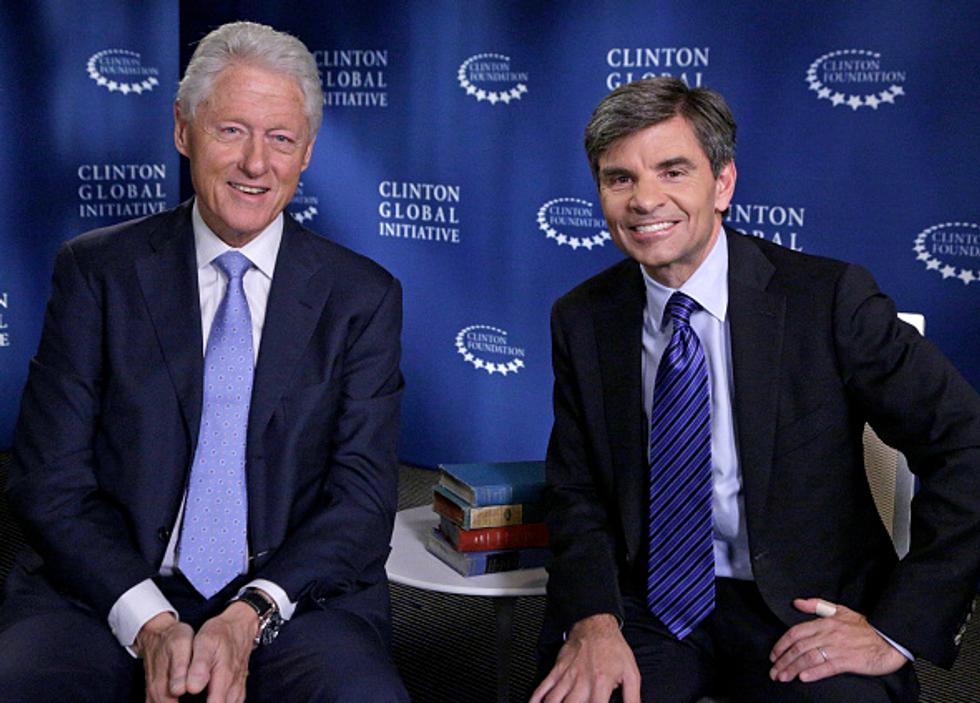 George Stephanopoulos interviews former President Bill Clinton about the Clinton Global Initiative happening for an interviewing airing Sept. 24, 2014 on ABC's "Good Morning America." (Heidi Gutman/ABC via Getty Images)
Stephanopoulos gave $25,000 in 2012, 2013 and 2014, he told Politico in an interview — more than the $50,000 total initially revealed Thursday morning by the Washington Free Beacon and Politico.
Speaking after several hours of heavy online criticism, ABC's chief news anchor and host of "This Week" told Politico the donations were a mistake.
"In retrospect, I probably shouldn't have, even though I did it for the best reasons," Stephanopoulos said.
Stephanopoulos said he will not moderate ABC's Republican presidential primary debate scheduled for February, but will still cover the 2016 campaign.
"I won't moderate that debate," he said. "I think I've shown that I can moderate debates fairly. That said, I know there have been questions made about moderating debates this year. I want to be sure I don't deprive moderators or viewers of a good debate."
The Clinton Foundation has been under a cloud of suspicion over whether foreign donations made may have affected or influenced Hillary Clinton's policy while serving as secretary of state. In April, Stephanopoulos interviewed Peter Schweizer, author of the book "Clinton Cash," which contained many of the revelations.
According to Politico, Stephanopoulos would not say whether it occurred to him to disclose his contributions to the Clinton Foundation, but said he "believed that the donations already were a matter of public record" because he is listed as a donor on the foundation's website.
"But I should have gone the extra mile and disclosed [the donations] to the viewers," Stephanopoulos said. "I now realize I should have done that."
ABC said it is standing by Stephanopoulos and will not take any action against him. Stephanopoulos said he is "sorry to both the ABC viewers and to my colleagues, but I intend to move forward and prove that I can do the job every single day."