House Select Committee on Benghazi Chairman Trey Gowdy (R-S.C.) said Thursday that the State Department has failed to respond to requests for information made over the last six months, and said this delay is the reason why the committee hasn't been able to schedule a hearing for former Secretary of State Hillary Clinton.
In a letter to Secretary of State John Kerry, Gowdy noted that his committee asked for information in a November letter and a March subpoena, which sought information from 10 former officials. But he said State hasn't provided anything yet.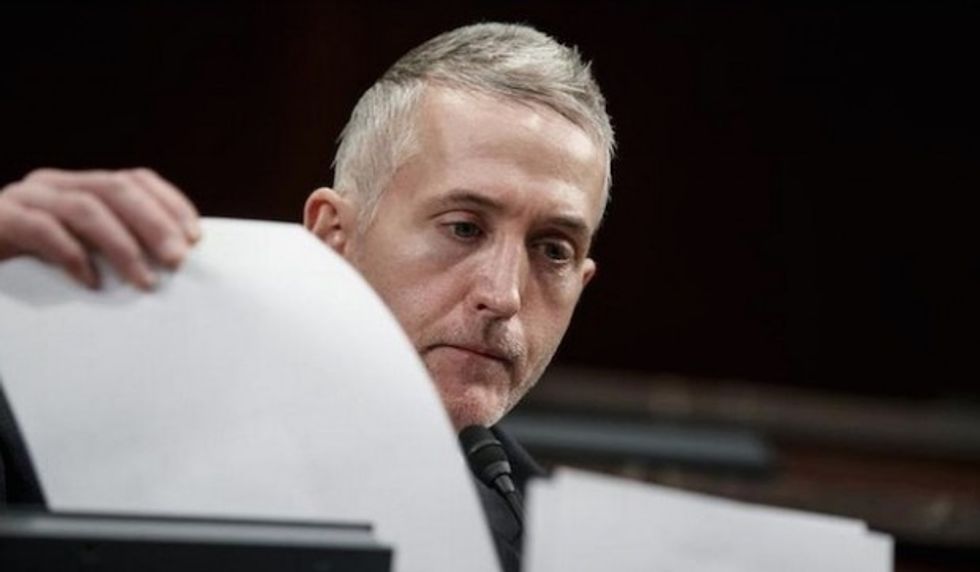 Rep. Trey Gowdy (R-S.C.) said the State Department hasn't been responsive to the Benghazi Committee's latest requests for information, and said that is making it impossible to schedule a hearing with former Secretary of State Hillary Clinton.
"In fact, not a single document has been produced by the State Department pursuant to these requests, despite the committee's successive efforts, at the State Department's insistence, to narrow its request," he wrote.
Gowdy said the lack of response from State has made it impossible to schedule a much-anticipated hearing with Clinton. Gowdy has said he doesn't want to schedule that hearing yet until he has as much information as possible from State.
"Simply put, the committee must have the records of communication requested more than six months ago before the secretary's appearance can be scheduled," he wrote.
"You pledged your full support and cooperation for the work of this committee when you assumed your current duties," Gowdy added. "Yet the committee finds itself in the same place it was six months ago with respect to relevant communications from only ten former senior officials — not one single piece of paper or email has been produced to the Select Committee from 7th floor principals."
Gowdy complained that State seems to be working on one request at a time, instead of working concurrently. "At the current pace, it will take years to provide all necessary information. The department must move forward promptly and with more urgency," he wrote.
Rep. Elijah Cummings (D-Md.), the top Democrat on the Benghazi committee, has charged that the GOP is keeping the investigation alive just to torment Clinton as she runs for president, and repeated that charge in response to Gowdy's letter.
"Republicans are on a fishing expedition for anything they can use against Secretary Clinton in her presidential campaign, and every time they come back empty-handed, they extend their trip at taxpayer expense," he said.
"The committee has had Secretary Clinton's emails for months," he said. "This new claim that the Department has not produced a single responsive document is completely baseless and appears to be yet another excuse to drag out Secretary Clinton's testimony until closer to the election."
Read Gowdy's letter here: