Picture this: A parent stands on the edge of a park, children happily climbing and swinging on playground equipment. Is there something other than the children that the parent is looking at though?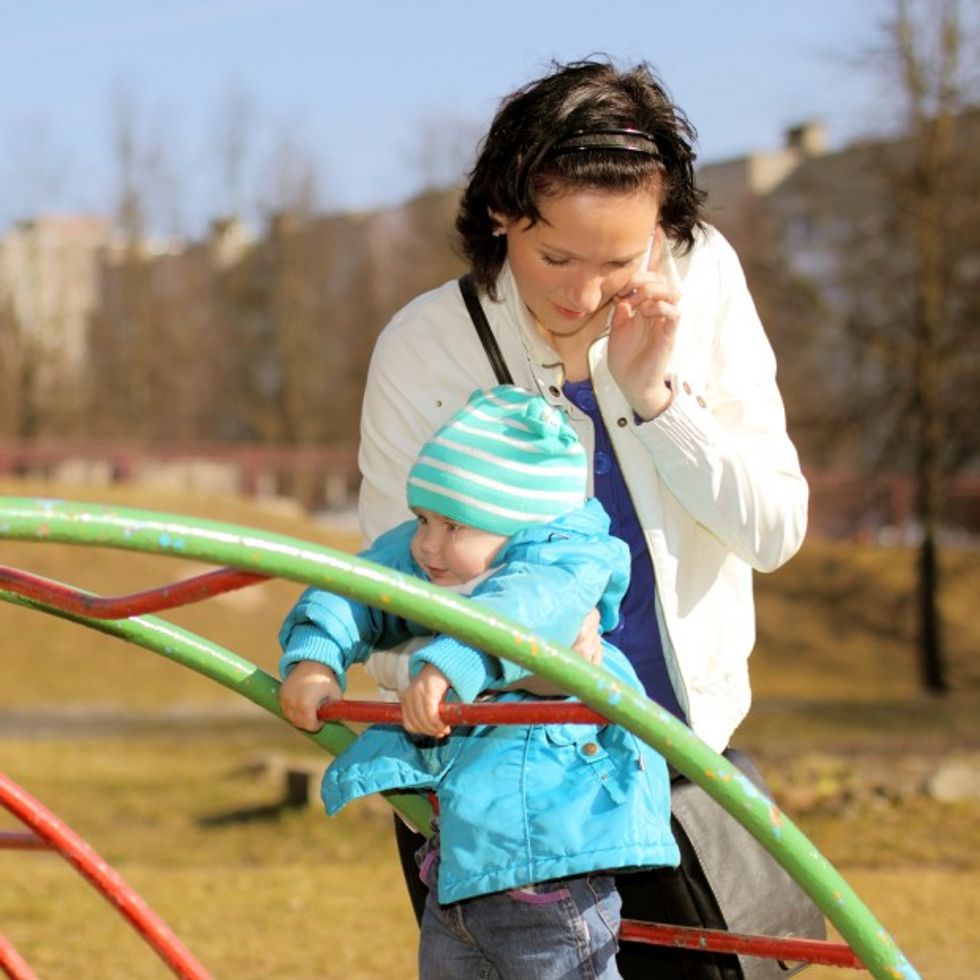 Photo credit: Shutterstock
These days, parents might feel their smartphones burning a hole in their pocket, just begging to be peeked at, and, in this situation, it's something a new study found many feel guilty about.
According to research from the University of Washington, 44 percent of parents, babysitters and other caregivers said they felt guilty for using their cellphone while their charges ran around the playground.
What's more, the researchers found it was harder for them to pry their eyes away from a phone at a child's request that they pay attention to how high they could go on the swings or their monkey bar feat, compared to when they were talking with friends or tending to other children. 
"Concerns on this topic are very prevalent, and a lot of people report feeling guilty about their own behaviors," lead author Alexis Hiniker, a doctoral student, said in a statement. "But there's also a group who resents the idea that they should have to put their phones away when their child is safe and happily engaged in something else. There were strong opinions and very divergent opinions, for sure."
Overall, cellphone use on the playground is not as prevalent as you might think. The researchers only observed the devices being used, in most cases, for less than 10 seconds. And two-thirds of the caregivers who used them spent less than 5 percent of the entire park time on the phone.
"Phones do distract us and that's something to be aware of, but I think it's not nearly as bad as some people have made things out to be," co-author Julie Kientz said. "Plenty of people are being really attentive parents and thinking deeply about these issues."
But the study authors said that boredom at the park often had people reaching for their phone, overpowering feelings of guilt or fear of being judged. Activities like taking pictures generated less guilt than doing things like checking email or playing games.
And why is it so hard for parents to peel their eyes away from their device or just leave it in the stroller all together? According to a separate study from the Iowa State University, they might be nomophobes — a smartphone addict.
"Nomophobia is considered a modern age phobia introduced to our lives as a byproduct of the interaction between people and mobile information and communication technologies, especially smartphones," the study authors wrote.
The researchers created a quiz people can take to determine severity of nomophobia. NBC's Today featured this questionnaire last week. Check out the questions below, scoring them between one to seven with one representing a strong disagreement with the statement and seven representing a strong agreement. When you're done, add up your score. The higher your number the more nomophobic you are.
Here are the questions via Today:
I would feel uncomfortable without constant access to information through my smartphone.

I would be annoyed if I could not look information up on my smartphone when I wanted to do so.

Being unable to get the news (e.g., happenings, weather, etc.) on my smartphone would make me nervous.

I would be annoyed if I could not use my smartphone and/or its capabilities when I wanted to do so.

Running out of battery in my smartphone would scare me.

If I were to run out of credits or hit my monthly data limit, I would panic.

If I did not have a data signal or could not connect to Wi-Fi, then I would constantly check to see if I had a signal or could find a Wi-Fi network.

If I could not use my smartphone, I would be afraid of getting stranded somewhere.

If I could not check my smartphone for a while, I would feel a desire to check it.
If I did not have my smartphone with me:
I would feel anxious because I could not instantly communicate with my family and/or friends.

I would be worried because my family and/or friends could not reach me.

I would feel nervous because I would not be able to receive text messages and calls.

I would be anxious because I could not keep in touch with my family and/or friends.

I would be nervous because I could not know if someone had tried to get a hold of me.

I would feel anxious because my constant connection to my family and friends would be broken.

I would be nervous because I would be disconnected from my online identity.

I would be uncomfortable because I could not stay up-to-date with social media and online networks.

I would feel awkward because I could not check my notifications for updates from my connections and online networks.

I would feel anxious because I could not check my email messages.

I would feel weird because I would not know what to do.
—
Front page image via Shutterstock.