A 73-year-old man has died after trying to perform a BASE jumping stunt with fire from a 500-foot bridge.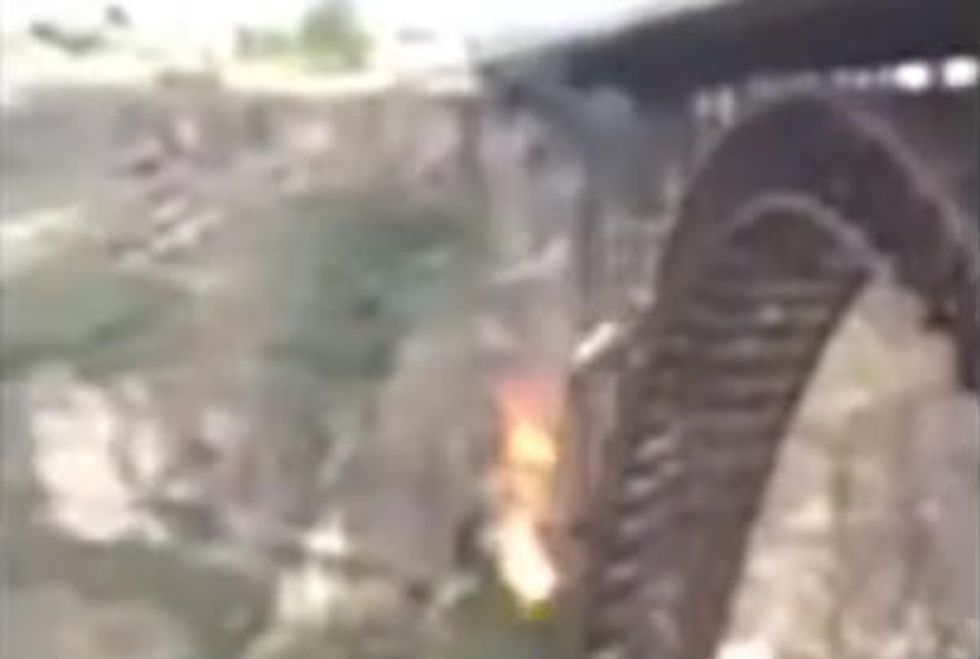 Image source: YouTube
Police in Twin Falls, Idaho, say James E. Hickey of Claremont, California, plunged off the Perrine Memorial Bridge May 7. He was wearing two parachutes, one to light on fire as part of his stunt and a second to land him safely on the ground, the Twin Falls Times News reported.
Hickey's stunt was supposed to involve someone else from above throwing down a flaming tennis ball to ignite the first parachute. Hickey would then disconnect himself from the first parachute and release the second one.
But just moments into the video, it becomes clear that Hickey was never able to disconnect from the first chute and instead landed in the river. A second BASE jumper who plunged from the bridge shortly after Hickey barely avoided the fire on his way down but landed safely on the ground.
"Oh sh**. He's not moving," one witness said in response to Hickey's fall.
See the horrific stunt-gone-wrong, captured on video:
The Times News reported that Hickey was an experienced BASE jumper and that no foul play is being suspected, although an investigation is still underway.
"There is nothing to indicate any foul play or criminal activity," Twin Falls County Sheriff's Capt. Brent Hilliard said.
(H/T: Twin Falls Times News)
–
Follow Jon Street (@JonStreet) on Twitter