Hashim Fannin pulled into a parking lot of an Atlanta Family Dollar store earlier this month and someone immediately slid into his passenger's seat.
"You know what this is," the man reportedly said, seemingly letting his "victim" know it was a carjacking.
Before he could say another word, Fannin pulled his firearm and pointed it at the suspect, identified as 61-year-old Edgar Horn. He proceeded to hold his would-be alleged carjacker at gunpoint until police arrived — and a bystander caught it all on video.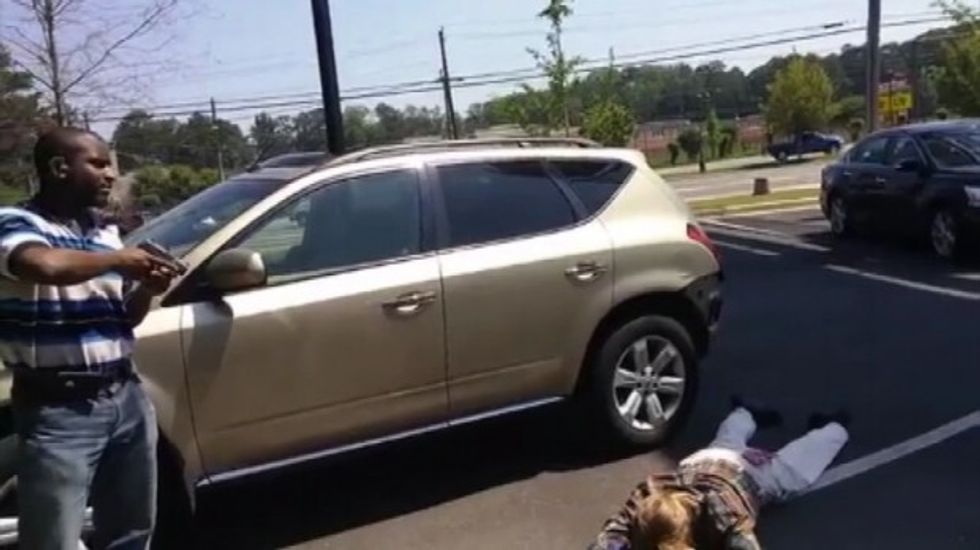 Screengrab via WSB-TV
"You picked the wrong (expletive) to try to rob today," Fannin can be heard saying in the video.
"I wasn't trying to rob you," the suspect pleaded. "I thought you were my friend."
"You thought I was your friend?" Fannin replied sarcastically. "So you woke up stupid this morning!"
When Horn argued that "everyone makes mistakes," the gun owner immediately shot back, "You made a mistake and got in my god**n car — yeah, you're right, that is a mistake."
Watch the raw footage below:
When Atlanta officers arrived, they shook the gun owner's hand and took the suspect into custody.
"Good job, man!" one cop is heard saying..
"I look at it like this: Hey, that's one less guy I've got to worry about bothering my mom when she's out grocery shopping," Fannin told WSB-TV.
---