© 2023 Blaze Media LLC. All rights reserved.
Former Active-Duty Marine's Simple Request Reportedly Results in College Labeling Him a 'Threat'
"If they'll do this to me, and I'm one of the most outspoken veterans on campus, they'll definitely do this to others."
Former active-duty U.S. Marine Jeremy Rawls, who has reportedly been diagnosed with combat-related post-traumatic stress disorder, recently requested a new counselor at Mississippi College — and it caused the school to allegedly suspend him and deem him a "threat" to his peers.
(Source: Shutterstock)
Rawls said he was initially paired with a female counselor, who dressed in traditional Muslim garb. Given his background, the veteran told Campus Reform that he "didn't want to traumatize her and it wasn't a good environment to be talking about [my disabilities] with that specific person."
Rawls, who served two combat tours in Iraq, visited MC's Office of Counseling and Disability Services in February to pick up paperwork needed to declare himself disabled, something he has to do every semester.
After making his request to change counselors, he said he was ignored and then punished.
"Their response was suspending me pending a mental evaluation which I provided and then they put me on further restriction and a reintegration program," Rawls added.
More from the Campus Reform report:
In an email notifying Rawls of his suspension, Associate Dean of Students Jonathan Ambrose said administrators and the Student Intervention Team have a "due diligence in not only the protection of yourself, but also the campus community as a whole from potential harm or the threat there of."

"You are not permitted to be on campus for any reason or attend class during the duration of the Interim Suspension unless you have written permission," states an email sent to Rawls on Feb. 26 and later obtained by Campus Reform.
"To have been a Marine and to tell us we're a threat...that's actually a compliment," said Rawls. "But telling me I'm a threat to others was extremely offensive."
Rawls was also allegedly stripped of a "work-study position" he had obtained through his local VA.
In March, the veteran was ultimately given permission to reintegrate "back into academics, meaning: attending class, lectures, or any other academic related matter that is pertinent to a class or graded assignment," according to an email obtained by Campus Reform.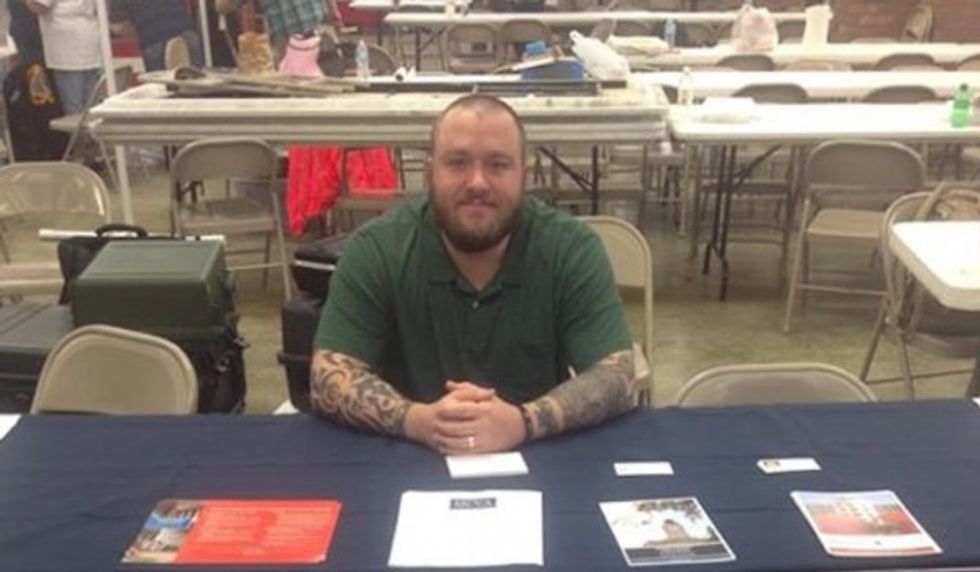 (Facebook)
While the situation has been difficult on him, Rawls also said it shows that people need to be educated on veterans issues, including what PTSD actually entails.
He revealed some of his fellow veterans are concerned they "are automatically going to be seen as the aggressor" or "unstable" if an altercation ever arises.
"If they'll do this to me, and I'm one of the most outspoken veterans on campus, they'll definitely do this to others," Rawls added.
Read the full report here.
---
Want to leave a tip?
We answer to you. Help keep our content free of advertisers and big tech censorship by leaving a tip today.
more stories
Sign up for the Blaze newsletter
By signing up, you agree to our
Privacy Policy
and
Terms of Use
, and agree to receive content that may sometimes include advertisements. You may opt out at any time.