Former Sen. Rick Santorum (R-Pa.) formally announced Wednesday that he would seek the Republican nomination for president — and after his campaign website went live, many noticed a jab at Hillary Clinton hidden from plain view.
The error page on his website features the infamous photo of Clinton wearing dark shades while holding her cell phone. The text directly beside it says, "We're sorry, but we couldn't find that page. But we do have this search box. You know, 'for convenience.'"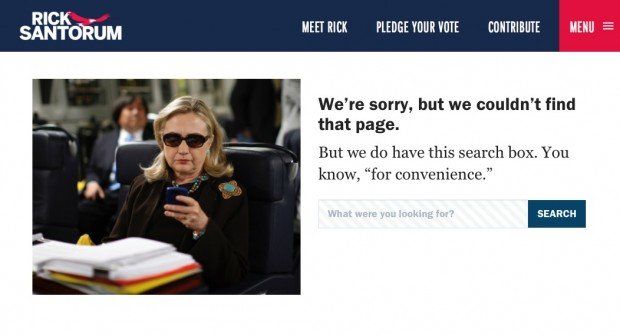 Image source: Screen grab
The jab appeared to be in reference to the email scandal that has plagued Clinton for months.
News of the error page quickly spread on Twitter, with many applauding Santorum for his sense of humor.
Using error pages to crack jokes is nothing new. Many presidential candidates have used them to show a sense of humor. Sen. Marco Rubio (R-Fla.) made news earlier this year with his "fumble" error page which features him talking about the lessons he learned from football.
—
Follow Oliver Darcy (@oliverdarcy) on Twitter