State auditors in Philippines have discovered treasures worth at least $45,000 – and only some of them have been appraised so far.
The country's Commission on Audit recently published a report online stating it had found silver coins, two gold watches, gold pens and some diamond pieces stashed in a treasury vault, GMA News reported.
Nadiskubre ng state auditors ang milyun-milyong halaga ng mga undeclared na ginto, pilak, at diyamante sa isang vault ng Bureau of Treasury.

Posted by GMA News on Tuesday, June 2, 2015
The watches showed the faces of the late President Ferdinand Marcos and his wife Imelda, who were exiled in 1986, Rappler reported.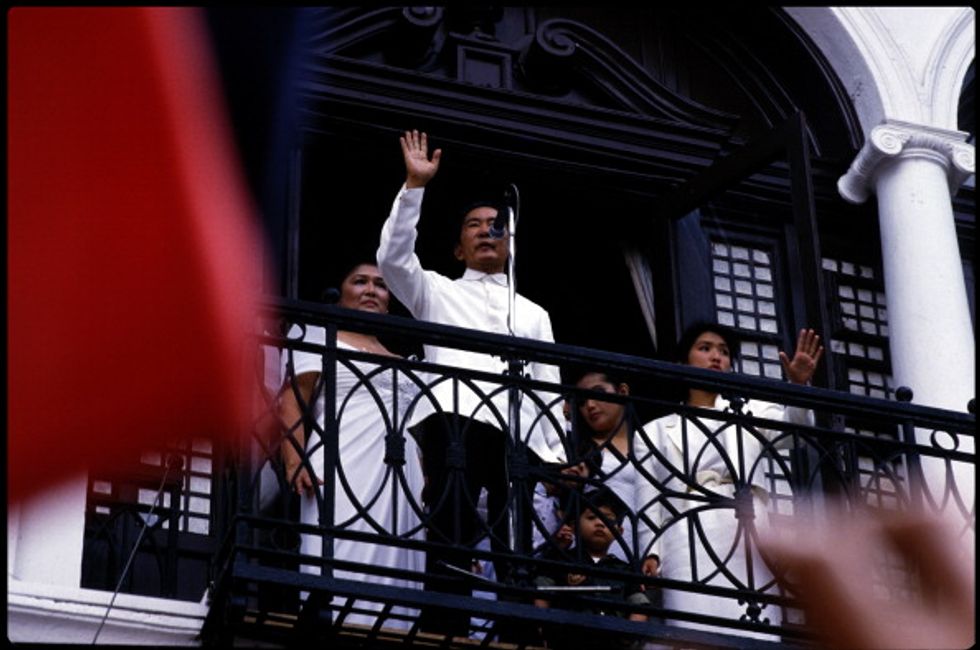 Watched by First Lady Imelda Marcos, left, Philippine President Ferdinand Marcos (1917–1989) waves to supporters from a balcony of the Malacanang Palace in Manila after his self-administered inauguration ceremony as victor in the Philippine presidential elections, Feb. 25, 1986. This was the last public appearance by Marcos and his family. Later in the evening, they fled the palace aboard four American helicopters and were taken to Clarke Air Base en route to exile in Hawaii. (Alex Bowie/Getty Images)
"These items were never appraised nor recorded in the Bureau of the Treasury's books since they were surrendered to the BTr resulting to the understatement of the total assets reflected in the Financial Statements," the COA said.
The only gems that have been appraised are the diamonds, which are worth more nearly $45,000. Rappler reported that the last time the diamonds were appraised was back in 2008 so their value could be more now.
Because auditors don't know who the treasures belong to, ownership automatically transfers to the Bureau of the Treasury. The items are not currently covered under the Government Service Insurance System, although the COA ordered in a May 15 memo that they become insured in order to adhere to a 1987 administrative order.
Auditors also discovered 166 pieces of silver coins and 412 pieces of foreign currencies. They were also not appraised.
All the treasures had simply been listed as "other assets – arts, archeological specimen and other exhibits" in the bureau's record-keeping books.
(H/T: GMA News)
—
Follow Jon Street (@JonStreet) on Twitter