"Horrific" cellphone video uploaded to YouTube Friday shows police officers in California beating 28-year-old Jose Velasco with batons and shooting him with a Taser.
According to KSBW-TV, the Salinas, California, Police Department responded to an incident in which Velasco, whose family said has a mental illness, allegedly pushed his mother into moving traffic while screaming and jumping on cars.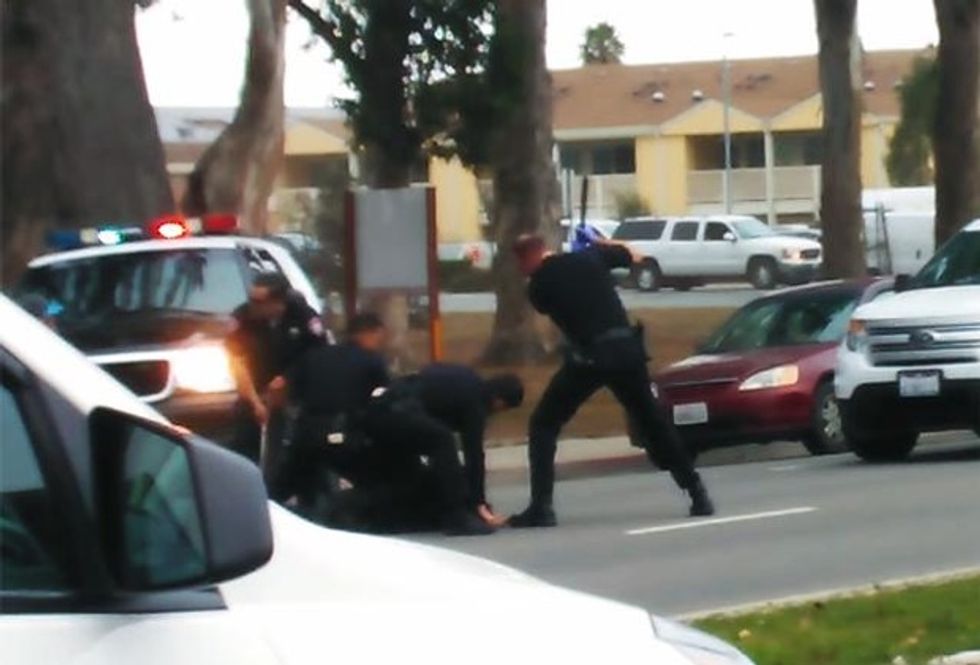 Image source: YouTube
"Two officers responded and saw Jose Velasco slamming the female's body into the pavement of the northbound lane of North Main Street while heavy traffic was passing by. As the officers tried to get Velasco off of his mother by pulling him away, Velasco began to violently resist and attacked the officers," a news release from the police department read.
Police said they deployed a Taser twice but that it didn't have any effect on him. Other officers arrived for reinforcements but Velasco continued to resist arrest. The man was eventually placed in handcuffs with the help of five officers.
But the struggle leading up to the man's arrest has even caught the attention of Salinas police Chief Kelly McMillin, who called the confrontation both "horrific" and "inflammatory."
"Anybody who looks at that video without context would have concerns, because it looks terrible," McMillin said.
Watch and decide for yourself:
Once police had the suspect handcuffed and loaded up on a gurney to take to the hospital, he allegedly tried to bite a police officer and a paramedic through the railing, KSBW reported.
Velasco was chemically restrained after being admitted into the hospital.
According to McMillin, Velasco had been smoking methamphetamine and drinking alcohol on the same day the incident occurred.
"He was incredibly strong because of the methamphetamine," McMillin said.
Velasco has been charged with assault with a deadly weapon, assault on an officer causing injury, resisting arrest and violating parole.
(H/T: KSBW-TV)
–
Follow Jon Street (@JonStreet) on Twitter