She's been accused of hurling racial slurs and contributing to the violence and chaos that unfolded in McKinney, Texas, earlier this month — and now Tracy Carver Allbritton is speaking out for the first time.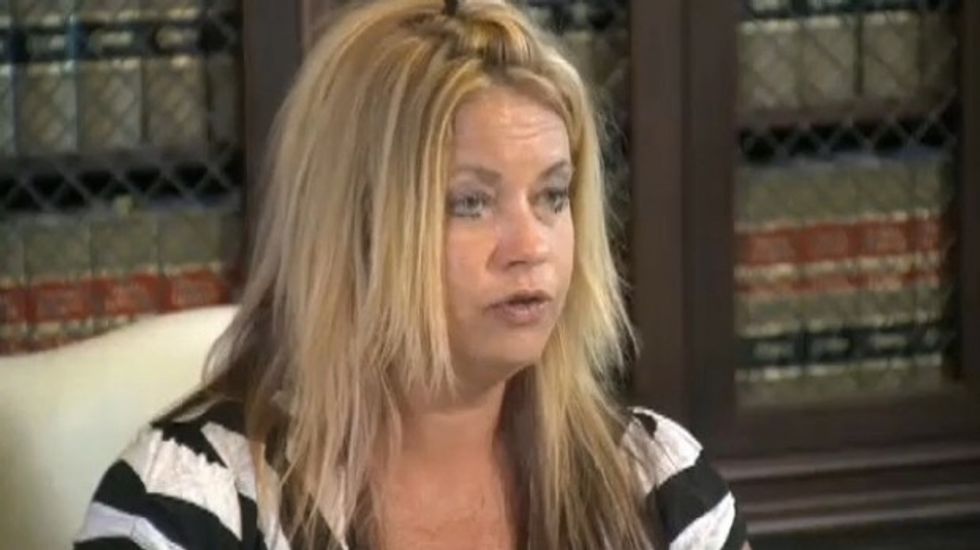 (Screengrab via CBS DFW)
The mother, who was seen in the viral video of the pool party chaos, outlined her recollection of the June 5 incident and denied ever using racial slurs. Allbritton has reportedly been in hiding, hundreds of miles away from her Texas home due to "death threats" against her and her children.
Allbritton, who was joined by attorney Gloria Allred and a longtime black friend for the interview, said she brought her two kids and grandchild to met a friend at the Craig Ranch North Community Pool, which is located in the neighborhood she has lived in for over a decade.
CBS DFW reports on her account of the controversial incident:
"By the time our security officer arrived for his scheduled shift, the pool had been overtaken by unruly teenagers and young adults," said Tracy.  She says many of them became upset when they were asked for key cards to prove their residency and complained it was because of the color of their skin.  However, she said everyone at the pool, including herself, was asked to prove they lived in the community.

Tracy said she decided to leave the pool when she saw things were getting out of hand, and had a difficult time doing so.

"People whom I did not know were shouting at us through the gate while we were trying to exit," she recalls.  "Once I was able to get out of the gate, a teen was screaming racist slurs at my visiting friend and me."
But the disturbingly violent confrontation caught on video occurred after she got out of the gate. She flatly denied using racial slurs before or after the fight.
"My friend's hair was grabbed and she was pulled to the middle of the street," she said. "My kids were screaming and traumatized. I walked out to diffuse the fight and did just that. I did not beat anyone, nor did I use racial slurs of any kind. I was trying to separate my friend from a person that was pulling her hair."
Allbritton said when she finally made it to her car, she was hit from behind with a frozen drink. She said accusations that she is a "racist" are entirely unfounded.
"I am a woman of God," she added. "I have countless supporters of all ethnic backgrounds that will stand up for my character. The fact that I've had to relocate my family for their safety has made me physically ill."
Fighting back tears, the mother said she prays some good comes from the ordeal and that people "stop buying into the horrific lies that are spread via social media that are destroying lives by the moment...I want the truth to come out and the lies and threats to stop."
Watch the interview below via CBS DFW:
Watch the original footage of the McKinney pool party incident below (Warning: Strong content, language):
The officer seen drawing his firearm on the minors and forcing a 15-year-old girl to the ground, Eric Casebolt, has since resigned from the McKinney Police Department.
---