WASHINGTON — Former Florida Gov. Jeb Bush Friday called for protecting religious freedom at home and abroad.
"Religious freedom is under attack in this country in a way like never before," Bush said Friday at the "Road to Majority" conference in Washington, attack not only from the government but also from the culture.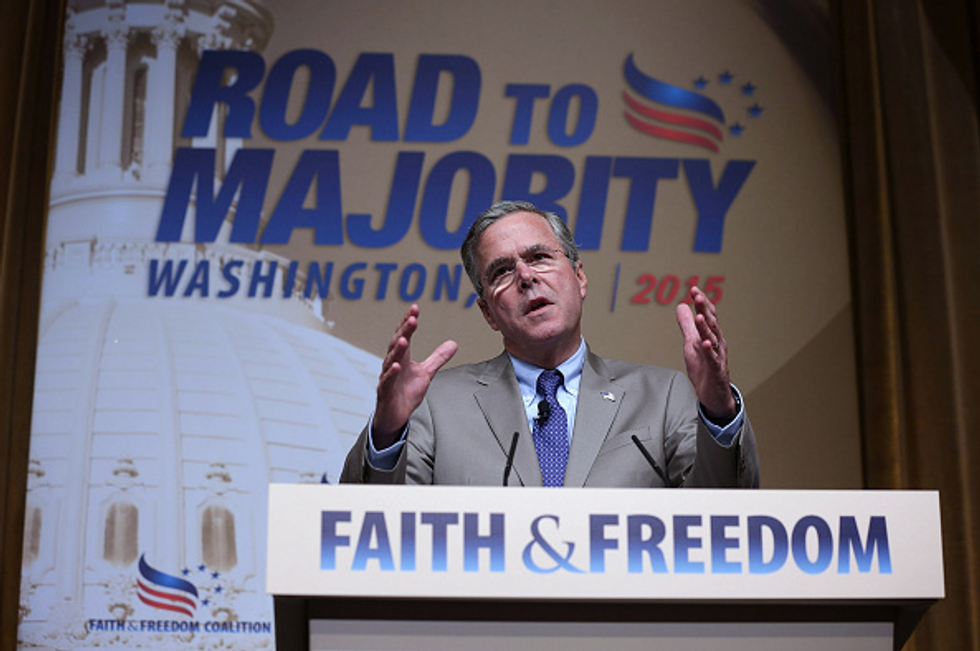 Republican presidential hopeful and former Florida Gov. Jeb Bush speaks during the "Road to Majority" conference, June 19, 2015 in Washington. (Photo by Alex Wong/Getty Images)
He made reference to Wednesday night's mass shooting at a historically black church in Charleston, South Carolina, calling it "an evil act of aggression."
But he avoided speculating on the motive of the alleged shooter, saying, "I don't don't what was in the heart of the man who committed this crime."
Authorities are investigating the shooting as a hate crime.
"But I do know what was in the hearts of the victims," Bush continued. "They were meting in brotherhood and sisterhood in that church, engaged in prayer. They were learning the word of the lord."
At the conference, held by the Faith and Freedom Coalition, Bush also talked about his record in opposing abortion as governor of Florida and standing up for a "culture of life" and reminded attendees that he stood up for Terri Schiavo, the woman at the center of a life support legal battle when Bush was governor.
During his remarks, Bush focused on the Obamcare mandates imposed by the Department of Health and Human Services requiring that employers cover the cost of contraception.
"When it comes to doing the right thing, the Little Sisters of the Poor know more than the regulators at the Department of Health and Human Services," Bush said.
Bush also called for the United States to take a more active role abroad to protect religious freedom, with Jews and Christians around the globe facing persecution. He said the Obama administration has shown little leadership on that front.
Bush announced his candidacy this week amid much skepticism from conservatives on issues including immigration and education, though he has maintained good standing among social conservatives.
Follow Fred Lucas (@FredLucasWH) on Twitter