The Blue Jays won an extra-inning contest Wednesday night, beating the Tampa Bay Rays 1-0 in 12 innings.
And while Toronto Blue Jays pitcher Marco Estrada was flirting with history for a time, working into the eighth inning with a perfect game, third basemen Josh Donaldson made a stunning diving foul ball catch.
Donaldson managed to snag the ball as it sliced into the stand, jumping and laying out his body across two rows of seats to make the catch.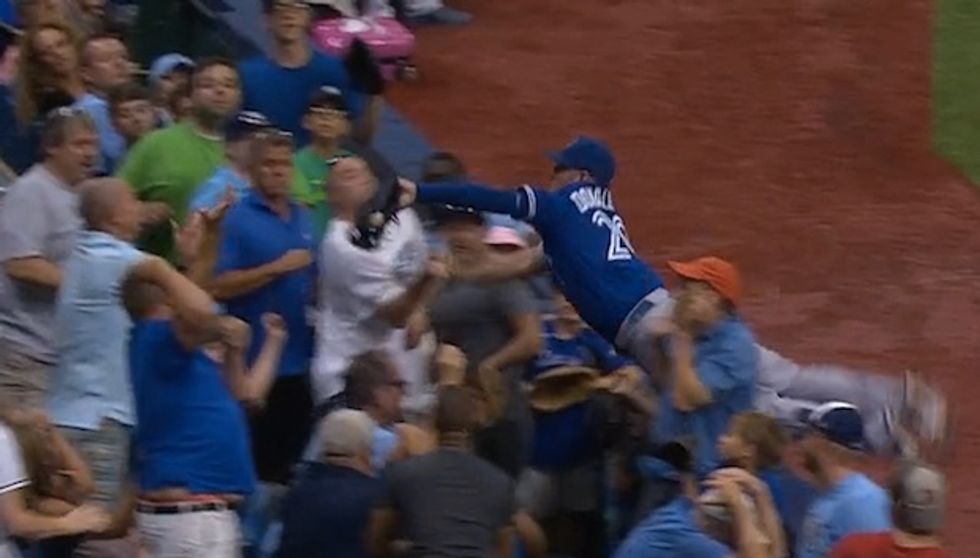 Image source: MLB.com
The fans in the stands appeared to cushion Donaldson's fall. He popped up with the ball inside his glove, showed it to the umpire, who confirmed it was a good catch, calling the batter out.
The stunned announcer compared it to one of the most famous catches made by Yankees legend Derek Jeter: "Oh what a play! Josh Donaldson, pulling a Derek Jeter, goes into the second row and makes a terrific play!"
Watch the catch of the day:
—
Follow Mike Opelka (@Stuntbrain) on Twitter.