Story by the Associated Press; curated by Kaitlyn Schallhorn.
—
BAGHDAD (AP) — A series of attacks targeting public places killed 12 people in Baghdad on Saturday, said Iraqi authorities, as the prime minister announced the arrest of an aide to Saddam Hussein.
Police officials say a car bomb went off about noon Saturday near shops selling car parts in southeastern Baghdad, killing five people and wounding 13 others.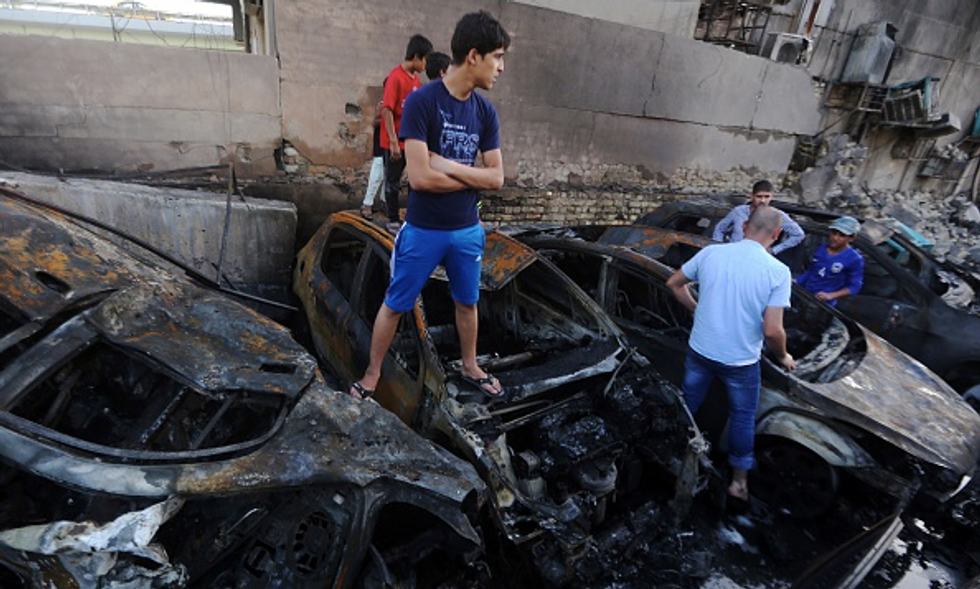 Iraqi men inspect charred vehicles at a parking-lot at the Beirut Square, east of the capital Baghdad, following an explosion on June 24, 2015. Elsewhere, in the city of Baquba a suicide bomber detonated a car bomb at a gathering of Iraqi Sunni tribal leaders, killing at least 14 people in an attack claimed by the Islamic State group. AFP PHOTO / AHMAD AL-RUBAYE (Getty Images/Ahmad al-Rubaye)
Another bomb blast at an outdoor market killed three shoppers and wounded eight in the city's eastern suburbs. Also, police said a bomb exploded near a row of shops in the capital's western neighborhood of Baiyaa, killing two and wounding 10.
Later on, a bomb blast near a vegetable and fruit wholesale market in southern Baghdad killed two people and wounded three others.
Medical officials confirmed the casualty figures. All officials spoke on condition of anonymity because they were not authorized to talk to the media.
No group immediately claimed responsibility for the attacks. Iraq sees near-daily attacks that are claimed by the Islamic State group.
Meanwhile, Iraq's Prime Minister Haider al-Abadi announced Saturday that security forces arrested Abdel Baqi al-Sadun, a senior official in the disbanded Baath Party.
Al-Sadun has been at large since the fall of Saddam Hussein's regime following the U.S.-led invasion in 2003. During the Hussein era, he was in charge of Baath party formations in southern Iraq and he is wanted for his role in repressing of the Shiite uprising in 1991.
"I have the pleasure to announce the good news that our security forces were able to arrest the wanted Abdel Baqi al-Sadun. The operation was purely an Iraqi one," said al-Abadi in a speech aired on state television.
Al-Sadun was part of the U.S. military deck of cards containing images of the 55 Saddam regime figures the U.S. military was particularly interested in capturing.
Al-Abadi provided no details on the arrest, except that al-Sadun was captured on Thursday.