Southern California residents woke up Sunday to Ku Klux Klan propaganda scattered on their front lawns, the second such incident in the Los Angeles area in two weeks.
Police in Whittier were first notified around 6 a.m. of the literature, which came in plastic bags along with pieces of candy inside. One resident told KABC-TV that the fliers were from the Loyal White Knights of the Ku Klux Klan.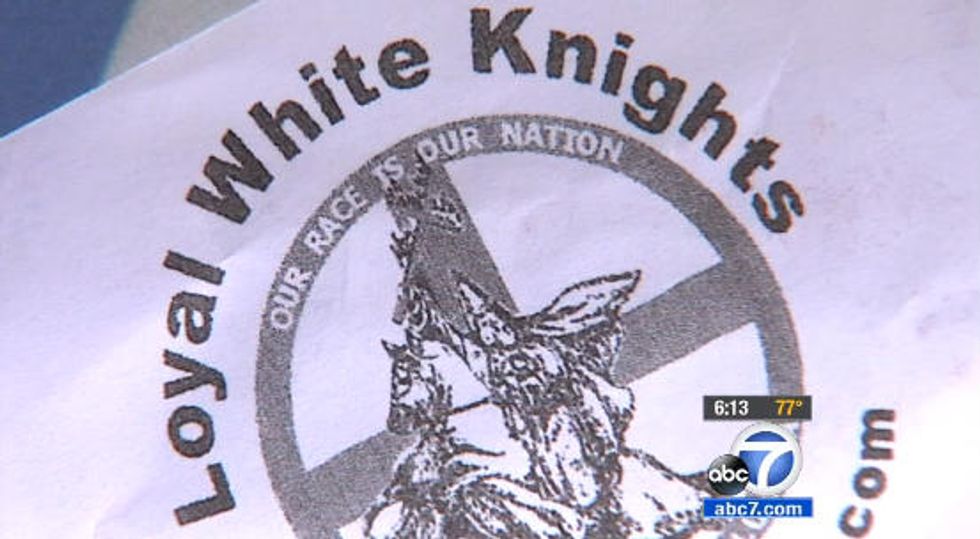 Image source: KABC-TV
The fliers showed messages about President Barack Obama and Republican presidential candidate Jeb Bush. Police were looking into the incident, but it's not currently considered a crime because the notes didn't contain any threats.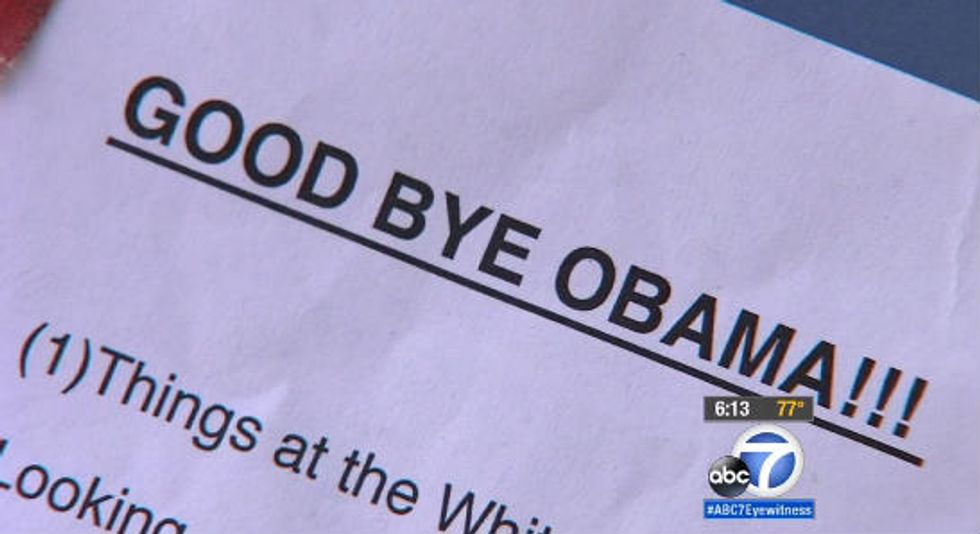 Image source: KABC-TV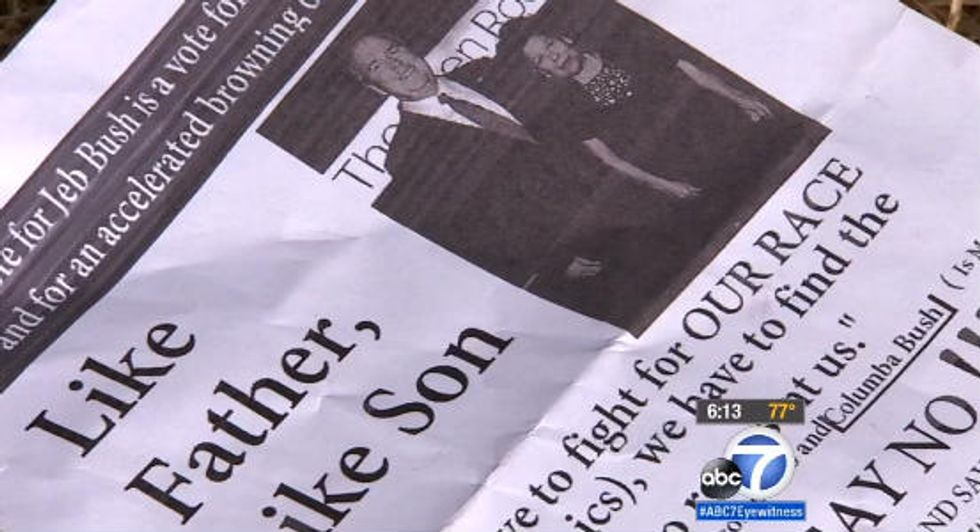 Image source: KABC-TV
"I've always thought times have changed, but unfortunately they [haven't]," one resident told KCAL-TV.
Another resident, Marcelo Infusino, said he looked out his window and saw a white van pass by and thought it was the newspaper being delivered. He later discovered no paper had been delivered.
"We don't appreciate that kind of stuff around here. I know my neighbors feel the exact same way as I do," Infusino told KABC-TV.
Racist literature also turned up in Fullerton, California, the weekend before, where police collected about 100 copies of leaflets that also urged people to join the KKK.
Those fliers were also passed out in Ziploc bags with a small rock and Tootsie Pops inside.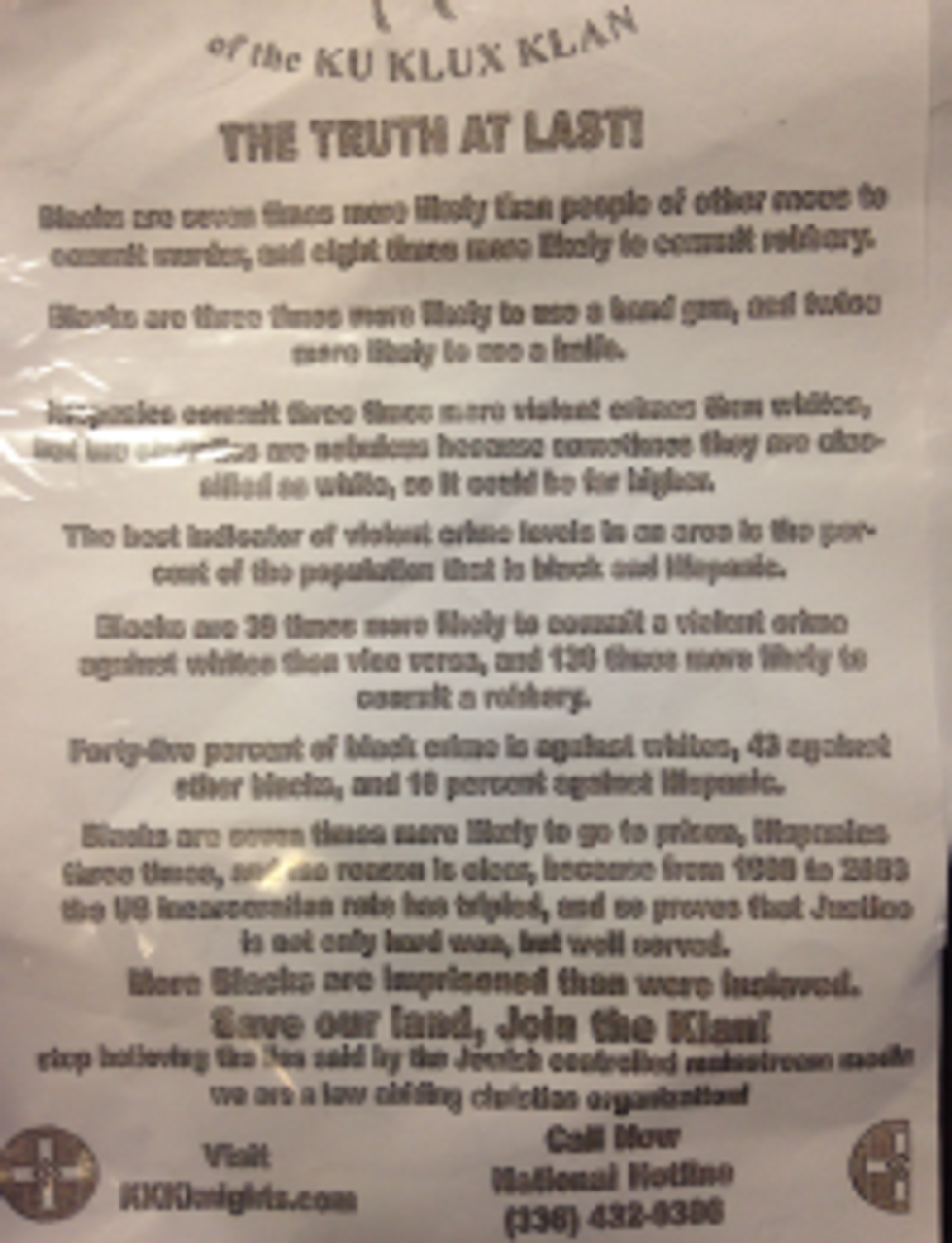 Image source: Fullerton Police Department
Fullerton police said in a statement that no crime was committed, but said they would follow up to make sure no other activities lead to possible crimes.
As for the fliers passed out in Whittier, most residents just threw them away.
"It's trash. It's true, it's just trash," Dustin Castro said.
The KKK fliers were discovered just days after a white man with possible white supremacy ties was arrested after he allegedly shot and killed nine black parishioners inside a Charleston, South Carolina, church. Obama traveled to South Carolina Friday to deliver the eulogy at the funeral for one of the victims, pastor and former state senator Clementa Pinckney.
More here:
–
Follow Jon Street (@JonStreet) on Twitter