President Barack Obama sent out a fundraising pitch for Organizing for Action to stop gun violence just, days after his visit to Charleston, South Carolina, where nine people were gunned down at a historic black church.
"We've had to come together as a nation too many times to mourn after horrific acts of gun violence. And right now, it's not good enough simply to show sympathy," Obama begins in the email to OFA supporters. "We need to acknowledge that there's more work to do – that these tragedies have become far too commonplace. This is a conversation that folks need to have, and organizers like you are the ones who will move it forward."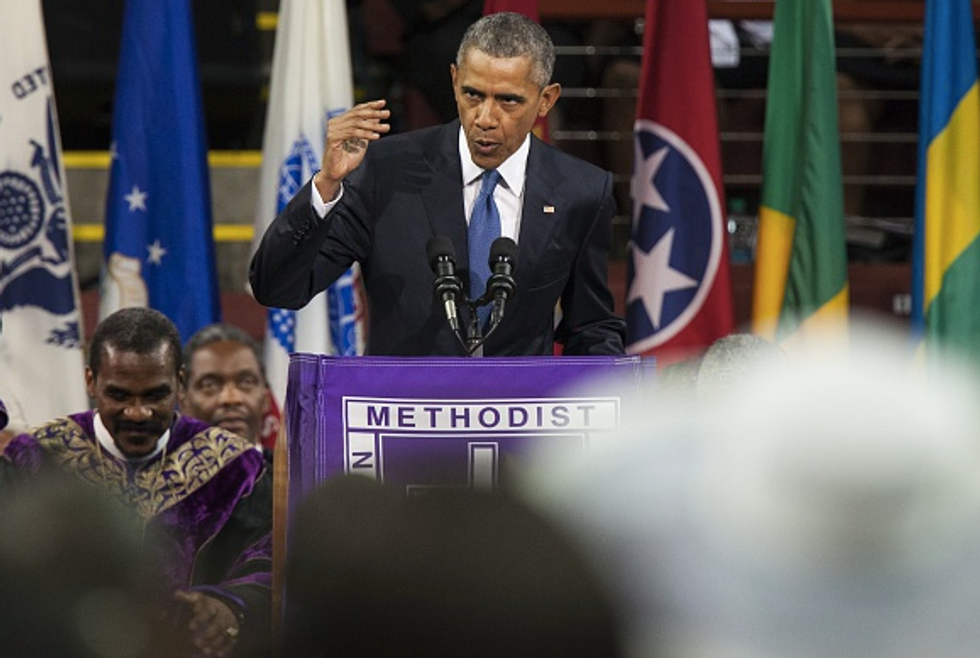 President Barack Obama delivers a eulogy at the memorial service for the Rev. Clementa Pinckney in Charleston, S.C., on June 26, 2015. Pinckney was one of nine people gunned down at Emanuel African Methodist Episcopal Church during a Bible study, June 17, 2015. (Samuel Corum/Anadolu Agency/Getty Images)
The message continues, "People across the country are stepping up, and supporters and volunteers are working to prevent gun violence state by state and city by city – join the fight today."
Those who click "join the fight today" are taken to a donation form immediately after entering their email address and zip code.
Organizing for Action is the advocacy group that grew out of Obama's two successful presidential campaigns. Nearly every issue-related email doesn't make an overt appeal for money, but includes a link that takes the viewer to a donation form.
Obama on Friday eulogized the Rev. Clementa Pinckney, killed along with eight others in Charleston earlier this month. The email message from Obama went out Sunday afternoon, and did not directly reference Charleston, but said, "As we take the time to heal in the shadow of this most recent tragedy," more needs to be done to prevent gun violence.
Obama's reference to "state by state" was alluded to later in the message, expressing angst on the lack of support from Congress for more gun control laws. His efforts for expanded background checks in 2013 failed to pass even a Democratic Senate. Still, the president issued several executive actions on guns that year.
"The lack of movement in Congress on this issue is incredibly frustrating," the message bearing Obama's name said. "But their refusal to act won't stop progress. Because of organizers like you, states like Washington and Oregon have introduced successful restrictions on gun purchases, like common-sense background checks."
Before concluding with another link to the donation form, Obama's message concedes that a single gun law won't stop all future shootings.
"No single reform will eliminate violence. But we can't give up, or act like this is some kind of new normal," Obama said. "We have to make progress where we can, and OFA and other groups have a real path forward."