Virginia tops the list of the most patriotic states in the USA in 2015, according to a new survey released Monday.
The consumer website WalletHub assessed the military and civic engagement of all 50 states, looking at things like the number of enlisted military personnel, the number of veterans, voting percentage and volunteer rate.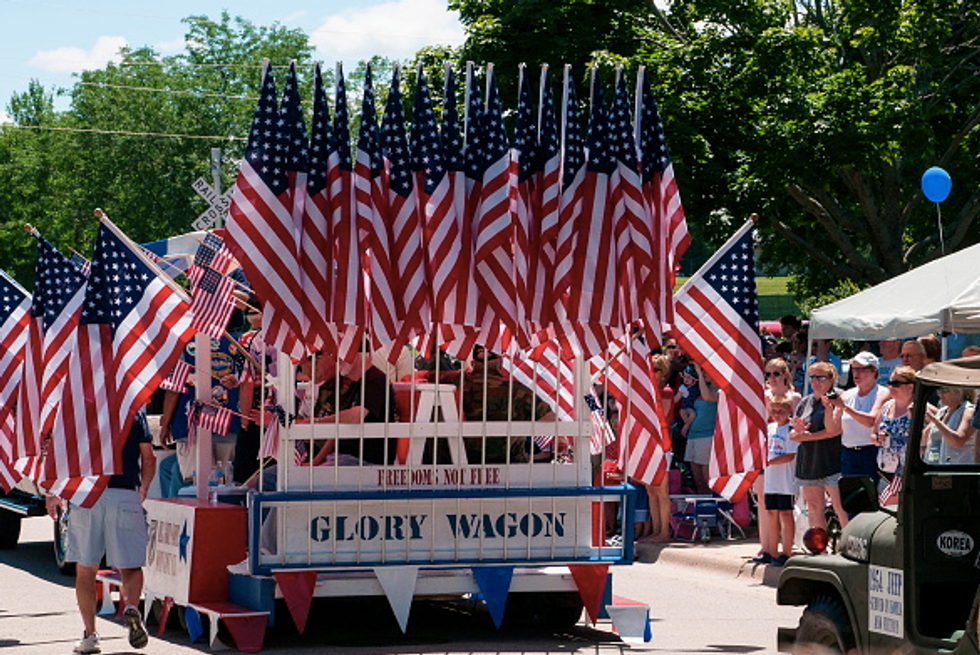 A flag-decked float in a Fourth of July parade in Milton, Wisconsin. (Education Images/UIG via Getty Images)
The 10 most patriotic states include four of the original 13 colonies — Virginia, North Carolina, New Hampshire and South Carolina. The 10 least patriotic include five of the original colonies — Pennsylvania, Connecticut, Rhode Island, New Jersey and New York. New York ranked the least patriotic according to WalletHub's metrics.
Based on the metrics, red states are slightly more patriotic than a blue states, but Virginia is a swing state and two other solidly Democratic-leaning states are included in the top 10, while five states that were solidly Republican in recent presidential elections were in the bottom 10. With a ranking of 1 being the best, red states scored an average of 24.1 compared to 26.7 for blue states, so the gap is small.
The 10 Most Patriotic States:
1. Virginia

2. Washington

3. Colorado

4. Idaho

5. Alaska

6. Maine

7. North Carolina

8. New Hampshire

9. South Carolina

10. Georgia
The 10 Least Patriotic States:
41. Pennsylvania

42. Louisiana

43. Illinois

44. Connecticut

45. Arkansas

46. West Virginia

47. Utah

48. Rhode Island

49. New Jersey

50. New York
Further breakdown showed that for "military engagement," Alaska ranked No. 1, while Minnesota ranked No. 50. For civic engagement, Wisconsin ranked first, while Arkansas came in last.
See the full list at WalletHub.