© 2023 Blaze Media LLC. All rights reserved.
'You Seem to Have Gotten Lost': Israel's Snarky Letter to Pro-Palestinian Flotilla Activists Who Tried to Sail to Gaza
"Welcome to Israel."
Israeli naval commandoes on Monday boarded a boat carrying pro-Palestinian activists trying to sail to Gaza and redirected it toward the southern Israeli port of Ashdod, the Israel Defense Forces said in a statement, calling the interception "uneventful."
Israeli Prime Minister Benjamin Netanyahu slammed the activists for trying to break Israel's blockade of Gaza, which is designed to keep rockets and other military supplies from being shipped to Hamas.
"This flotilla is nothing but a demonstration of hypocrisy and lies that is only assisting the Hamas terrorist organization and ignores all of the horrors in our region," Netanyahu said in a statement Monday following the vessel's interception.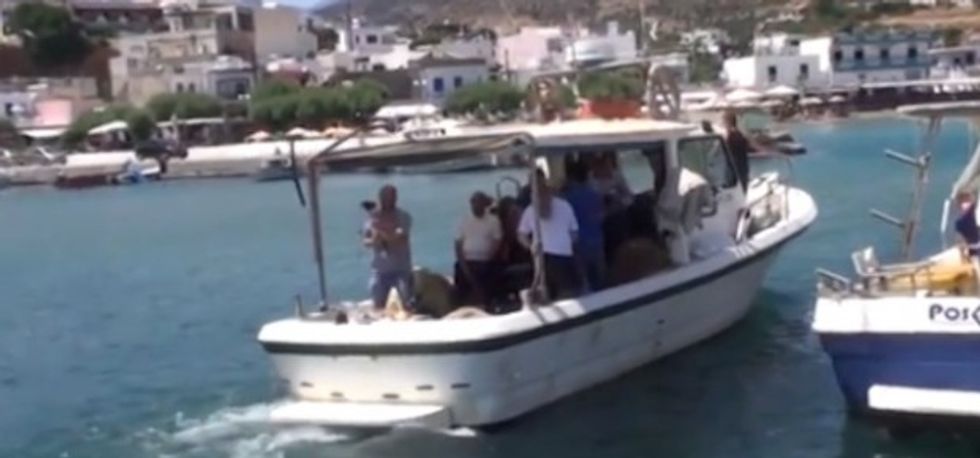 Pro-Palestinian activists try to break Israel's blockade of Gaza. (Screenshot: YouTube)
To highlight that "hypocrisy," the Israeli government planned to give the activists sailing on the Swedish boat Marianne a letter filled with scorn and mockery. Netanyahu posted the text of the letter on Facebook, which read in part:
"Welcome to Israel,

"You seem to have gotten lost. Perhaps you meant to sail to a place not far from here – Syria, where Assad's army is slaughtering its people every day, and is supported by the murderous Iranian regime.

Here in Israel we face a reality in which terrorist organizations like Hamas try to kill innocent civilians. We defend our citizens against these attempts in accordance with international law."
The letter pointed out how much aid Israel transports to Gaza — 800 truckloads of goods every day. It noted that the amount of aid Israel gives Gaza every year is the equivalent of half a million boats like the one in which the activists were sailing.
"However, we will not allow the terrorist organizations to transfer weapons into the Gaza Strip by sea. Only one year ago, we thwarted an attempt to smuggle hundreds of weapons into the Gaza Strip by ship. These weapons were meant to target innocent Israeli civilians," the letter stated. "There is no siege on the Gaza Strip, and you are welcome to transfer any humanitarian supplies for the Gaza Strip through Israel."
"If you were truly concerned about human rights, you would not be sailing in support of a terrorist regime which summarily executes citizens in the Gaza Strip, and uses children as human shields," the letter stated, adding that Israel is the "only stable democracy in the Middle East" where there is freedom of worship for all faiths.
Among the 18 passengers was Israeli Member of Knesset Basel Ghattas who said his joining the flotilla was "purely a legitimate political act aimed to draw regional and international attention to the tragic situation of Gaza."
The Israel Defense Forces said it had first called on the vessel to change course, but after the crew refused, "forces visited and searched the vessel in international waters in order to prevent the intended breach of the maritime blockade of the Gaza Strip."
Earlier Monday, organizers of the "Gaza freedom flotilla" announced that three of the four boats carrying activists and humanitarian aid had turned back to their ports of origin and were no longer sailing with the Marianne.
Monday's peaceful redirecting of the boat contrasted sharply with the 2010 Gaza flotilla. Then, when the IDF boarded the Mavi Marmara, a Turkish ship carrying activists with the Humanitarian Relief Foundation, activists attacked the IDF soldiers. In the ensuing battle, nine activists were killed. One of those killed had written in his diary that he had hoped to be a "martyr."
Israel aside, Egypt also has its border with Gaza largely sealed to keep out weapons, though activists do not stage events highlighting that border.
Want to leave a tip?
We answer to you. Help keep our content free of advertisers and big tech censorship by leaving a tip today.
more stories
Sign up for the Blaze newsletter
By signing up, you agree to our
Privacy Policy
and
Terms of Use
, and agree to receive content that may sometimes include advertisements. You may opt out at any time.