New Jersey Gov. Chris Christie announced Tuesday that he too is officially in the running to be the next president of the United States.
Speaking at his alma mater, Livingston High School, and without a teleprompter, the Republican governor slammed both parties and the "bickering leaders in Washington" for "failing" the country and not working to compromise more.
"Americans are not angry, they are filled with anxiety," Christie said to the crowd in the high school that he once called home.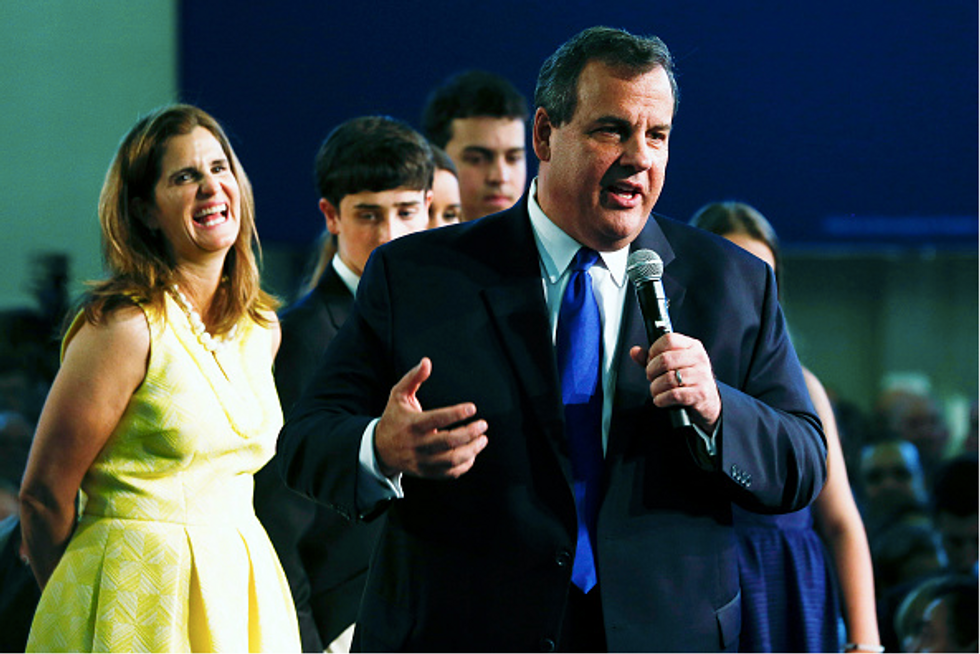 New Jersey Gov. Chris Christie, joined by his family, announces his candidacy for the Republican presidential nomination at Livingston High School, June 30, 2015 in Livingston Township, New Jersey. Christie made the announcement in the gymnasium of his alma mater, becoming the 14th candidate to join the Republican field. (Jeff Zelevansky/Getty Images)
Christie blamed the "indecisiveness and weakness in the Oval Office" for the country's supposed anxiety problem and slammed President Barack Obama for living "in his own world, not our world."
"Anxiety can be swept away by strong leadership and decisiveness to lead America again," Christie said.
And he made sure to tie Democratic presidential contender Hillary Clinton into it all: "We better not turn this country to Obama's second mate, Hillary Clinton."
Christie, the 14th Republican to declare for 2016, said he would not be the candidate who says whatever people want to hear or be "prom king" of the United States. He promised a campaign without spin or focus groups, to address the actual questions asked of him, to forgo what is popular for what is right and a campaign that believes in America.
"We have no choice but to work together. This country needs to work together again, not against each other," Christie said to cheers.
The Bruce Springsteen aficionado nevertheless entered and left the stage to the music of Bon Jovi, just one day after Bon Jovi performed at a Hillary Clinton fundraiser.
Christie, who was considered a potential GOP presidential candidate in 2012 and was then a heavy favorite to be Mitt Romney's running mate, nevertheless drew scorn from conservatives who accused him of being too friendly with Obama after Superstorm Sandy devastated much of New Jersey on the eve of the election.
And one year later, Christie's administration came under fire over the closing of the heavily trafficked George Washington Bridge, the scandal that became known as "Bridgegate."
Recently, Christie has begun to hit Kentucky senator — and now presidential rival — Rand Paul on national security, with Christie pointing out that he is the only Republican candidate who has prosecuted terrorists, which he did as a former U.S. attorney.
Christie released a video ahead of his announcement called "Telling It Like It Is," in which he talked about his parents and attempted to convey how trustworthy he would be as a candidate.
"I taught you that in a trusting relationship, you don't hold anything back," Christie said he would expect his mother to say to him now if she were still alive. "And if you're gonna run for president of the United States, and you're gonna ask these people for their vote, that is the single most trusting thing they can do as a citizen is to give you their support, so you better tell them exactly what you're thinking and exactly what you're feeling."
Members of the New Jersey Organizing Project and the Essex County Education Association — a teachers union — stood outside and protested the governor, a sight he is not unfamiliar with.
Teachers from New Jersey have gathered in protest of Christie announcement. pic.twitter.com/zvwC7A3Quv

— Erin McCarthy (@ErinMcPSU) June 30, 2015
Members of the New Jersey Organizing Project stand outside their bus. pic.twitter.com/OH6XayczDg

— Erin McCarthy (@ErinMcPSU) June 30, 2015