The owners of an Oregon bakery that refused to bake a wedding cake for a lesbian couple were ordered Thursday to pay $135,000 "in damages for emotional and mental suffering resulting from the denial of service."
The ruling from Oregon Labor Commissioner Brad Avakian came after Sweetcakes By Melissa owners Melissa and Aaron Klein were found guilty in a preliminary finding earlier this year of discrimination based on sexual orientation.
Oregon law prohibits discrimination based on sexual orientation.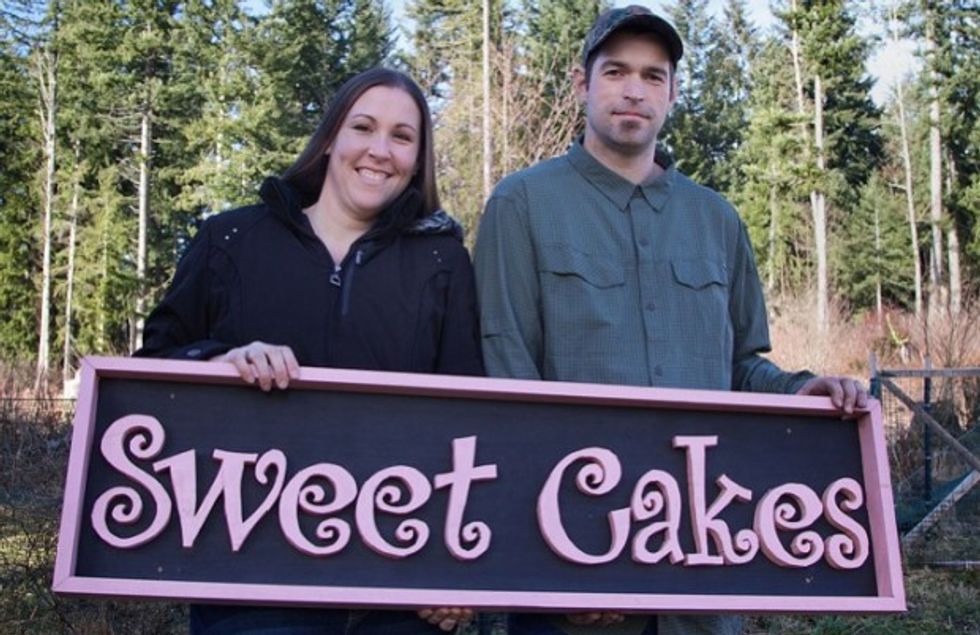 Melissa and Aaron Klein (Sweet Cakes By Melissa/Samaritan's Purse)
"This case is not about a wedding cake or a marriage. It is about a business's refusal to serve someone because of their sexual orientation. Under Oregon law, that is illegal," the bureau's order said.
"Within Oregon's public accommodations law is the basic principle of human decency that every person, regardless of their sexual orientation, has the freedom to fully participate in society," it added. "The ability to enter public places, to shop, to dine, to move about unfettered by bigotry."
Final order: Oregon bakery that refused to sell cake for lesbians' wedding must pay $135,000. http://t.co/w54NppONAH http://t.co/7TD5fbYyPT

— Dominic Holden (@Dominic Holden) 1435876597.0
The couple reacted to the ruling in a Facebook statement.
"This effectively strips us of all our first amendment rights. According to the state of Oregon we neither have freedom of religion or freedom of speech," the statement said. "We will NOT give up this fight, and we will NOT be silenced. We stand for God's truth, God's word and freedom for ALL americans."
"We are here to obey God not man, and we will not conform to this world," it continued. "If we were to lose everything it would be totally worth it for our Lord who gave his one and only son, Jesus, for us! God will win this fight!"
A lawyer representing the Kleins told Oregon Live that it is likely her clients will appeal.
"That's up to our clients," Anna Harmon said. "I believe at this point they are intending to preserve their constitutional rights as much as they can, and that would look like an appeal."
The Klein's had previously told TheBlaze that a fine of $135,000, which was recommended by an Oregon judge, could put them "out on the street."
"We are the average American family trying to live out the American dream and honor God in our life, and so, that's why we're in the situation we're in," Aaron Klein told The Church Boys podcast in April.
At the time, the couple explained that they would likely be forced to pay the fine out of pocket.
"It's coming straight from our personal assets," Aaron Klein said. "That would be our vehicle, our house, the money that should be used to feed our kids, you know, that sort of thing. So, this is not something that will be real easy to pay up."
This story has been updated with more information. 
—
Follow Oliver Darcy (@oliverdarcy) on Twitter