A man was killed by an alligator in Texas after he ignored both warning signs and his friends and decided to take a late night swim in a marina.
Police found the body of Tommie Woodward, who was 28-years-old, early Friday morning in Southeast Texas.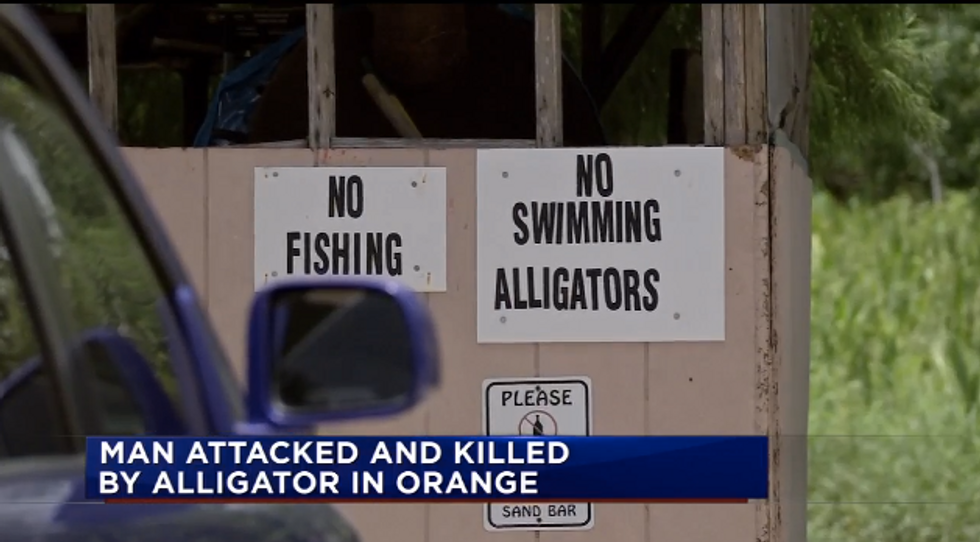 Image source: KTRK-TV
Allen Burkhart, owner of the marina and restaurant, told the Houston Chronicle that he put up a sign warning patrons of the deadly animals after spotting a 12-foot alligator swimming in the bayou. According to him, Woodward and a female companion ignored the signs and jumped into the water.
"He went under one time, then he hollered at her to get out of the water," Burkhart said. "Then he pulled him down the second time and that was it. I've been here all my life and this is the first time something like this has happened."
"I'm still in shock," he said.
Burkhart, 82, said two of his employees knew of Woodward's intentions to swim in the water and begged him not to do it.
Justice of the Peace Rodney Price told KFDM-TV the woman only jumped into the water in an attempt to save Woodward. She was unhurt, but may have come in contact with the alligator while in the water. 
"Someone shouted a warning, and he said 'blank the alligators,' and thereupon jumped into the water and almost immediately yelled for help," Price told KFDM.
The Houston Chronicle reported that Friday's attack was the first verified fatality due to an alligator attack in 200 years, but it was the second alligator attack in the area this week.