ORLANDO, Fla. (AP) — A technical crew with The Orlando Eye safely evacuated all 66 stranded riders from the largest Ferris wheel on East Coast, an incident that shut down the attraction that towers 400 feet over central Florida, authorities said.
Orange County Fire Rescue spokeswoman Kathleen Kennedy told The Associated Press no one was hurt following the Friday afternoon incident and all were taken off in an operation lasting about three hours with help from several firefighters.
She said the attraction, which is billed by operators as the largest observation wheel on the East Coast, had initially stopped for more than 45 minutes.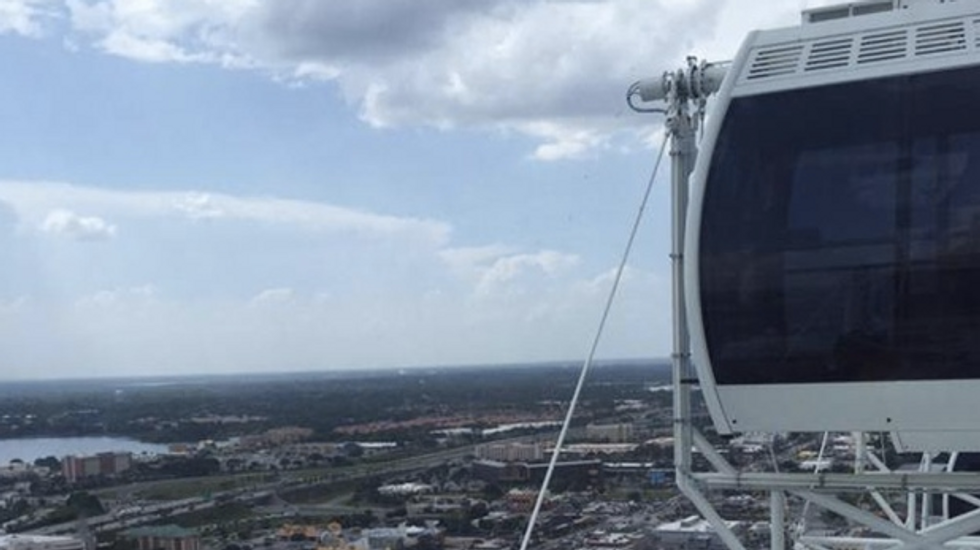 An Orlando Ferris wheel, standing at more than 400-feet tall, stranded 66 people for hours Friday afternoon. (Image via Twitter @ABC)
Power was restored via a backup generator and a technical team at the attraction, backed by the firefighters, carried out the task of removing riders from the enclosed capsules after each was brought down to the platform, officials said.
"All guests are safely evacuated," Kennedy told AP by phone Friday evening shortly after the last rider was removed about 7 p.m. She said firefighters on ladders helped the ride technical team that manually opened the doors.
Six elite rescue climbers with the fire rescue squad were dispatched but weren't needed for a climb, Kennedy said. They were part of a 40-person agency special operations team that had climbed the attraction in training before but — she said — "thankfully" such an aerial operation wasn't needed.
Andrea Alava, a public relations manager for The Orlando Eye, issued a statement that the attraction had shut down as a safety precaution before the team went to a backup operation. She said its teams carried out the actual evacuation, not firefighters as some reports initially suggested.
Merlin Entertainments PLC owns the attraction and a similar 442-foot observation wheel in Britain, The London Eye, according to Alava.
At approximately 3:45 p.m., the operating systems for the Orlando Eye indicated a technical default with the system that monitors the wheel position of the Orlando Eye. As a safety precaution, the attraction is designed to automatically shut down if communication with this system is interrupted," Alava said in an emailed statement.
"Immediately following the default, the operations team began working to resolve the matter to allow guests to disembark the attraction. A backup system was employed that allowed capsules to be moved to the platform and opened manually," the statement added.
The statement said Eye representatives kept up two-way visual and audio communication with the riders "to ensure their safety and comfort" and that their priority was to ensure they safely disembarked.
"With that completed, we are now focused on reinstating the systems and restoring full operations of the Orlando Eye," it added late Friday, apologizing to riders "for the inconvenience this caused."
There was no immediate indication when the attraction would reopen.
The Orlando Sentinel ( http://bit.ly/1f9nChM ) reported that some of those stranded were tweeting from the ride that it had been stopping and starting at one point as they waited to be taken off.
One rider identified as Makayla Bell by the paper tweeted about 5:40 p.m., "yes we finally started moving! Hopefully we get down soon. They keep stopping hopefully to get people off."
Kennedy said that all taken off were checked as a precaution but no one needed medical treatment. Photos on local media sites showed firefighters and others atop ladders around capsules that had been lowered to the platform.
The attraction's website said the 400-foot wheel features fully enclosed and air-conditioned capsules and "provides breathtaking views of Central Florida" including the Orlando skyline, nearby theme parks and the Kennedy Space Center on Florida's distant Atlantic coast on clear days.
A fact sheet Alava provided said the entire attraction ways about 3 million pounds, and its central hub more than a Boeing 737 alone; each of its 30 air-conditioned capsules is able to hold up to 15 people and The Orlando Eye rotates at 1 mph, affixed with more than 64,000 color-changing LED lights for an array of colorful light displays.